What rental equipment will be on show at Bauma?
By KHL editorial staff19 September 2022
The world's largest construction equipment trade show opens its doors at Messe München in weeks. KHL journalists outline the highlights on the stands; including plenty of rental-relevant product and solutions.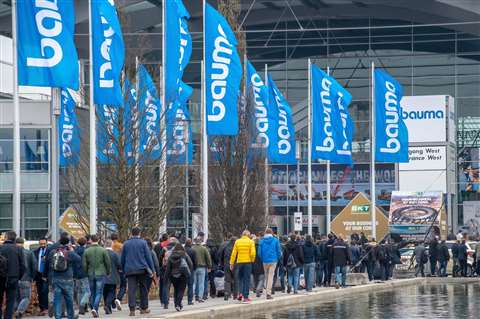 After a hiatus since 2019 amid twists and turns to navigate Covid-19, OEMs are returning to Bauma from 24 to 30 October 2022, many with innovations that will be front and centre on their exhibition stands. A key theme, of course, will be low emission solutions, including electric machines, while digital technology will also be in evidence across all key equipment categories relevant to rental.
Earthmoving equipment at Bauma: concept loader from Hyundai
Hyundai brings the theme, Think Further, Think Future, to Bauma, with highlights including a broad excavator range, wheeled loaders, articulated dump trucks (ADTs) and even a concept hydrogen fuel cell wheeled loader.  
Hyundai Construction Equipment has confirmed updates to its mini excavator offer, with the launch of a wide range of EU Stage V machines.
With operating weights of 1.7 to 5.5 tonnes, the A Series mini excavators, with eight models, will take centre stage at Bauma. Features include a new hydraulic system for all models over 4 tonnes, with load-sensing technology and a variable displacement pump for smoother operation. 
All models have proportional joystick controls as standard, along with quick-coupler piping and safety valves on boom, arm and dozer blade cylinders.
The new minis will join the recently unveiled HX10A Twin Drive micro excavator and the range-topping HX85A in a revitalised line of Hyundai mini excavators.
Three of the machines, the HX35Az, the HX40A and the HX48Az, have been recognised as winners of the Red Dot Design Award. 
Hyundai also plans to exhibit its first concept hydrogen-fuel-cell-powered wheeled excavator, the HW155H. 
The 14-tonne machine promises eight hours of operation, with a 20-minute refuelling time – and the only emission is water. 
Hyundai can be found in Hall FM – Booth 813A.
Live demonstrations of Komatsu equipment
On its 4,550m2 stand, Komatsu will host 27 machines. 
A job site area of 2,800m2 will include a line-up of 15 Komatsu machines, working in a live show, including a demonstration of the company's environmentally friendly technologies. 
One highlight from earthmoving will be the PC88MR-11 midi excavator, promising significant productivity upgrades, compared with its 10-series predecessor, including a factory-fitted Lehnhoff Powertilt option. 
Further technology highlights from Komatsu can be found at the Komtrax Next Generation and Komtrax Data Analytics booths.
Komatsu says its wireless monitoring system allows managers to deploy equipment more effectively and improve fuel efficiency, to maximise productivity or plan periodic maintenance.  
Komatsu has also revealed it will host an exclusive Virtual Stand, transporting visitors to a near future, where they will get a first look at upcoming innovations for wheeled loaders. 
Komatsu can be found in Hall C6 – Booths 222 and 233.
Battery-powered excavators
Hitachi Construction Machinery (Europe) will be celebrating 50 years in the market at Bauma 2022. Its display will include a line-up of new models, showcasing various technology and representing the future of construction machinery. 
One highlight will be Hitachi's zero-emission battery-powered excavator in Europe. The company will also debut the smallest Hitachi wheeled excavator – the ZX95W-7 - in addition to the ZX210LC-7 medium excavator customised with a Leica 3D machine control system, plus two specially adapted machines reinforced for demanding demolition projects. 
The latest Zaxis-7 models will contrast sharply with the oldest machine on display, a fully restored UH04 excavator that illustrates the legacy of Hitachi technology and will likely be a fan favourite.
Hitachi can be found in Hall FN – Booth 718.
Doosan to exhibit new zero-emission mini-excavator
With the theme Powered by Innovation, the Doosan stand will demonstrate a rapidly-expanding product range at Bauma.  
At the compact end of the range, the company's new 2 to 5 tonne mini-excavators and new 10 tonne midi wheeled excavator will be shown for the first time, as well as the new Doosan range of compact wheeled loaders.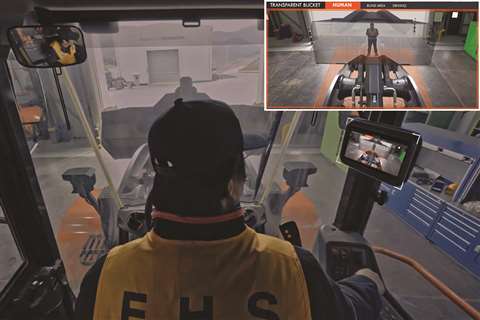 Another Bauma launch will be a preview of the first zero-emission mini-excavator from Doosan, the DX20Z-E, due to be launched in 2023.  
Given that the digital transformation of construction is an established trend, it will surprise no one to learn that there will be a host of technological advances on display at this year's Bauma. 
Among them, however, Doosan Infracore Europe's 'transparent bucket' could be one of the most unusual – certainly for loader operators. 
This innovative system allows the loader driver to 'see' spots obscured by the machine's bucket, using the monitor in the cab. 
Cameras located at the front of the machine record and combine images in real time, using a curved projection method. 
Doosan can be found in Hall FM – Booth 711/1.
Wheeled loaders and road construction machines
Sany will be presenting the entire portfolio currently available in Europe at Bauma 2022. The company is also showcasing some machines that will be on sale next year. 
Several new products will make their European debuts, including the battery powered SY19E mini excavator, which is claimed to operate for a full working day on a single charge. 
The next generation of wheeled loaders – the SW305 and SW405 – will also be making an appearance.  
Also on display will be a new product range for road construction machines. Sany says that the models have been specially adapted to European demand and will demonstrate their entrance into this market. 
Another product highlight for Sany will be the electrically driven telescopic crawler crane, courtesy of its parent company, Sany Global. 
Sany can be found in Hall FN – Booth 620/9. 
Cat equipment to be shown by Zeppelin
Caterpillar announced some time ago that it would attend this year's Bauma through its dealer in Germany, Zeppelin. In the past, both Cat and Zeppelin had stands.
Taking as its theme 'Let's Do the Work', Zeppelin will feature more than 70 pieces of Cat construction equipment, attachments and technology. 
Among the highlights for visitors looking for the latest Cat earthmoving machines will be nine tracked and four wheeled next generation excavators, ranging from 15 to 95 tonnes. 
Zeppelin will also bring nine next generation mini hydraulic excavators, to the show, promising increased performance, higher breakout forces, longer service intervals and lower owner and operating costs, compared with previous models. 
Wheeled loaders on show will include the 980 XE medium wheeled loader, featuring a continuously variable transmission, which promises fuel efficiencies of up to 35%, compared with the predecessor M series models. 
On the 988K XE wheeled loader, an electric drive gives the machine faster downhill speeds, improved rimpull and increased hydraulic breakout force. In all, Cat says the machine's productivity is increased by around 5%, compared with the predecessor model. 
Zeppelin will also show a D4 dozer, with recent updates including improved sight lines and a range of new technology features. 
Cat's on-show technology will include the Cat Command Station, which enables operators to work remotely and safely, whether it be close to the machine or many kilometres away, while seated in a virtual cab with familiar controls and display. 
Other Cat technologies at Bauma include Cat Productivity, a cloud-based application that promises an overview of machines and jobsite production. 
Zeppelin, and the range of Caterpillar equipment on show can be found in Hall FM 709/1.
Zero-emission equipment from Wacker Neuson
Meet the Future is Wacker Neuson's motto for Bauma. On a stand of approximately 5,000m2, the company, alongside Kramer, will present their solutions within three categories: Meet Green, Meet Connectivity, and Meet Innovation.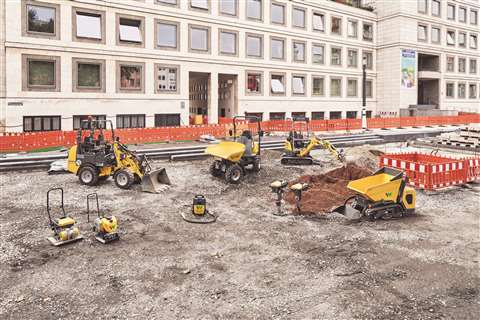 Meet Green will incorporate Wacker Neuson's zero-emission range, including battery-powered rammers and plates, such as its first reversible battery-powered vibratory plate. 
The company's latest WL20e electric wheeled loader will be on display – a machine that first came to market in 2015. This third-generation machine, however, boasts a more powerful lithium-ion battery and a completely closed cab. 
Another product highlight will be the EW100 10-tonne wheeled excavator, including intelligent attachment management, with tool recognition. 
Wacker Neuson can be found in Hall FN, Booth 915.
Hidromek to exhibit new backhoe loaders
Turkish manufacturer Hidromek will exhibit its K4 series backhoe loaders in Europe for the first time at Bauma. The company has put operator comfort at the forefront of its design criteria, with its steering column autotilt feature aiding the shift from backhoe to loader positioning. 
Hidromek's mini backhoe loader, the HMK 62 SS, will also be shown, as will its new crawler backhoe loader, the HMK 62 T, both featuring new cabs and hood design. 
Other new machines making their debuts in Munich include the HMK 70 W wheeled excavator, a 7-tonne model designed for use on urban projects, or terrain requiring a balanced structure, ease of use and versatility. 
Hidromek promises a range of new construction solutions from its hydraulic excavator, wheeled loader, motor grader and soil compactor ranges, with a highlight being its new HMK 520 LC HD, the manufacturer's largest excavator. 
Hidromek can be found in Hall FN – Booth 919/1.
Roadbuilding machines at Bauma
The Wirtgen Group of companies has been a leader in the world of roadbuilding for many years. This status will be demonstrated Bauma, with the company having more than than 90 exhibits – including 33 world premieres. Wirtgen's 13,000m2 of stand space is second only to Liebherr. 
As it provides solutions for the entire road construction process, the group will demonstrate a cross-section of its equipment in a separate exhibition space, designed to show the efficient interplay of its equipment. 
As for new machinery, the Super 1900-5(i) and Super 2100-5(i) pavers will be on display at the Vögele stand, as well as the latest generation of the AB 500 and AB 600 extending screeds.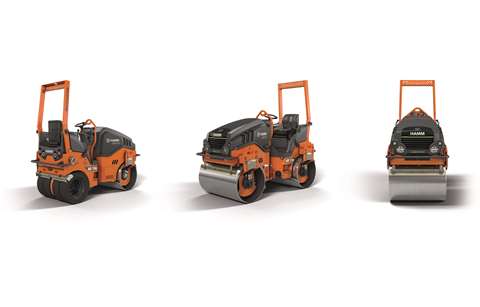 Hamm will offer a glimpse of the future of compaction with its electrically-powered HD CompactLine tandem rollers.
The company says, as well as being more sustainable, its e-tandem rollers are ideal for projects where less noise and/or low vibration levels are specified. 
Kleemann's new Mobirex MR 130(i) Pro mobile compact crusher is also fully electric, allowing for materials processing with reduced energy consumption per tonne of material. 
The Wirtgen Group can be found in Hall FS – Booth 1011.
Sustainable equipment from the Bauma Innovation Award
Ammann will explore the theme of 'Sustainability. Productivity. Connectivity.' at this year's Bauma. The company says that it is seeing an increase in demand for sustainable products and improved digital tools. 
Ammann's light compaction equipment line up will be well represented at the stand. The company's new 3D Drive Compactor is a finalist for the Bauma Innovation Award and is said to be the first vibratory plate on the market that can go in an arc, circle or turn on the spot.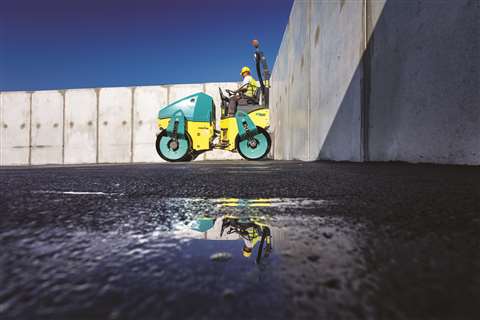 A new steerable version of the Ammann ARW 65 Walk-Behind Roller will be present at the show ±15° rotatable front drum that is controlled by a rocker switch on the driving lever.
It will be the first steerable walk-behind roller in Europe, as all current models have two rigid drums.  
As part of their heavy compaction equipment offering, the company will introduce the eARX 26-2 light tandem roller.
The first eMISSION machine in Ammann´s portfolio, it brings innovative and patented solutions for the power train and vibratory systems. 
Amann can be found in Hall FS – Booth 909.
Alternative power for asphalt and earthworks equipment
Bomag will be presenting modern technologies and machines for use in asphalt and earthworks. The company will have a wide range of light equipment on show.
Among the highlights Bomag will display the BT 60 e battery-powered tamper and the BR 96 single direction vibratory plate.
On show will also be new developments that are being presented to the public for the first time at Bauma.
Bomag can be found in Hall FS – Booth 1008/1, 1009.
On site equipment: sustainable power solutions
Power specialist Pramac / Generac Mobile returns to Bauma with an offering of "power solutions for a sustainable future."
A spokesperson for the company tells IRN the recent acquisition of energy storage specialist Off Grid Energy Ltd, is helping to support customers in the distributed energy resource, microgrid and electricity market, particularly with regard to demand for mobile applications.
Pramac and Generac Mobile will show a range of hybrid and environmentally friendly mobile power products, the spokesperson confirms, including the GPW and GRW series of power generators for the rental sector, which are Stage V compliant with super silent and hybrid versions.
Meanwhile the VT-Solar and new PRO line, mobile lighting towers offer 5-in-1 power systems and solar technology, with a Stage V compliant engine and super silent canopy.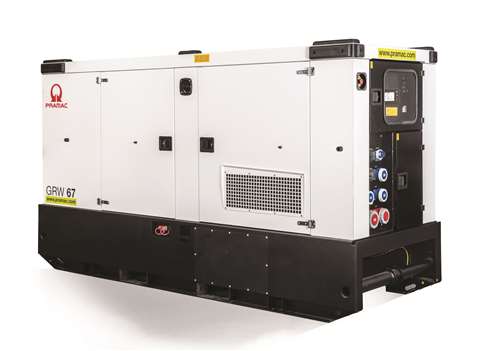 The group's Off Grid range of battery energy storage systems come with OPzV-S and lithium batteries, guaranteeing zero noise and reduced emissions, as well as remote connectivity.
Pramac and Generac Mobile can be found in Hall A5 - Booth 526.
Mobile power products from Himoinsa
Spanish OEM Himoinsa will present its complete range of 'Mobile Power' products, including battery power storage systems, lighting towers and gas and diesel generator sets with stage V engines and aligned with the use of alternative fuels that will mark out its roadmap towards sustainability and net zero emissions. 
As part of its equipment electrification, Himoinsa has introduced the EHR | Battery Power Generator (<60kWh) and is already working on the development of higher power outputs.
During Bauma, there will be a demo of the EHR in operation, where the advantages of hybridisation with generator sets will be presented. 
Another highlight will be Stage V Compliant gas generator sets popular with rental companies, especially in the case of events and power supply in urban areas.  
Himoinsa can be found in Hall A5, Booth 149.
Emission-free lighting towers
The Trime Group will be exhibiting a range of sustainable lighting towers and power generation sets, with both the Trime power and lighting tower divisions represented.
On display will be the Trime X-solar lighting tower, an emission-free unit that operates solely from solar and battery power alongside energy-saving LED lamps.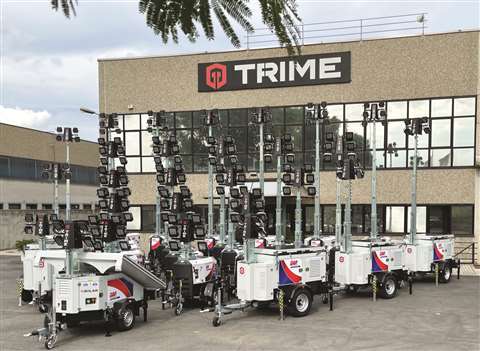 Trime will also be showcasing the X-Eco Lithium lighting tower which is powered by advanced lithium battery technology and can be fully recharged in less than two hours.
The Trime Power Division will also unveil the MGTP 24000/30 TH Solar Lithium three-phase generator, which uses a combination of solar and battery power supported by a small diesel engine.
The Trime Group can be found in Hall A5, Booth 411.
Access and telehandlers at Bauma
While access manufacturers will be out in force, there are some absences that will not go unnoticed, namely the largest scissor and boom lift manufacturers based in Europe and North America. Those include JLG, Genie, Skyjack, Haulotte Snorkel and Niftylift.
Conversely, the major Chinese access equipment manufacturers will be at the show, including Dingli, Sinoboom, XCMG, LGMG and Zoomlion – along with a selection of European access suppliers, including Manitou, Magni, Merlo and Dieci.
Electric powered MEWPs
Chinese manufacturer Sinoboom has recently opened a new factory in Poland through its European subsidiary Sinoboom BV.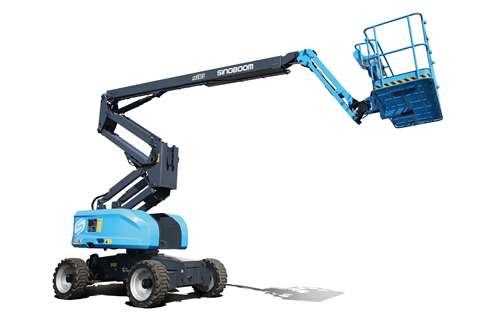 It will be demonstrating its commitment to the European market with a range of electric powered MEWPs including those from the new factory.
On show will be lightweight, compact and energy efficient scissor lifts, including new and upgraded models with greater working heights.
There will be slab scissor lifts from 8m to 13m platform heights, including models with lithium batteries and AC power.
Also at the show will be rough terrain scissor lifts with one-click levelling and up to 680kg lifting capacity, along with a range of new articulating boom lifts, including a Plus series model with 450kg lifting capacity and a new electric telescopic boom lift from the Plus series, with active oscillation.
There will also be a vertical mast lift designed for user-friendliness and manoeuvrability in narrow spaces.
Sinoboom can be found in Hall FS, Booth 1002/3.
Spider lifts
Tracked platform manufacturer Hinowa will mark its 35th anniversary this year with a large single stand.
Instead of the mini-dumper stand in hall C4 and the outside stand it had previously booked, the spider lift specialist will now display all its products on a single 600 square metre outdoor booth.
Among the aerial platforms, tracked pallet jacks, minidumpers and undercarriages will be the direct electric drive TeleCrawler TC22S spider lift, designed with an unrestricted working range in difficult terrain or in small spaces.
The model is available with three power units: fully electric; bi-energy; or Kubota diesel engine coupled with a 220V electric motor.
Hinowa can be found in Hall FS, Booth 1007/1.
Compact aerial platforms
Among the other items on the stand will be the new compact Lightlift 18.80 Performance IIIS spider with an 18.5m working height and outreach of 7.8m, with a load capacity of 230kg.
Another model on the stand will be the Lightlift 40.18 with a working height of 40.2m and compact with stabilisation area of 537 x 504 cm.
The Lightlift 20.10 MK3 platform, now with bi-energy version and IPM (Interior Permanent Magnetic) motor, will be there, along with the updated Lightlift 26.14 MK2 with the handy Hinowa Go Home feature.
Lightlift can be found in Hall FS, Booth 1007/1.
Ultra-compact telehandlers
Manitou Group will present its new ultra-compact telehandler model, designed as a versatile machine that is easy to use and easy to transport between worksites.
The model is lightweight with a transportable weight of less than three tons, which can be loaded onto a trailer with a PTAC of 3,500 kg.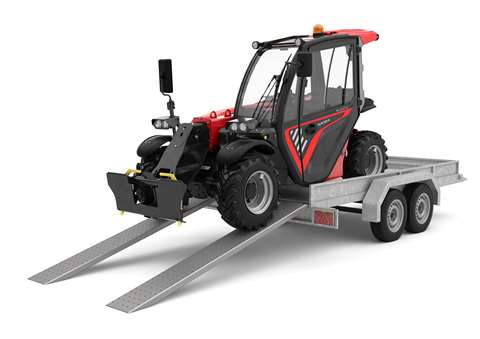 Its dimensions are among the most compact on the market with a width of just 1.49 m and a height of 1.92 m. The machine comes in two versions with lifting capacity of 1.25 t and 1.5 t respectively for a lifting height of 4.30 m.
It is available in two versions for Manitou dealers: ULM 412 H and ULM 415 H for Ultra Light Manitou, but also for Gehl distributors with the GCT descriptor.
Manitou Group can be found in Hall FS, Booth 908/1.
Telehandlers with enhanced vision
A new-design Kramer telehandler lineup will also be on show. Kramer's series from 3 – 5.5 tonnes payload is getting a facelift with a new visibility – enhancing engine bonnet design for the 3007, 3507, 3610, 4007 and 4507 machines. The result is the best possible view to the right.
Under the motto 'keep on growing with a strong partner,' Sany will display its new telehandler range. The STH1440 and STH1840 are said to focus on operator comfort, with a cabin and industrial design from Germany. 
Kramer can be found in Hall FN, Booth 915.
Low-emission engines
The introduction of new, more stringent national and regional emissions regulations and the publication of internal sustainability targets have had a major impact on all engine manufacturers.  
As Kohler Engines looks to support customer efforts to achieve compliance and deliver on company targets focusing on reduced environmental impact, the engine manufacturer is planning to introduce a series of low-emissions solutions, while at the same time rebranding as an 'energy supplier'. 
These products will cover a wide range of alternative power choices, including hybridised versions of the KDI range and new launches for the KSD engine line
Kohler Engines can be found in Hall A4 – Booth 225.
Yanmar to reveal its electrification strategy at Bauma
In addition to emphasising its free five-year warranty for engines sold in Europe and applied to machines operating within the continent, Yanmar will launch its new electrification strategy at Bauma 2022.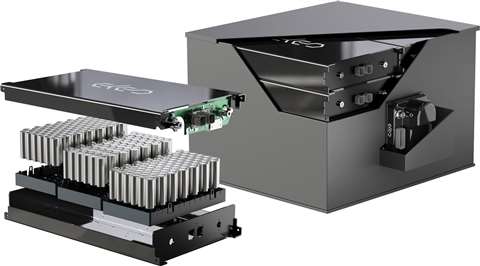 Highlighting systems integration capabilities, the company will offer system engineering, design and production of e-powertrains, while also providing control development, system evaluation, procurement, manufacturing and quality assurance.  
The engine manufacturer will have an electrified demonstration excavator on its booth. It will be powered by an electric drive and 48 V batteries with fast charging capability. Batteries will be supplied by ELEO, recently acquired by Yanmar. 
Yanmar can be found in Hall A4 – Booth 425.
KHL Group is providing rolling news on Bauma 2022 as the show prepares to open its doors. We will report on new products being launched and any other news relating to the show. Read more here for the latest news on Bauma 2022.