WHC orders 100 JCB machines
By Thomas Allen29 March 2019
UK-based WHC Hire Services is adding more than 100 JCB machines worth a total of £2.25 million (€2.6 million) to its fleet.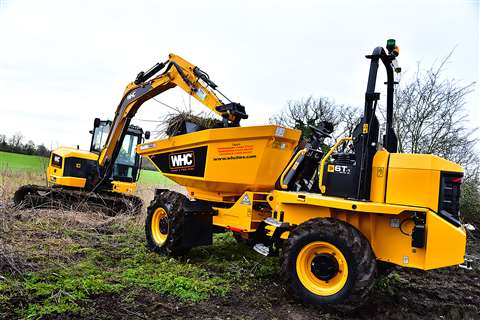 The order includes more than 70 of JCB's new site dumpers, which have capacities ranging from one to nine tonnes, as well as 1.5, five and eight tonne compact excavators.
The machines are being supplied by dealer Gunn JCB, which means WHC will now be sourcing the bulk of its equipment from a single dealer.
WHC Hire Services Owner James Clutterbuck said, "We always ensure we can offer our customers the latest innovations and JCB continually works with customers like ourselves to enhance its models for the arduous rental market."
He added, "The JCB site dumper range itself is brand new, safe and excels in the field. It's easy to use, efficient and powerful – everything you would want in a hire machine."