Where are mega cranes popping up?
By D.Ann Shiffler09 February 2022
For many years, there were just a few super heavylift cranes around the world. Deep South Crane & Rigging's Versa-Lift, Lampson International's Transi-Lift and Mammoet's PTC were the first mega cranes. The reason there were so few of these cranes is because jobs that required a crane to lift in excess of 1,500 tons were rare.
But today, this is not the case. Some 20 models of cranes can lift from 1,500 to 7,500 tons. Most cranes in this category have a lifting capacity between 2,500 to 5,000 tons.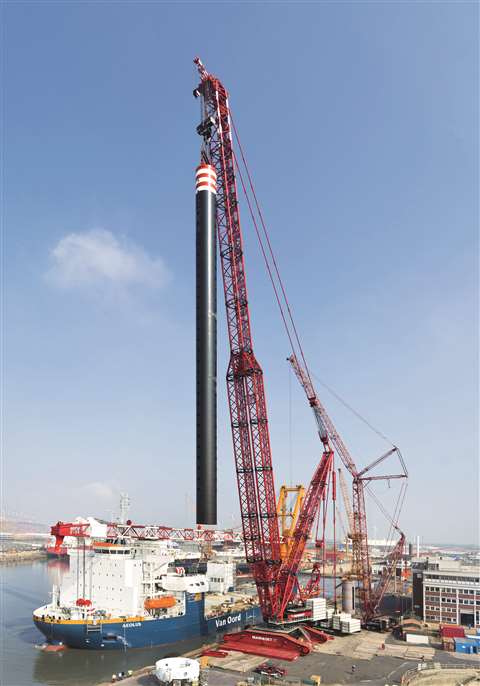 Mega cranes have been mainstays in petrochemical environments and on some of the larger-scale stadium projects, according to Jim Jatho, Liebherr's lattice boom crawler crane product manager in the United States.
"Emerging markets for huge heavy lift cranes are the space industry, and the future looks bright for the offshore wind market," he said.
Meeting a global need worldwide, the mega crane market is also promising.
"Globally we see the same trend as in the U.S. whereas there are local differences in speed from jumping from petrochemical to offshore," said Florian Ritzler, Liebherr's crawler crane sales manager at the LWE factory in Germany. "Northern Europe and Southeast Asia are already working on projects for offshore turbine loadings, parts of Africa and Asia are still using the cranes for nuclear power plant buildings. We see a clear and strong focus on more offshore projects and therefore the need of big cranes."
For Liebherr the biggest demand is for its 1,000-ton capacity LR 11000.
"In the U.S., the most in demand crane is the LR 11000," said Jatho. "In the coming years, all signs point to offshore wind development as the largest consumer of cranes 1,500 metric tons and above."
Globally, Ritzler there is a strong demand for the Liebherr LR 11350.
"[The 1350-metric-ton capacity LR11350], keeping in mind that already more than 50 units are permanently busy around the world," Ritzler said. "Most of them are in Central Europe, where they are also used more and more for offshore turbine handling. That market requires constantly bigger and bigger cranes in the size of 2,000 to 3,000 metric tons in the future for projects in North America and Europe."
Liebherr has six of its 3,000-ton capacity LR13000 units working on nuclear projects around the world.
"The LR 13000 was originally designed with a focus on nuclear power plant work, and three out of the six are working at a nuclear installation in Turkey and Pakistan," Jatho said.
Ritzler said the company is getting more inquiries for larger capacity cranes.
"We assume these cranes will work in offshore handling and big petrochemical jobs as well as infrastructure projects, and larger cranes will take over part of the work that is nowadays done with LR 11350," he said.
Product development in the mega crane category is a priority for Liebherr.
"Our company always has the goal to develop in the direction where the global markets are heading," said Ritzler. "We saw that in the past years where we successfully made the transition from 400 to 600 metric ton cranes in wind power to 700 to 1,000 metric ton cranes for the global markets (especially in the United States). We are already in the advanced planning stages for a crane of the 2,000 to 2,500-ton size that will hit the market just in time for a lot of big projects to start. That niche between the LR 11350 and LR 13000 is the market segment where we see the biggest increase in demand over the next (minimum) five years."
Transi-Lift demand
Lampson International's Transi-Lift crane continues to garner interest. The company produces the Lampson LTL-2600 and the LTL-3000, with capacities from 2,600 and 3,000 tons respectively.
"We are seeing a demand for the Lampson Transi-Lift for infrastructure projects, some power plant construction, stadium construction and new building construction," said Kate Lampson, director of strategic communication, Lampson International. "However, with the policies of the current Administration, we do anticipate a slowing in the oil and gas industry going forward. We are seeing a demand for the Lampson Transi-Lift in the 1,500 to 2,600-ton capacity range."
One of Lampson's most successful Transi -Lift projects of late was at Plant Vogtle where the crane performed numerous heavy lifts, each weighing over 1,000 tons.
"We were able to perform these lifts between two separate plants using just one Lampson Transi-Lift LTL-2600 mobile crawler crane," Lampson said. "Given the small footprint of the Transi-Lift and its exceptional maneuverability, it was a natural fit for the job. We are seeing most of the demand for the Lampson Transi-Lift in the United States. However, we continue to bid projects in the countries of Australia and Canada as well. They are mostly on new building construction with some infrastructure projects as well as modular construction projects of all types."
Lampson International is a well-known provider of heavy lift cranes around the world. "If we have a specific client with a need for a larger capacity Lampson Transi-Lift, we will fulfill that need," said Lampson.
Pandemic pressure
Gavin Kerr, Mammoet's director of global cranes, characterizes demand for his company's cranes as a bit lower than in the past, most likely due to the pandemic.
"Demand in the U.S. is certainly lower than what we had been used to in the years pre-Covid," he said. "In the petrochemical sector, the investment dollars have shifted from refinery expansion to LNG projects, which are typically more dependent on SPMT capacity than lift capacity. Demand for mega cranes in the refinery setting is shifting toward maintenance where large and heavy components need to be exchanged. But working on a congested site doesn't always lend itself to mega cranes and that is one of the reasons behind our development of the Focus crane. The capacity to deliver high lift capacity in small spaces is a trend that we see becoming more important. But that isn't to say our more traditional mega cranes will no longer be required, far from it."
The picture is the same globally, Kerr said.
"There's a focus on OPEX in the developed countries, while new production continues to abound in emerging markets," Kerr said. "Meanwhile we see continued investment in nuclear power which requires large cranes to build the containment structures, while we haven't even scratched the surface in terms of development in offshore wind. Going back to the U.S., offshore wind is certainly a new frontier for growth as demand shifts toward renewables."
Big Carl in action
Tagged as the world's biggest crane and nicknamed Big Carl, the giant Sarens SGC-250 has been in action again at Hinkley Point C nuclear power station in Somerset, United Kingdom. The 5,000 metric ton capacity crane placed the first steel ring section onto the second reactor building, 11 months after the same operation on the first reactor. The 575 metric ton ring, which is 47 meters in diameter and 17 meters tall, forms part of a reinforced cylinder around the nuclear reactor.
This installation was an identical design to the first reactor, but the second ring was built 25 percent faster than the same part on unit one.
"This significant lift is testament to everyone involved – from the teams who fabricated it, to those on Unit 2 who've delivered the civil-works schedule enabling us to install it and also the lifting team themselves," said Simon Parsons, NI area site and civils director. The SGC-250 was rigged with the Sarspin hydraulic load levelling system. It had 118 meters of main boom and a 52.3 meter jib. The counterweight weighed in at 5,200 metric tons. The load lifted was approximately 600 metric tons.
Application and capacity
For Mammoet, Kerr said it's less about crane capacity and more about application.
"Every project is unique with different value drivers," he said. "Coke drums can be exchanged on one refinery with a 1,600-ton crane and with a 5,000-ton crane on another. Thankfully, we have a very diverse mix of cranes within our mega crane fleet that offer our clients a range of options which they can consider within their execution strategies. The addition of the AL.SK cranes and our new Focus 30 further broaden our capacity to solve clients' problems, and that capacity is the most important of all."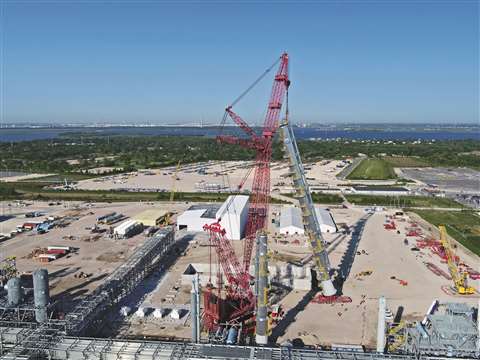 Mammoet's heavy lift cranes are active around the world.
"We're active in all regions at the moment, no single one is driving demand more than another," Kerr said. "Given that we serve so many different segments, we tend to find that our assets are well distributed around the world. With price volatility in the global shipping market, which shows no sign of cooling, we are constantly optimizing our planning to minimize the number of movements we're making."
Mammoet's specialty is rigging and lifting huge, oversized loads.
"If its heavy we're lifting it," Kerr said. "We've been exchanging coke drums, assembling jackets, decommissioning wind turbines, removing bridges, launching exploration vessels, installing modules, and setting reactors. There's never a dull moment, thankfully."
As far as development of new cranes, Kerr said Mammoet "always has something cooking."
"We definitely see a supply crunch coming and the absolute number of large cranes available globally is simply not sufficient to support planned global development," he said. "We see the crane manufacturers expanding in response to this, which in itself is telling. Next to addressing that challenge, we are moving ahead with the engineering phase of the SK600, the next evolution of the SK series of cranes. This will unlock a whole new frontier of design and construction possibilities for our customers."
Until its acquisition of Demag in 2020, Tadano didn't really toil in the mega crane space. But that's no longer the case. At its plant in Germany, Tadano produces two cranes in the mega crane realm, the 3,200-ton capacity Demag CC-8800-TWIN and the 1,600-ton capacity Demag CC-1600. Both cranes have been rebranded as the Tadano CC88.3200-1 and CC88.1600-1.
Stadiums and arenas
Allen Kadow, sales specialist for lattice boom crawler cranes for Tadano in the United States, said these cranes operate around the world.
"Sarens bought a CC-8800 with a luffing jib to place the Madison Square Garden Sphere in Las Vegas," said Kadow.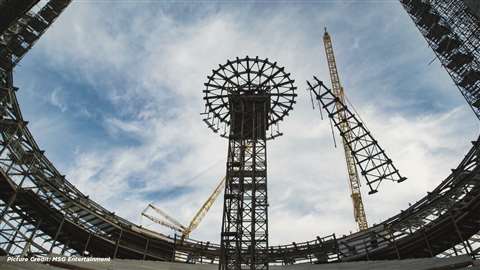 When completed, the MSG Sphere will be 366 feet tall, and the building will be 516 feet wide at its widest point. The CC-8800 and CC-6800 have been lifting pre-assembled steel components. The two large cranes are positioned on opposing sides of the actual spherical building footprint allowing for ongoing steel erection from each crane. The CC-8800 placed a 170-ton ring atop a steel shoring tower in February 2021. The 17,500-seat venue is set for completion in 2023.
"Our mega cranes are well suited for the larger stadiums," Kadow said. "The heavy lift cranes are brought in to lift the large components like the roof sections. These cranes are also working in petrochemical plants and fabrication yards. The biggest thing on the horizon is the new offshore wind farms."
Kadow said that Tadano anticipates that heavy lift cranes will be needed to build port side cranes for lifting the large wind components onto ships.
"There's probably more work for our CC88.1600-1 right now," he said.
Tadano continues to work on developing higher capacity cranes.
"We work closely with our customers, and we are able to see where the requirements are going to be," he said. "We keep our eyes on where the market is going. It could be we need an additional component, or [an entirely] new product. We keep an eye on emerging markets. Who would have thought 20 years ago the market would be any where near this size for cranes with these large capacities?"
One of Lampson International's most recent Transi-Lift projects was at Plant Vogtle in Georgia, where the crane performed numerous 1,000-ton lifts. The crane is known for its small footprint and maneuverability.