Why telescopic boom crawler cranes are on the rise
The rise in popularity of telescopic boom crawler cranes stems from their quick and easy set up, even on restricted and busy sites. Niamh Marriott reports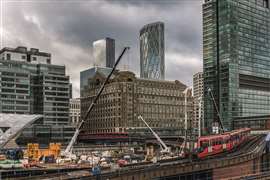 Telescopic boom crawler cranes are often used for heavy lifting work on narrow construction projects and as assist cranes during installation tasks, says a spokesperson for Dutch manufacturer PVE Cranes and Services.
The Netherlands-headquartered company is known as a crawler crane rental house and supplier of heavy duty piling and drilling equipment. It has more than 100 crawler cranes in its fleet and operations around the world as well as a production facility. In 2021, it launched its sister company, PV-E Crane, which has been developing its electric crawler range, including the ECT 70.
Electric options
As previously reported by ICST, the fully battery-electric crawler series was announced in conjunction with its first customer, Volker Wessels. The major Dutch construction contractor ordered three units to add to its own equipment fleet for use on construction projects in the Netherlands.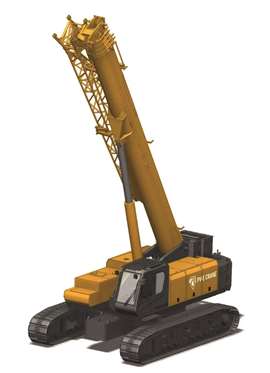 "Our aim is to make a substantial contribution to the transition to a low emission, healthier construction site," says Rob van den Boogaard, PV-E Crane managing director. "The crane is fully CE and TÜV certified and has already been extensively tested in field conditions."
The cranes have a 200 kW electric motor in place of a diesel engine, which is used to drive the hydraulic pumps as per a conventional hydraulic crawler crane.
Replacing the diesel tank is a 260 kWh lithium-iron-phosphate (LiFePO4) battery pack, arranged as two exchangeable units of 130 kW-h each. These batteries are the latest development in traction cell technology and have some major advantages, the company says, for example, they contain no acids or heavy metals and are fully recyclable.
"Our crawler telescopic electric crane has several advantages: maximum lifting capacity of 70 tonnes, 100 per cent travelling with load, good transportability and cost-efficiency and compact design, ideal for narrow job sites," he says.
Manufacturer Sennebogen also launched its first fully electrically powered crawler crane, which was showcased at the Bauma tradeshow in 2022. It was developed in collaboration with Dutch Sennebogen dealer Van den Heuvel. The crane's 210 kW-h battery pack carried onboard allows autonomous operation in battery-only mode, or it can be plugged into the mains electricity grid via a cable. When plugged in the machine runs from this site power with any excess going to top-up the battery.
Booming demand
It is not only the green credentials of this crane type that impress. The load capacity of crawlers as well as their compact design offers serious advantages for different types of construction work.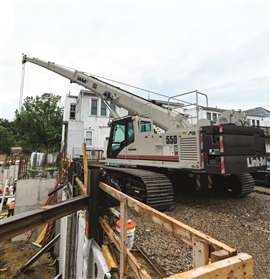 USA-based crane manufacturer Link-Belt Cranes says the greatest demand in the telescopic boom crawler crane market comes in the 80 to 140 US ton (73 to 127 tonne) capacity range. This crane type is proving popular for bridge projects, as they can handle movements around increasingly small sites.
It also says that a "steady market that has seen growth for telecrawlers is in the wind sector where these units are used in tandem with large lattice crawlers for assembling wind turbines. Telecrawlers are easy to move over uneven terrain where wind projects exist and often do not require any dunnage or limited ground prep as crews move from turbine site to site."
Link-Belt Cranes offers a wide range of telescopic crawler cranes, the newest being its 55 ton (45 tonne) TCC-550 model and its 80 ton (75 tonne) capacity TCC-800.
London calling
Liebherr agrees that the market for crawlers is currently very good, commenting that there is particular demand in the UK where several Liebherr telescopic crawler cranes have been working on a host of different job sites in and around the capital city of London.
Liebherr offers four telescopic boom crawler crane models ranging from the 42 tonne capacity LTR 1040 up to its 220 tonne capacity LTR 1220 model.
Liebherr's telescopic crawlers are being used on a huge Canary Wharf construction site in London's Docklands, where a fashionable shopping and residential area is being built on more than three hectares next to skyscrapers. The machines are also in great demand on the construction sites for HS2, the largest railway infrastructure project in the UK.
Two Liebherr LTR 1060s crawlers are constructing an entire building shell in Leatherhead, south west of the capital. Liebherr says this was a deliberate choice by crane contractor Q Crane & Plant Hire Ltd, who have chosen to use only these cranes for the entirety of the project, even using them for jobs that would usually be performed by standard construction cranes.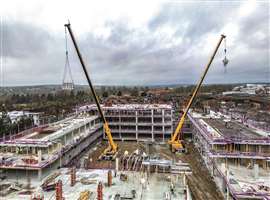 "It's precisely these pick-and-carry tasks that make our LTR cranes so practical and versatile in addition to their hoisting work," says Eduard Mincu, a crane driver at Q Crane who operates one of the two LTR 1060s.
Narrow spaces
It is not just Liebherr crawlers that have been working on UK sites. Recently, a 25 tonne capacity Marchetti CW25.35 assisted with a restricted access job at Willesden Substation in Harlesden, London. This crane was selected as it can travel with the undercarriage retracted. As the crane was only 2.5 metres wide, it could track down a narrow passageway and around a very tight corner that small all terrain cranes were unable to navigate.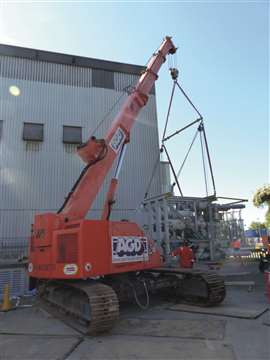 Once in position the crane had the required lifting capacity to carry out the installation of electrical components, as well as undertake pick and carry duties.
Large projects
Speaking about the UK market, AGD Equipment sales manager Jon Phipps says, "The crawler crane sector will see a demand in requirements in coming months with HS2 continuing and large projects like Sizewell starting up. The demand from these and other projects for equipment with the latest engines will increase the strain on the supply chain, those best placed will be the crane rental companies, like ourselves, who have already invested heavily in their fleet to upgrade and modernise."
In Goole, Yorkshire in the UK, a 70 tonne capacity Sennebogen 673 telescopic crawler crane was supplied to assist with the installation of pre-cast concrete sections for client GMI Construction.
Phipps explains, "These were installed to form the inspection pits at the new Siemens train factory. The lifts were taking place inside an already constructed steel framed building and therefore headroom was limited. The full power boom system on the crane allowed for the units to be unloaded from the trailer, carried a short distance and positioned into place by telescoping out, all whilst under load."
Global demand
Demand for this crane type is similarly strong beyond the UK. Japanese manufacturer Tadano says the demand for crawler cranes worldwide is stabilising at a very high level.
"Many infrastructure projects such as bridge renewals and the construction of new power plants, but also the growing demand for renewable energies and the related approval of new wind power plants, have caused demand to rise," says a Tadano spokesperson.
Tadano offers a range of telescopic crawler cranes from the 35 tonne capacity GTC-350 to the 200 tonne GTC-2000 (previously named GTC-1800EX).
Powerful choice
Germany-based crane company Bracht used its new GTC-2000 to assemble several 15 tonne concrete components at a site in Mülheim an der Ruhr.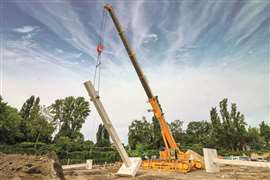 Commenting on the new purchase and its first job, Bracht technical manager Thomas Spangemacher says, "The Tadano GTC-2000 closes the gap between the 130 and 220 tonne capacity classes. And with a lifting capacity of 200 tonnes and a supremely powerful load moment of 585 tonne-metres, it's simply a perfect fit for our fleet."
The company chose the crane for its lifting capacity on inclined terrain.
"It can lift a good 34 tonnes at an inclination of 4 degrees with a 30-metre main boom at a radius of 12 metres. This means that it's often possible to skip the time-consuming step of levelling the ground at the work site, for example, when erecting large lattice boom crawler cranes on challenging terrain," he continues.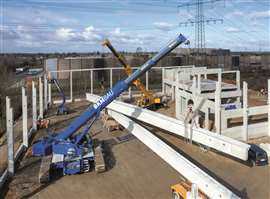 Germany-based construction company BKM has been using its new Liebherr LTR 1220 to aid in the construction of a warehouse building. Together with a LTM 1130-5.1 wheeled mobile crane, a 40 tonne ceiling truss was installed. The main challenge for the job was that parts of the concrete hall had to be built directly underneath and at a short distance from two large high-voltage power lines. At certain times the crane and fitters only had a few metres of usable height above the structure, because a minimum safety distance from the sagging cables had to be maintained. The company used the Liebherr LICCON control system to define the safe working limits, preventing the telescopic section from accidentally extending too far or the boom from luffing up.