Wide-ranging launches from Atlas Copco
By Helen Wright21 March 2016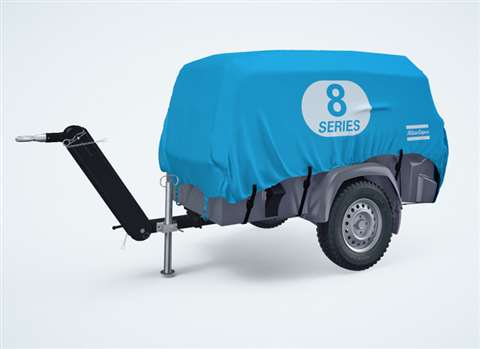 Manufacturer Atlas Copco has a busy show planned at this year's Bauma Munich exhibition, with a variety of new and improved products being showcased.
Atlas Copco's Portable Energy division will officially launch the seven-model HiLight range at the show, for instance. The company said visitors to its stand could expect to see a number of new innovations, such as the latest in LED lighting, as well as understanding how incorporating the latest technology has enhanced energy efficiency, portability and safety.
The company said it also planned to launch its new 8 Series compressor, which it described the most exciting addition to Atlas Copco's small air portfolio in a decade.
It said this new model sets new standards in almost every category, from size and weight to efficiency and performance, and includes the latest iteration of the HardHat polyethylene canopy.
Visitors to Bauma 2016 can also expect to see an extension to the manufacturer's QES range of generators specifically aimed at construction and rental markets.
The QES range incorporates all of the additional benefits that customers have come to expect from Atlas Copco's power solutions portfolio and will appeal to customers across global markets.
The extension and expansion of dewatering solutions will also feature strongly, with Atlas Copco showcasing exciting additions to its WEDA electrical product range, as well as highlighting products that will now be available as the Varisco line, following the completion of the company's acquisition in January 2016.

And Atlas Copco will present its new RTEX handheld pneumatic breaker, which it said reduces energy consumption by 50% whilst being 25% lighter. The 25kg breaker boasts 3-axes hand-and-arm vibration below 5 m/s2. Under these conditions, Atlas Copco said an operator could work up to eight times longer than with conventional breakers, according to the safety guidelines.
Meanwhile, the company will be presenting its LG 504, the latest addition to its forward and reversible plate compactor family. This machine is said to provide traction particularly on wet soil, thanks to higher frequency, higher centrifugal force and higher amplitude. The middleweight LG 504 can also be equipped with an optional compaction indicator.
In addition, Atlas Copco said its new generation of bucket crushers at this year's Bauma offer up to 80% higher output than previous models.
The BC 2500 and BC3700 machines are designed for carriers from 22-38 tonnes, and for small demolition, recycling and road construction applications, where they are proposed as an alternative to a mobile jaw crusher.
Capable of crushing up to 110tph, the bucket crushers have a high level of flexibility in terms of operating reach.
With an advanced twin-drive system from two hydraulic motors and a sturdy timing belt, the system provides powerful torque and constant power transmission.
The new BC bucket crushers also feature an automatic anti-lock mechanism, continuously repositioning the material; meaning even large pieces are automatically guided towards the crushing jaw. Also, if material becomes jammed, the reverse function allows the operator to change the direction of rotation, pushing the material back into the inlet to remove the blockage.
Atlas Copco will also launch its FlexiROC T20 R drill rig at Bauma, promoting it as the most versatile version on the market within the 38-64 mm-hole range.
The rig can drill underground as well as on the surface, as well as at any angle, and features a high-powered rock drill.
It has a completely new rig control system as well as Radio Remote Control (RRC), and its compact design assists transportation between locations and set-up in confined spaces.
Marcus Leü, Product Manager for Atlas Copco, says: "The new FlexiROC T20 R has been developed in response to a strong demand from customers around the world for a rig that can offer superior performance in virtually any construction environment."
The FlexiROC T20 R has a boom reach of 4 250 mm through a 90° radius which gives more holes from fewer set-ups in tasks such as foundation drilling, trenching and various tunnelling operations.
Other upgrades include a new cylinder feed (BMH 2000) in three lengths (for 8, 10 and 12 ft rods), a new reinforced drill steel support, a front-facing feed holder and an easily accessible service access point.
Atlas Copco says the rig's 14 kW COP 1435 rock drill, combined with a smooth cylinder feed action, provides almost 30% more impact energy and torque, boosting drilling performance by up to 40%.
Taking place in Munich, Germany, from 11 to 17 April, Bauma is the largest construction equipment exhibition in the world.