Wilkerson expands fleet with crawlers for Missouri wind work
By Hannah Sundermeyer17 August 2022
Wilkerson Crane Rental of Kansas City, KS has purchased three Link-Belt telescopic crawler cranes, a 250-ton TCC-2500 and two 140-ton TCC-1400s.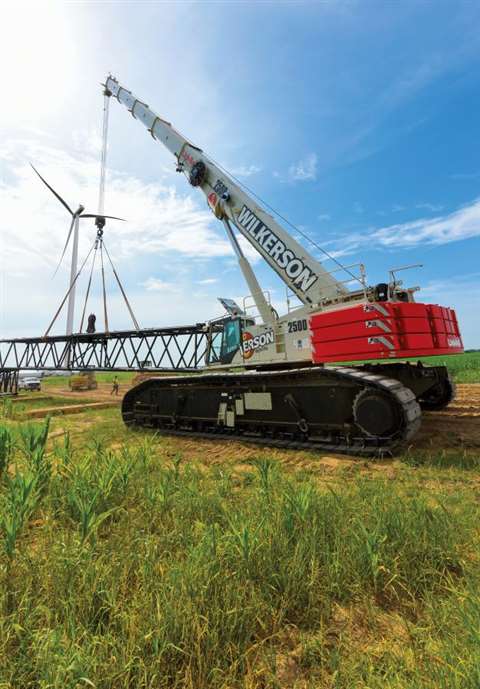 According to Larry Smith, sales and estimating manager for Wilkerson Crane Rental, the contractor knew which cranes they wanted for a 69-turbine wind project near Joplin, MO. Wilkerson then began a search for additional TCC-1400's since their other Link-Belt telecrawlers were on other projects. Their Link-Belt dealer supplied the two additional units without shipping directly from the factory.
"The TCCs get around so well," added Smith. "They can walk down a dirt road on tracks, or across rough fields and suck in the boom for easy travel. They can get around so well while they are picking and carrying. They are so agile, almost perfect for the work they're doing out here. You couldn't ask for a better crane, really."
All three Link-Belt telecrawlers are nimble enough to assemble larger 715-ton lattice crawlers onsite, while also unloading turbine components off transport trucks for eventual assembly. The TCC crane operators are usually working in a 35 to 40-foot radius, although working up to a 100-foot radius is common. Crane boom configuration can be from 85 to 105 feet out or more, while the boom angle varies upon space available and placement with changing load weights.