Wind farm job for MLC650
By Laura Hatton26 August 2015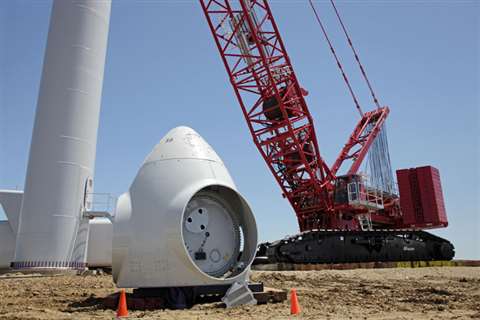 Renewable Energy Systems America (RES) is using a Manitowoc MLC650 lattice boom crawler crane to help erect wind turbines at the Pleasant Valley Wind Farm near Austin, Minnesota, USA.
In total, 18 towers will be erected at the 200 MW farm. The nacelles and wind tower sections, which are prefabricated, weigh up to 107 tonnes. The blades weigh 11 tonnes each and are being lifted to heights up to 90 m. For the task, the MLC650 is configured with 103 metre main boom, 7.5 m extended upper boom and 295 tonnes of counterweight.
The MLC650 was rented from California-based Bigge Crane and Rigging. It has the variable position counterweight (VPC) system. Weston Settlemier, Bigge president and CEO, said, "Moving forward, we expect the wind turbine market to demand the MLC650 over the current offering of crawler cranes because the VPC saves time and money. The crane's technology allows for reduced erection time, increases walking speeds and reduces transportation costs. In addition, the VPC balanced technology reduces the point loading of crawlers and reduces ground preparation required by the wind turbine erection contractor."
John Krane, Bigge leasing manager, said, "One of the MLC650's biggest selling points for me is its larger wire rope (32 mm) and greater line pull. It can work with six parts of line, rather than eight parts. These features make the crane's hoisting much faster than other cranes, which will enable us to complete this job in a shorter amount of time. Also, it doesn't need an assist crane to raise its boom, again saving us time and money."
On completion of the wind farm later this year, the MLC650 will be moved to Ardmore, Oklahoma, where it will work on a similar wind farm project for RES, a company spokesperson added.