Winsafe platform designed for tricky project
By Lindsey Anderson13 November 2018
Lafarge Canada Inc. needed a custom-built solution to assist in the maintenance of a calciner tower at the Exshaw cement plant so they called AGF Access Group and its Special Projects Group (SPG) for help.
"The buildup on the calciner tower can become really dangerous so proper maintenance is crucial for safety," said Andrew Fossheim, production coordinator, Lafarge. "The large pieces can create a cascading effect when they fall, and that could be fatal for workers performing the maintenance."
Layers of scale build up on the tower walls during the cement-making process. The scale can grow inches thick, and pieces weighing up to 150 pounds (68 kg) can loosen and fall from the top of the 260-foot tower. Proper maintenance and descaling of the tower walls must occur annually.
"We always used a bosun chair to descale the tower every year, but it would take three people suspended from the chair on a cable typically working 168 hours to complete the job," said Fossheim. "We had to shut the plant down for over two weeks in order for the work to take place. That method just wasn't cost effective or time efficient."
Having worked with AGF Access Group and its Special Projects Group on previous projects, Lafarge was familiar with their skill at solving tough access challenges.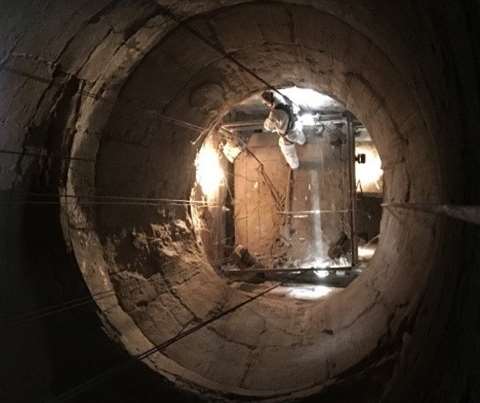 SPG met with the Exshaw plant team in Calgary and in three months time, SPG in collaboration with the company's Winsafe division, designed and delivered a suspended platform that had a transformable shape during usage: one that was square at the narrower top of the tower and could be altered modularly in mid-air to form a circular platform to meet the walls of the widening tower on the way down.
The custom-designed Winsafe suspended platform is a 9-foot (2.74 m) square with a 4,000-pound capacity and can be adjusted into a 14-16 foot (4.27 m – 4.88 m) circle with a 3,000-pound capacity. The platform's motor moves it 35 feet per minute to travel the 260 feet length of the tower. The platform was designed to be eight inches from the tower wall at all times, while holding eight workers, their materials and their tools.
"Our transformable Winsafe platforms provide access to areas that are unusual shapes, such as square or circular silos, industrial vessels, power plants, etc., that often have significant height requirements," said Stephan Loiselle, business development manager, SPG. "They can also be designed for a diameter of up to 50 feet (15 m)"
"The Winsafe suspended platform has given us a new, faster way to descale. It cut the time for the job down by 66 percent," said Fossheim. "We can get this same work done now in only four days; it's a huge improvement. The SPG team has been incredibly helpful – even down to the last-minute design changes. They were always available for us."