Winsafe tapped for dam project
By Lindsey Anderson29 October 2019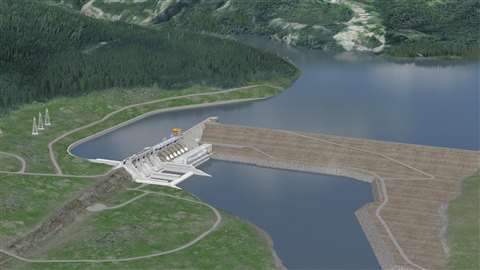 Montreal-based AGF Access Group, Inc., (AAG) has been selected by subcontractor Groupe Lar to provide an access solution to aid in the construction of the Site C Hydro Dam. AAG's scaffolding division Winsafe will custom-build an engineered, suspended platform to operate within the penstocks of the new $9b Canadian megaproject located on the Peace River in northeast B.C., Canada.
The large steel penstock pipes, each measuring 10m in diameter and approximately 85m in length, will regulate the flow of the dam's water. During the construction phase, the temporary Winsafe system will provide critical and safe access within the penstocks, according to the company. One of the Winsafe platform's unique features is that it can travel on an incline up to 45 degrees while adjusting to the curved geometric travel of the penstocks.
"Safety is extremely important for this project," said Stephan Loiselle, business development manager, AAG. "Groupe LAR needed a way to have quick and safe access within the penstocks, but even more importantly, to have quick access out in case of an emergency. We are able to engineer a solution that makes this possible."
"We are excited to be working on the Site C megaproject," said Alex Di Domenico, vice president major projects, AAG. "Our recent hydro dam experience with Canmec at Muskrat Falls has given us substantial expertise for developing customized solutions for unique and challenging access applications."
AAG will deliver the suspended engineered platform by the end of 2019.
There are three hydro dams under construction in Canada currently, with Site C being the largest. According to the Site C website, Site C will be a source of clean and renewable electricity for more than 100 years, providing enough energy to power the equivalent of about 450,000 homes per year in B.C. Construction of Site C started in summer 2015 and will be completed in 2024.