Work to begin on Trans Harbour Link
By Andy Brown06 December 2017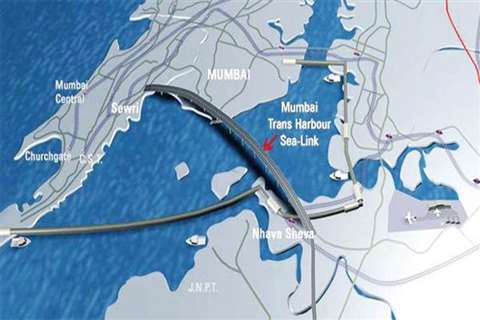 The long wait for Mumbai's ambitious infrastructure project, the Trans Harbour Link, has ended as it moves closer to execution. The bridge has been attempted several times in the past, but has never come to fruition.
Engineering conglomerate Larsen & Toubro (L&T) last month announced it was the lowest bidder to construct Package one and Package three of the project. Tata Projects recently announced it would be executing Package two, which is to be built completely in the sea.
The Mumbai Trans Harbour Link has been on the drawing board since the 1970s. The project at present is likely to cost around 17,000 crore Indian Rupees (US$ 263.4 million).
"This is a long overdue project. I believe since the time of Independence we have been thinking about having a link. Several attempts were made and several discussions happened on whether it should be a tunnel or a bridge. All these ideas came up, but nothing materialised," said Gulabchand, chairman and managing director, Hindustan Construction Company (HCC), which constructed the Mumbai Sea Link project. HCC was also one of the bidders for the MumbaiTransharbour Link project, but did not make the lowest bid.
The proposed Navi Mumbai Airport has also contributed in putting the project on the fast track. It is crucial for the city to have a link connecting the island city to the upcoming airport to make the airport project a success. The Navi Mumbai airport is expected to start operations by 2019 and the Mumbai Transharbour Link is scheduled to be completed by the first half of 2022.