World of Concrete opens
By Lindsey Anderson23 January 2018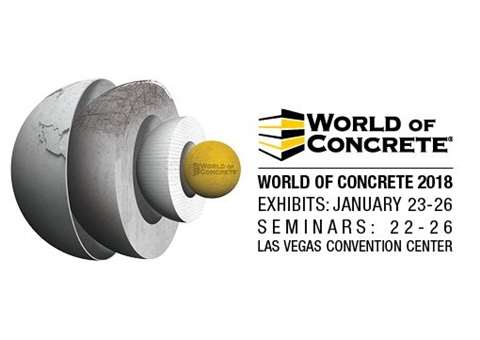 World of Concrete, Jan. 23-26 at the Las Vegas Convention Center, has officially opened. The show is expected to attract 60,000 attendees and 1,500 suppliers from around the world. Organizers say the event will be the largest it's been in nine years.
Attendees are invited to test-drive equipment while perusing new products both indoors and out. Here's what visitors can expect on-stand at the annual Vegas extravaganza. ALH provides a guide.

AMS-Merlo will show its range of telehandlers including the compact P27.6 Plus, P38.13 and P40.17. All of the machines on display will showcase improved cab designs and Tier 4 interim or Tier 4 final engines. Capacities range from 5,950 pounds to 26,460 pounds. The company will also have its rotating units at World of Concrete.
"With our construction customers, the large capacity machines are in greater demand, as well as the rotating telehandlers, such as our Roto 40.30," says Garth McGillewie, president of AMS-Merlo. "This machine is very popular with rental companies. The reasons being its compact size, its ability to rotate 360 degrees, and most importantly, the ability to reach 96 feet with a number of attachments ranging from forks, jib with hook, jib with winch, concrete mixers, buckets and manbaskets."
Bil-Jax will have its scaffold innovations at World of Concrete. The company produces sectional scaffold, ring scaffold, utility scaffold, shoring and events-related products.
Bobcat's expanded VersaHandler telehandler line of products will be showcased. The new V723 unit will be at World of Concrete. The telehandler can lift up to 7,700 pounds and features a range of attachments.
Caterpillar told ALH it will have the TL1255D and the TH255C on display. The 1255 is the newest of the two, being introduced in 2015. The TH255C, which was debuted in 2014, features a 5,500-pound lifting capacity with a lift height of 18,33 feet. The TH255C uses a fuel-efficient, 2.9-liter engine rated at 74-horsepower (55 kW). A new cooling package features a variable-speed, hydraulically driven fan with an available variable-speed reversing feature. The engine pod has been redesigned to accommodate the new engine, including a new exhaust mounting system and a low-profile hood that provides significantly enhanced visibility to the right of the machine.
Fraco Products will be on hand to showcase a new unit, the FMC-3 work platform. The FMC-3 offers a maximum load capacity of 3,000 pounds, which makes it the "perfect access solution for light work," the company says. "It also offers great adaptability with floor extensions of different lengths that allow an extension of the working area of up to 2.6 meters. For safety, these extensions can be locked in order to prevent any unexpected incidents, and they are provided with a non-slip material to avoid accidental falls." To learn all of the details, stop by Fraco's booth.
Gehl Co., which will share space with parent company Manitou Group, will show its all-new Gehl RT215 compact track loader and the Gehl RS9-50. Check its stand for more.
Hydro Mobile will once again be a part of the SpecMix BrickLayer 500 event. The company offers a range of versatile mast climbing work platforms to help contractors increase their profitability in every trade.
JLG Industries, Inc. will have three units at World of Concrete including two telehandlers and a boom lift.
The JLG 1644 high capacity telehandler offers 15,600 pounds of lift capacity and is the first telehandler in North America with SmartLoad Technology, a bundle of three integrated technologies that work together to deliver a greater level of operator comfort. (For more on this technology, see our telehandler feature in this issue.)
The 1644 is also among the first equipped with JLG's precision gravity lowering system, which enables the telehandler to rely on hydraulic power to raise the boom, but use gravity to lower it, providing the operator with better, more precise control. The telehandler features a soft stop boom control that slows boom functions at the end of the cylinder stroke, an optional reverse camera and reverse sensing system, and an integrated tow hitch.
In addition, operators will appreciate a spacious cab with enhanced visibility, two-speed hydrostatic transmission, an optional boom float, and ride control for enhanced load stability when travelling on uneven terrain.
The company will also show its SkyTrak 8042 telehandler that offers a maximum lift capacity of 8,000 pounds, maximum lift height of 41 feet, 11 inches, and maximum reach of 26 feet, 7 inches. The telehandler features an intuitive single joystick that controls all functions and improved boom speeds that maximize productivity. Operators will also appreciate a redesigned cab that includes a new dashboard, integrated arm rest and optional air conditioning.
The telehandler is available with an optional 74hp engine that does not require Diesel Exhaust Fluid (DEF) and meets Tier 4 Final regulations. In addition, operator confidence increases when placing a load thanks to the Stabil-Trak rear axle stabilization system, while a rear counterweight includes an integrated tow hitch as standard, which increases the versatility of the telehandler by enabling it to perform more functions on the jobsite.
Lastly, the company's 400S boom lift will be in Vegas. The 400S offers a platform height of 40 feet, a restricted platform capacity of 1,000 pounds, unrestricted platform capacity of 600 pounds and a horizontal outreach of 33 feet, 3 inches. In addition, the machine is equipped with DuraTough hoods. DuraTough is a stout, yet flexible, polymer that offers heat, impact, and corrosion resistance, along with sound and vibration insulation. As a result, DuraTough hoods experience less damage and breakage, which means less maintenance, fewer repairs, and increased uptime.
KHL Group is the publisher of Access, Lift & Handlers magazine. Established in 1989, KHL Group is now the leading supplier of international construction information in the world. It has achieved rapid growth through market focus and an intense knowledge of the world market. Editorial quality and independence from commercial pressures is why KHL's magazines enjoy a loyal readership which is the foundation of long-term success for a publishing company.
KHL Group is a diversified media company that delivers information in whatever format the market demands. Using its strong market-leading magazine brands, KHL has expanded into digital magazines, e-newsletters, directories, the internet, new media technologies, book publishing, direct mail, list rental, exhibitions, conferences and contract publishing.
The publisher's ALH magazine is a go-to source for access, telehandler and scaffold-related industry news and business reviews. Stop by the booth for the latest issues from KHL and to meet key staff.
Magni Telescopic Handlers offers a line of 14 machines with lift heights from 57 to 140 feet. The company's telehandlers can lift 8,800 pounds to 17,600 pounds and also feature forward reaches of 47 to 110 feet. "Combined with the many available attachments, you can count on Magni to give you unparalleled efficiency, productivity, safety and comfort," the company says.
Manitou will show a number of its telehandlers and forklifts. The Manitou MRT 3050 rotating telehandler will be on display. "It provides unbeatable performance and safety on the jobsite," the company says. The machine features a maximum load capacity of 11,000 pounds and lift height of 97 feet, 9 inches. Furthermore, a 176-horespower Mercedes engine and four-wheel power push through any terrain, Manitou says. The MRT 3050 is equipped with the longest stabilizers on the market, the company says, extending 20 feet, 5 inches with pin-mounted strain gauges to determine ground contact and position sensors to adapt the load chart. New features that ease maintenance and reduce cost of ownership include direct access to the main boom components, hydraulic lines, engine and battery.
Additional machines on display will include: Manitou MT 625 telehandler, Manitou MHT 790, Manitou TMT 55 truck-mounted forklift, Manitou MH 25-4 forklift truck, Gehl V420 vertical skid loader, Mustang 1000M compact excavator and Gehl units (mentioned previously.)
Pettibone will debut the T944X, its next generation Traverse telehandler, at its booth.
The Traverse is the only telescopic handler currently on the market with an extendable, traversing boom that moves loads by traveling horizontally, according to the company. This capability allows users to precisely and safely place loads forward through windows or other tight openings without having to reposition the machine.
With the Traverse, the specified lift height is the landing height. This stands in contrast to a traditional fixed boom pivot, where the true landing height is generally several feet less than advertised, as operators must account for withdrawing the forks out of the load with enough rearward travel for the fork tips to clear the landing zone. For more specs and details, check out Pettibone's booth.
The Scaffold & Access Industry Association invites attendees to come and learn more about the association. " The Scaffold & Access Industry Association's (SAIA) most important asset is its members. They come from all niches of the scaffold and access industry. We have Ma and Pa shops, scaffold builders, erectors, workers on the equipment to CEO's of companies that do well over 100 million a year in scaffold and access business. Each member is unique and has something to offer the SAIA and the scaffold and access industry. Collectively, you won't find a greater wealth of scaffold and access knowledge or information from any other company or association in the industry," the company says.
Skyjack will showcase two of their key products at World of Concrete . The SJ6832 RT is one of the more compact rough terrain scissors that Skyjack manufactures; this 4WD unit offers 40 percent gradeability and is suitable on challenging jobsites. Skyjack's SJ1056 TH revolutionized the 10,000-pound category, according to the company, with its class-leading load chart performance, and will be on display at the event equipped with Skyjack's new mechanical CVT EcoShift transmission.
Snorkel will have a strong presence at World of Concrete 2018. Visitors will find Snorkel exhibiting with sister company, Xtreme Manufacturing, at its 9,500-square-foot booth in the Silver Lot.
Snorkel will be showcasing a number of recently introduced Snorkel lifts, alongside the new Snorkel 660SJ telescopic boom lift, the Snorkel A46JRT articulating boom lift, the AB60J articulating boom lift, and several electric and rough terrain scissor lifts.
Xtreme Manufacturing will highlight a number of new and enhanced Xtreme telehandlers including the launch of the production version XR1055, which was originally displayed as the XR1056 during ConExpo 2017.
Highlighting its versatility for use in a wide range of applications, the Xtreme booth structure will be built entirely from the Xtreme Cube system and will be surrounded by established telehandlers from the range, including the XR5919, XR1255, XR1534, XR2045 and XR3034