World's first Liebherr high rise handler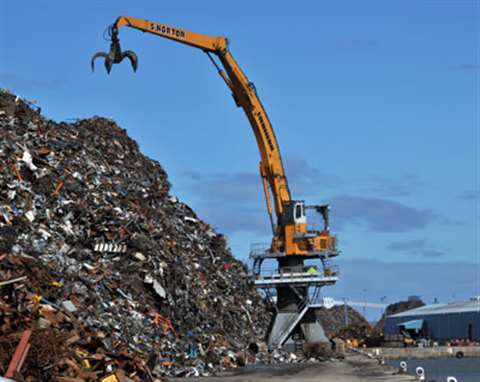 The world's first Liebherr R 984 C Litronic high rise industrial rehandler, believed by the company to be the largest of its type in the world, has been delivered to S. Norton & Co, a secondary metals processor and exporter based in Liverpool, UK.
The machine is the result of an extensive development programme involving Liebherr's specialist material handling facility in Kirchdorf, Germany, Norton and Liebherr Great Britain. The machine weighs in at over 210 tonnes and features a special, newly developed heavy duty undercarriage and high rise support that raises the machine by 8.7 m (28.6 ft) to the slewing ring. As a result, the operator in the elevated cab has a line of sight of 12.9 m (42.3 ft) - a capability considered important for an optimal view when soft loading bulk cargo vessels. The tracked undercarriage has a footprint of 8 m (26.3 ft) by 9.5 m (31.2 ft) to provide maximum stability.
The monobloc industrial boom is 19.5 m (64 ft) in length and the industrial stick is 14.5 m (47.6 ft) with an extra 1.2 m (4 ft) adaptor for attachment lift, resulting in 29 m (95 ft) reach with a carrying capacity of 8 tonnes. Maximum lift height in this configuration is 33.5 m (110 ft) and optimum below ground lowering depth is 9 m (29.3 ft).
Norton operates seven other Liebherr machines, including four other R 984s that have been owned and operated by the company for more than six years. Norton estimates that these machines, along with the newly delivered giant, will be handling more than a million tonnes of scrap metal per year.