XCMG introduces first telescopic lithium boom
By Euan Youdale09 November 2021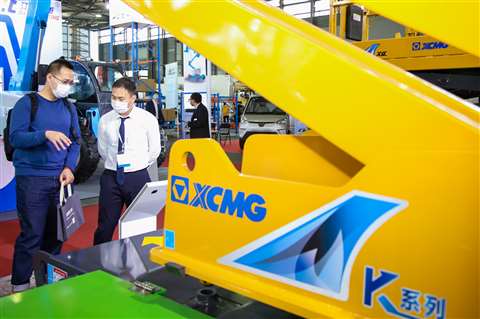 XCMG launched its first lithium battery-powered telescopic boom lift at the third APEX Asia, in Shanghai, in late October. 
The rough terrian XGS20AC(K) has a working height of 20.5m and an outreach of 13.2m, with unrestricted load capacity of 300kg, Its four-wheel drive and steer enables a turning radius of 5 m, driven by the 420 Ah 48 V DC lithium power source, which is maintenance-free and comes with a five-year warranty.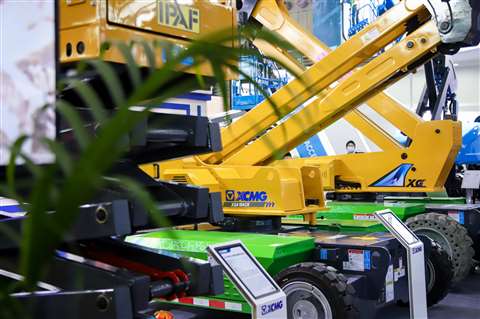 According to XCMG, the use of lithium batteries for the new XGS20AC(K) model will provide three to five times more power capacity than lead acid battery alternatives. In addition, the lithium battery can be up to 1.5 times smaller in size. Moreover, it provides longer service life as well as less pollution.
"We first replaced lead acid with lithium for scissors and received good feedback, as customers had asked us fir it, rather than being informed. Practice has proved it is more reliable and economical over a long period of use. Now, expanding lithium for all boom lifts is an explicit strategy for XCMG", said Yang Shupeng, product manager of XCMG MEWP.
Lithium battery use in China is increasing year-by-year, reaching 143 GWh in 2020, explains XCMG. With a value of US$30 billion. And, with the increased development of electric vehicles and industrial equipment, the market for lithium in industrial applications continues to grow rapidly,
As XCMG explains, China announced its goal of carbon neutrality at the United Nations General Assembly in September 2020. Chinese President Xi Jinping told the world that China will adopt policies, striving for optimum carbon dioxide emissions per unit of GDP by 2030, amounting to 60-65% reduction from 2005 levels, and carbon neutrality by 2060.
"XCMG, the biggest state-owned machinery manufacturer, is keeping up the carbon reduction pace by releasing more and more zero emissions products," the company added.