XL solution for La Grande Arche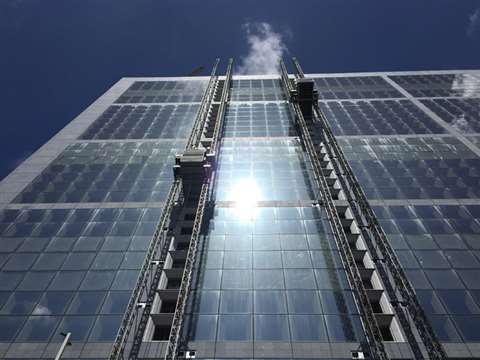 As part of the refurbishment of La Grande Arche in Paris, France XL's installed two heavy duty hoists for material and personnel access to the building.
The 110 m long, wide and high building with its 35 storeys is a famous building in Paris' business district. The building hosted the government department for environment until late 2014 when Eiffage Construction was designated as main contractor for its refurbishment.
XL designed, built and installed two passengers and material hoists to enable heavy duty lifting along the south facade:
A fast elevator with 3 tonnes capacity at 30 m/min. The car is 4 m long by 2.5 m wide. The elevator provides safe and quick access to several levels at the same time. And so it avoids a time consuming round trip to the ground floor for reloading.
A high loading volume elevator. The payload is 6 tonnes with a 6 m long, 2.5 m wide and 2.2 m high car size. The hoist was used particularly for supplying derrick crane components. The crane is erected at the south-west corner of the building.
Both elevators are double mast mounted and synchronized to provide stability and comfort for the users.
Each mast column is tied every 21 m due to the specific square design of the façade wall.
The entire project including design, build, examination and installation was carried out in just two months. The second hoist was in operation at the beginning of April 2015.The installation is set to stay in place until late 2016.