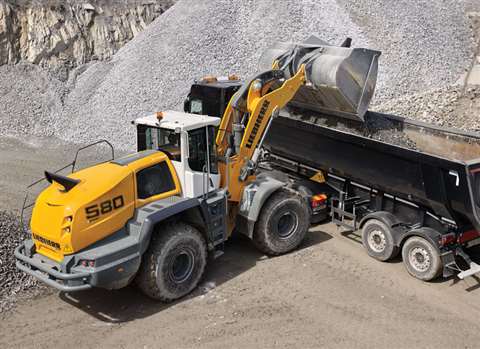 Liebherr's new XPower wheeled loaders are described as a comprehensive, innovative machine concept with the new power-split, Stage IV compatible XPower drivetrain at is heart.
Available across the range of large wheeled loaders from the L 550 to the L 586, the new models will be introduced at Bauma.
Liebherr said the XPower concept offered greater reliability and a longer lifespan than previous Liebherr wheeled loader generations.
It said each XPower wheeled loader was equipped with stronger axles than previous machine generations, while component layout had also been improved to increase strength and reliability, and the safe and versatile use of the components.
In addition to the axles being reinforced, other core parts were said to have been strengthened, including larger bolt diameters and an optimised lever ratio designed to increase the lifespan of the lift arm.