Xtreme XR4030 goes to work in SoCal
By Lindsey Anderson24 June 2013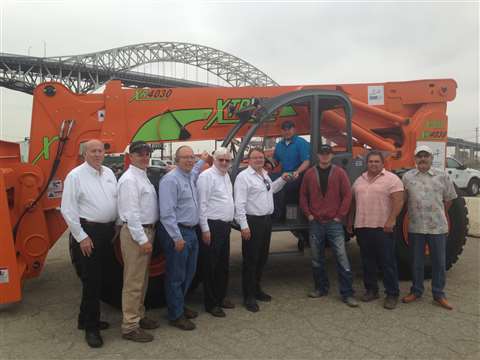 Xtreme Manufacturing and Ahern Rentals recently handed over the keys of one of Xtreme's largest telehandlers – the XR4030 – to SFI Joint Venture (Shimmick/FCC/Impregilo) for work on the Gerald Desmond Bridge Replacement Project at the Port of Long Beach in California.
The 40,000-pound capacity XR4030 will be used for a number of tasks on the $1 billion, 5-year bridge project which starts this year. The unit features a lift height of 30 feet, forward reach of 16 feet, 4 inches and weighs in at 63,000 pounds. Foam-filled tires come standard and a Perkins 173 hp engine powers it all.
According to authorities, the Gerald Desmond Bridge is accountable for trucking 15 percent of the nation's waterborne cargo across the bridge. "It is a critical access route for the Port of Long Beach, downtown Long Beach and surrounding communities," a press release states.
The new 205-foot tall bridge will improve traffic flow by creating three lanes in each direction and also provide emergency lanes on both the inner and outer shoulders in each direction to reduce traffic delays and safety hazards from accidents and vehicle breakdowns. There will also be a reduction in the bridge's steep grades to improve traffic. Both bicycle and pedestrian paths will also be added, along with three "scenic overlooks."