XWatch safety system rolled out in Canada
By Leila Steed30 November 2022
Xwatch Safety Solutions has partnered with Canadian company Abtech, appointing it as an authorised distributor of its XW5 machine control system products.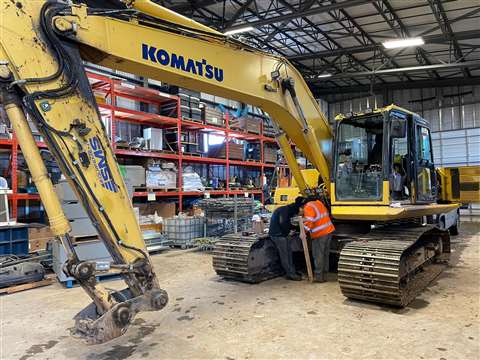 Already a distributor for Leica Geosystems, Abtech specialises in surveying and construction technology, systems and products, and serves customers across eastern Canada from seven branches.
The XW5 enables operators to control of the machine's height, slew and rated capacity indication.
Limiting the machine's movements, it provides a safe working envelope around the machine and the operator and enables potentially dangerous works such as demolition tasks to be carried out more safely.
Abtech's partnership with the United Kingdom-based XWatch will see it roll out the XW5 system to its customers across the region.  
Philippe Girard, construction vice president at Abtech, said: "Every year, the construction industry suffers losses of colleagues and friends on construction sites – therefore managing the people plant interface is of vital importance.
"With the Xwatch Safety Solutions suite of safety systems and with the integration of Xwatch Leica Geosystems products, we are confident that the number of fatalities caused by heavy machinery activities will see a significant reduction."
A team from XWatch recently visited the Québec-headquartered company, and installed an XW5 safety system on a 20-tonne Komatsu PC200LC crawler excavator.  
Following the installation of the system, the Komatsu PC200LC was sent to the Centre national de conduite d'engins de chantier, a construction industry training provider.
The excavator is now being used on the centre's construction machinery operation course, which trains around 1500 construction workers every and utilises more than 150 machines - including dozers, backhoe loaders, wheele loader and graders.
While Xwatch will be providing more systems for the training school, ABTECH will roll out the XW5 safety system to its customers across the region.
Dan Leaney, Sales and Operations Director at Xwatch Safety Solutions, said, "We were delighted to announce our partnership with ABTECH in providing key safety solutions, across Eastern Canada, the Leica connection sealed our alliance. 
"We were also honoured to install the very first system and provide training.
"This machine is heading to the largest training school in Quebec and will be used to train the next generation of operators in Canada on the importance of safety - and knowing it's the Xwatch system- makes us proud to be part of Global safety for machines and operators."