Yamazawa's new role at Hitachi
By Sandy Guthrie22 April 2016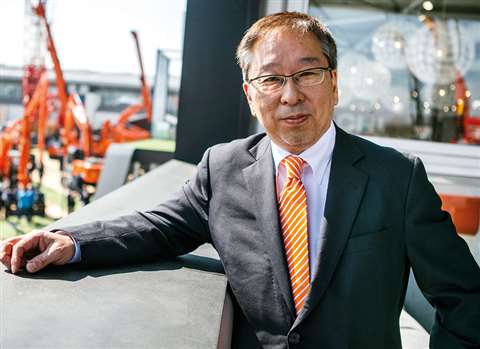 A new president and CEO of Hitachi Construction Machinery (Europe) – HCME – has been appointed, with Makoto Yamazawa taking up his new role on 1 April.
He is also the new regional CEO for Europe, the Middle East, and North, West and Central Africa.
Yamazawa joined Hitachi Construction Machinery Co (HCM) in 1983, with his first role as a sales representative for the company's domestic business. After eight years, he was transferred to HCM's international division for ten months, before a subsequent transfer to the company's subsidiary in Thailand.
He held the positions of marketing and sales manager in Bangkok from 1992 until 1998, and managing director of HCM's Malaysian subsidiary from 2005 to 2010.
In between these assignments, he took up various managerial roles at the Tokyo head office within the Asia and Oceania (1998 to 2000), mining (2000 to 2002, 2004 to 2005 and 2010 to 2016) and construction (2002 to 2004) departments.
Yamazawa said, "I've known some of the HCME dealers since the Hitachi factory opened in Amsterdam more than 13 years ago. Since then, Europe has become the most stable and important market for HCM – and so this is a very exciting assignment for me."
He added, "My first goal is to reinforce the enviable reputation forged by my predecessors at HCME, which was in fact established as HCM's first overseas operation more than 40 years ago.
"Then, as part of the formidable team at Hitachi and the HCME dealer network, I will strive to build on the foundations required for the company to become the number one OEM over the next decade."
He said his approach would be to get even closer to customers.
"We will continue to differentiate our product and service offerings as a reliable partner and provider of solutions. This will help us to maintain our strength and profitability, despite the unpredictable nature of the global marketplace."
He replaces Moriaki Kadoya, who is returning to Japan. Kadoya took over the role of president and CEO of HCME in 2012.