Ziggurat riders in Action for charity
By Mike Hayes27 September 2019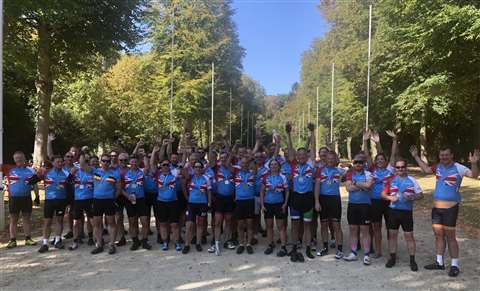 Last month, 40 hardy souls set off on a 550km bike ride in aid of the children's charity Action Medical Research.
This was the third annual Ziggurat bike ride, undertaken by members of the construction and built environment sector, with representatives of Balfour Beatty, Willmott Dixon, Laing O'Rourke. KHL, for the second year running, was media partner and Construction Europe's own Bridget Leary participated in the challenging four-day journey.
The cyclists left London on 18 September, pedalling down to Dover for the crossing to Dunkirk. From there the group proceeded through numerous historic sites in Belgium and France, including the Glade of Armistice and the Thiepval Memorial for the missing of the Somme, before crossing the finish line in Compiegne.
Event manager Sarah Stevenson said: "We are delighted to have seen so many different companies taking part this year - the most we have ever had.
"It was a fabulous ride and the battlefields really made everyone appreciate the freedom we have to enjoy such a tour."
To date, the event has raised over €100,000 for the charity, which is currently funding research into premature birth, epilepsy, asthma, scarlet fever, cerebral palsy, brain cancer and other distressing conditions. The 2020 Ziggurat route will be announced shortly, you can register your interest by emailing events@action.org.uk