Podcast: Construction's factory closures
By Andy Brown15 April 2020
Temporary factory closures and national lockdowns caused by COVID-19 will lead to lost production of 43,000 machines this year, according to Chris Sleight, managing director of Off-Highway Research. This is equivalent to 4% of last year's total output of 1.07 million machines.
In a conversation with International Construction editor Andy Brown, Sleight acknowledged that different countries around the world are at different stages regarding lockdowns and factory closures, but said that some of the countries most affected are located in Europe.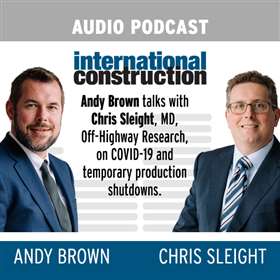 Speaking about the four biggest economies in Europe - the UK, Germany, France and Italy - Sleight said, "The production that is being lost in those countries… is up to 11% of annual production in some cases, so it is significant and it is more than we are seeing in other parts of the world."
Looking to the future, Sleight made the point that he expects construction to recover faster than lots of other sectors, such as travel and tourism and entertainment.
"Construction will bounce back in terms of activity levels, although there may still be a need for social distancing and personal protective equipment. We expect this to be a short, sharp shock."
The latest digital issue of International Construction is available for download by clicking here. You can also register for free for KHL's Construction and Coronavirus newsletter by clicking here.