Onboard electronics: smart thinking
By Christian Shelton11 December 2018
In the not-too-distant past the construction industry was, at times, perceived as being a 'traditional' industry, not commonly associated with modern information technologies. However, that's now changed as the tools and equipment used in the construction process have experienced constant evolution over the past few decades. This development trend applies for lifting operations, where onboard electronics are enhancing safety and improving efficiency.
One area that in which this is particularly pertinent is for managing weather-related risks when operating a crane, says Lisa Cairns, commercial director at Windcrane. The company has developed a tower crane wind monitoring system based around a smartphone app. "Information represents value in the modern digital world, and data becomes more valuable if it can travel faster," Cairns asserts. "Wind perception is subjective and conditions that seem dangerous for some construction workers may be considered normal by others. In vertical construction, also consider that wind speed can change dramatically from ground level to the highest floor. A reliable assessment of wind conditions is only possible with a direct measurement and project managers can only make accurate decisions if the data is accessible in real or near to real time."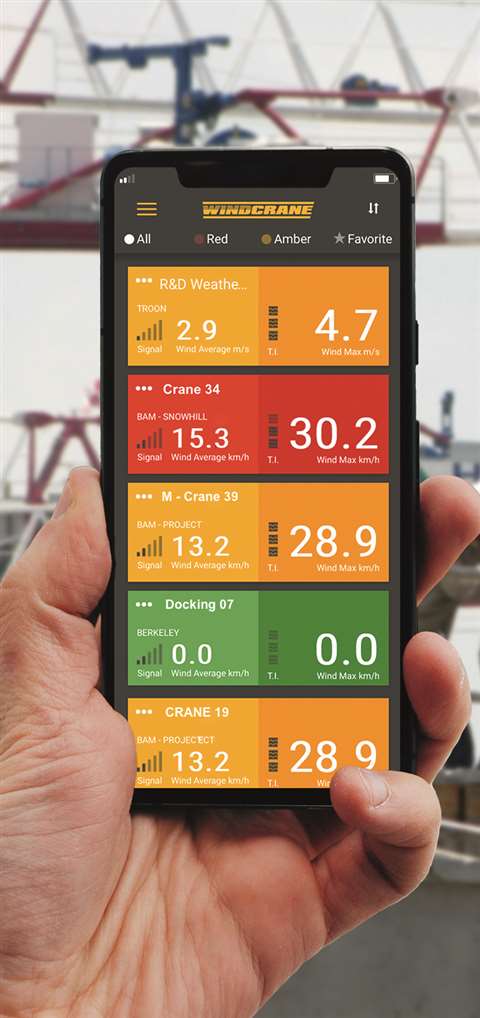 Windcrane's wind monitoring smartphone app means data is easily and quickly accessible
Cairns points out that even the most accurate anemometer has limited usefulness if installed on a crane with no way to access its data. In other words, a weather monitoring system for a crane only adds value if it can provide both accuracy and connectivity. A third requirement is ruggedness, since the unit must protect sensitive electronic components while being directly exposed to the weather on a daily basis.
To decide if crane or construction site operations can be conducted safely, site managers and operators need information. That information must be gathered on-site to reflect real conditions but also be accessible from the computers, tablets and mobile phones used by the project staff.
Cloud connection
Digital weather instruments can communicate directly with onboard electronics, allowing automatic data processing and avoiding long and repetitive calculations. When internet connectivity is added to the system, Cairns says, the processed data becomes available for project managers and personnel situated away from the construction site. In other words, the crane operator and the project managers can visualise the same data from any location in the world.
The next technological step to a cloud connected device is adding cloud storage which provides a remote data backup for the wind/weather monitoring system. Cairns says this offers three key advantages.
First, data storage is no longer limited by the memory space of onboard electronics as it can be sent to a remote site with infinite storage capacity. Second, information is safer. If data stored on a weather monitoring system is lost or temporarily unavailable, backup data can be retrieved from the cloud-based storage system. And, third, there is no need to download the accumulated data at regular intervals to free storage space, thus eliminating a repetitive and time-consuming task.
Crane manufacturer Terex also recognises the importance of cloud-based communication for its telematics technology and has developed a brand-new cloud-based telematics platform called T-Link which will soon be available on all of Terex's new tower crane models. The T-Link name might be familiar from other Terex segment offerings but this telematics platform is completely new. T-Link is currently undergoing final testing and, once launched, it will enabled Terex cranes to be permanently connected to a cloud-based server. This means crane profiles can be instantly accessed remotely. T-Link will offer users a map view with a crane locator, real time data (displayed via a crane animation), and a replay "Black Box" function (also displayed via a crane animation). Analytical data will be customisable with user presets, graphs and Excel sheet downloads available. High level analysis allowing the user to quickly obtain easy-to-understand graphs and data about their cranes' productivity and duty cycle will also be available. T-Link also has wind monitoring and forecast functionality (speed and direction) plus a maintenance help tool with email notification and an event log. Alongside the T-Link telematics system and its own control system, Terex's latest towers cranes will be equipped with an anti-collision system which utilises information directly from the crane's control system through a safe communication protocol jointly developed with anti-collision manufacturers.
Anti-collision and zoning
AMCS has been prolific recently, enjoying a slew of anti-collision and zoning system orders from tower crane companies around the world. The DCS 61-S has been available in France since 2017 and will be available internationally from early 2019. It is PLd and SIL-2 certified according to EN13849-1 and EN61508 standards. It also meets European EN 17076 standards, which will come into effect in early 2019.
Like its forerunner, the DCS 60, this system has three primary functions – zoning, anti-collision and datalogging – but with additional functionality. AMCS explains it can be adapted to different types of machines including tower cranes, luffing jib cranes, gantries and mobile cranes. Anti-collision and zoning functions can be temporarily activated or deactivated remotely, and the system can record up to five target positions for easy loading and unloading. Datalogging information can be viewed directly or downloaded to a USB or SIM card and viewed on a secure website.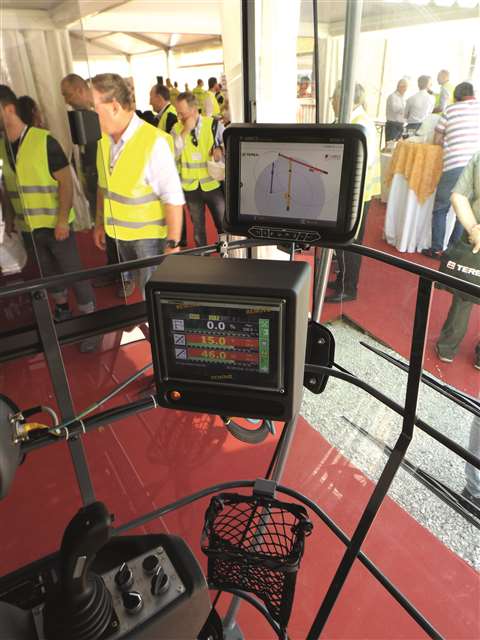 Terex's latest tower cranes will be equipped with an anti-collision system
In the operator's cabin, the position of the crane, its load, and their movements can be viewed, as well as the position and movements of the other cranes in the area. Static obstacles (prohibited areas) are also displayed, along with information such as the date, time, load, range, wind speed and jib positioning.
AMCS's systems are designed to be 'plug and play', using the cranes' sensors and control systems as data sources. AMCS says this brings the cost of its solutions down, as well as speeding up installation time.
Another French company specialising in crane anti-collision systems is SMIE which has further developed its ProSite offering to further enhance crane operator awareness and safety levels.
A new feature of ProSite is called Working Point. According to SMIE it helps guide crane operators to carry loads to predefined locations. It is primarily designed to help operators return to specific areas, for example, the exact spot where concrete buckets are filled up, thus saving time. The system slows down the machine using the same deceleration algorithms and machine control interfaces as the ones used by the ProSite anti-collision system.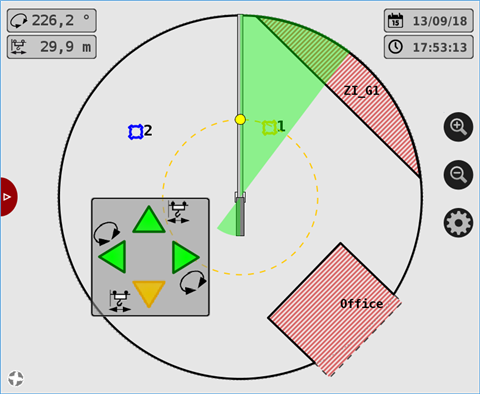 SMIE also recently launched a Programmable Logic Controller (PLC) called ProSite PLC. SMIE says the PLC is designed to leverage any kind of job site information as inputs to activate any kind of output needed on the field. What this effectively means is that users can set up actions such as notifications, relay controls, zone activation, secure machine controls and more, depending on inputs received from a variety of sources including sensors, digital inputs, the crane's status, or planned actions (such as activating or deactivating restricted zones at set times/days). SMIE says its ProSite system exceeds standards laid out in the forthcoming EN17076 tower crane safety standards.
Connectivity
Italian loader crane manufacturer Fassi has, in conjunction with Volvo Trucks Italia, developed a new system called FX-Link to optimise connectivity between its cranes and the trucks they are mounted on.
In practice, the system controls different truck functions from the crane's remote control and vice versa. It also allows the possibility of new integrated command and control operations to be developed.
Until now numerous analogue connections between the vehicle and the crane are used to effect various functions, Fassi explains. The most important of these being: the Crane Positioning Monitoring device in the cab; the regulation of engine speed; and the crane activation switch. However, with the introduction of FX-Link, a single CAN-BUS connection can now replace the complexity of connecting multiple cables, enabling information to be exchanged in both directions, from the crane to the truck and vice versa. In practice, this means that the truck can now be turned on and its engine speed adjusted using the crane's remote control. The remote control can also be used to switch the truck's headlights and other visual indicators on and off, as well as sound the horn.
Information available on the truck via the system includes fuel level and consumption, the battery voltage, the status of the power take-off (PTO), the engine speed, the status of the parking brake, the axle load, vehicle alarms and warnings, the status of the air suspension and the configuration of the truck axles.
Fassi says further applications are already being planned as the system enables new integrated functions to be added.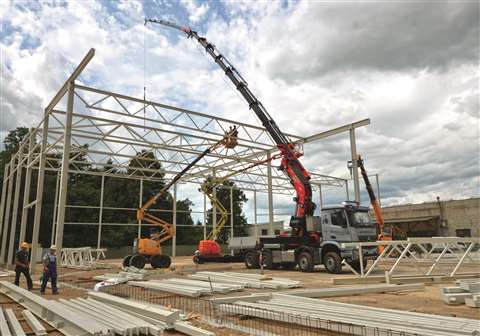 The future
With technology evolving so rapidly, what is the future for onboard electronics? At present the concept of smart devices is primarily used to describe equipment and electronics with Internet connectivity. However, Cairns (from Windcrane) argues that to be considered truly smart, a device must be capable of autonomous operation - analysing information and making decisions without human input.
This is an area marine cargo and offshore load handling specialist MacGregor is already exploring with its bulk handling cranes. MacGregor and dry bulk cargo shipping company ESL Shipping Oy are currently testing an autonomous discharging feature on MacGregor bulk handling cranes which the company says will be the world's first autonomous discharging cranes equipped with self-learning capabilities.
Another point Cairns makes is that as the Internet of Things (IoT) expands to construction equipment, the amount of data generated by contractors will increase exponentially. This information can be very valuable for decision-making but only with adequate management, she says. Having multiple stand-alone devices gathering large amounts of raw data is of little use, but when this data is gathered through the internet and automatically processed into a useful format, project managers can get a clear perspective of operating conditions across multiple sites within minutes.
AMCS is exploring a similar concept with its SUP 61 'supervisor' activity tracker product, which the company is currently expanding to incorporate Building Information Modelling (BIM) functionality.
Although no one can know for sure what the future holds, one thing is certain: it's going to be exciting.
Plug and play receiver
Crailsheim, Germany-based radio remote control manufacturer HBC-radiomatic has unveiled its new FSE 319 plug-and-play receiver, designed for tough, mobile industrial applications. Weighing 680 g and measuring 152 mm x 140 mm x 66 mm, the FSE 319 has up to 18 on / off control functions and DC power supply. With a Harting Han or ILME connector, it can be plugged directly into the machine controls without any additional wiring.
The FSE 319 includes an integrated flashlight and horn and HBC's automatic frequency management via adaptive frequency hopping, as standard. The new receiver is equipped with an E-STOP function, offering PL d category 3 according to EN ISO 13849-1:2015. LEDs indicate operating status, integrated signal light for indication of radio operation, and a wide temperature range of -25°C to +70°C, are other notable additions.
Suggested combinations with the FSE 319 are three particular HBC transmitters (control units) including the micron 5, which is widely used in crane applications. It is also suitable for use with the keynote, a versatile system for diverse, one-step applications; and the eco, a bellybox-style remote control with joysticks that is common in construction, industrial, and mobile hydraulic operations. Depending on the customer's demands, the new receiver is compatible with other products in HBC-radiomatic's extensive range.