€360 million bridge for Porr
By Sandy Guthrie03 January 2018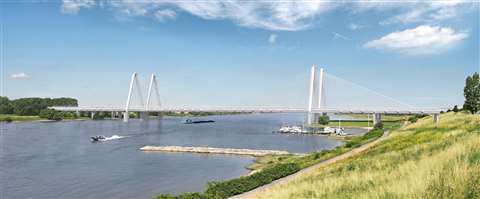 Porr Deutschland has been awarded a €360 million contract by the North Rhine-Westphalia Roads Agency for the demolition, new construction and expansion of the motorway bridge over the River Rhine at Leverkusen, Germany, on the A1 from Dortmund to Koblenz.
Preparatory construction work is already underway, and when completed in 2024, the capacity of the bridge will increase from six to eight lanes – even 12 in some parts when slip roads are included.
Up to six standard lanes and one hard shoulder are planned for the two adjoining structures. In addition, there will be a 3.25m-wide lane for cyclists and pedestrians on each side.
The first part of the new construction will be built to the north, directly beside the existing bridge. Traffic will flow over the first half of the new construction on completion at the end of 2020. Porr said that HGVs, in particular, would then be able to cross the Rhine again.
The second part of the bridge will be erected in the same place, ensuring the flow of traffic during the entire construction period.
Karl-Heinz Strauss, CEO of Austrian-based Porr, said, "The demolition and new construction of the bridge over the Rhine will require Porr to apply its entire knowhow and we will provide all construction services from a single source."
Stephan Hebgen, managing director of Porr Deutschland, said, "Everyone involved in the project will benefit from the close co-operation of the well-co-ordinated team of civil engineers, Porr Umwelttechnik and the subsidiaries Stump Spezialtiefbau and Porr Oevermann."
The Rhine bridge is described as one of the busiest motorway bridges in Germany. A significant amount of the long-distance traffic on the A1 towards Belgium and France goes over the bridge. The existing A1 bridge is around 50 years old, has six lanes and is used by 120,000 vehicles a day.