1,600 tonne Huisman crane order
By Alex Dahm02 March 2020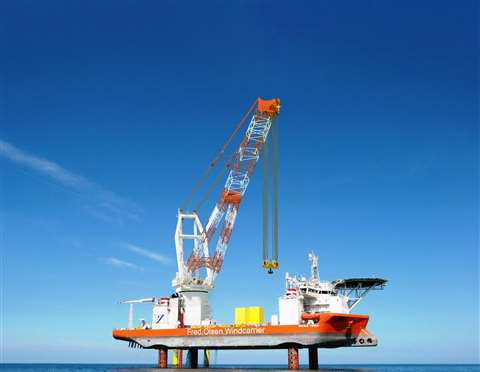 Crane manufacturer Huisman will build a 1,600 tonne capacity crane for Fred Olsen Windcarrier that will be used for installation both of wind turbine foundations and the turbines themselves.
The leg encircling crane will be for a jack-up vessel upgrade. It will be able to lift foundations and handle "all known next generation offshore wind turbines," Huisman said.
Capacity will be 1,600 tonnes at 32 metres radius with a 105 metre boom. With the longer, 140 metre boom, the crane will lift 1,250 tonnes to 38.5 metres radius to a height of 155 metres above deck. It will also have a 400 tonne capacity auxiliary hook, lifting to 165 metres above deck with the 140 metre boom, Huisman said.
Features include a short tailswing to maximise use of deck space and an all-electric drive and control system for reliability and minimal maintenance. The Lambda boom design can be extended to increase flexibility, the company said.
Cees van Veluw, Huisman crane product manager, said, "Fred Olsen Windcarrier is a highly experienced company in the wind installation industry. They have installed a large number of offshore turbines and with this new crane they are gearing up for the installation of the next generation wind turbines. We have worked closely together to tailor and adjust the crane to all requirements of tomorrow's wind parks. The meetings with the engineering teams of Fred Olsen Windcarrier and Huisman can be characterised as positive, friendly and creative, resulting in the development of this unique 1,600 metric tonne leg encircling crane."
Alexandra Koefoed, Fred Olsen Windcarrier managing director, said, "This unique crane has been enhanced with key updates and an even more extreme boom. The enhanced outreach capacity of this crane upgrade allows us to stow the wind turbine components in a more flexible way despite the increased crane weight, thus maintaining or exceeding the payload we carry for our clients. The leg encircling crane also saves deck space. This is a considerable lifetime extension for the vessel, as the weight and dimensions of wind turbine components continues to increase."