APEX Asia showguide
By Euan Youdale15 October 2017
Many say the access sector in Asia is on the cusp of major change. Not just based on the widely held view that machine sales will inevitably grow and the development of new safety standards will occur but the fact that manufacturers based in the country are likely to have a significant impact on the global market in the years to come.
The inaugural APEX Asia, taking place in Shanghai, China, from 31 October, is being launched in response to these fast-moving market conditions and will include top Chinese access equipment Dingli, Mantall, Sinoboom, XCMG, Runshare and Liugong. They will join major western OEMs such as JLG Industries, Haulotte, Skyjack and Snorkel. Other exhibitors include Airo, TVH, Skyclimber, MCS and PG Trionic.
In addition, there is a new breed of access manufacturer recently formed by general construction manufacturers in China and represented at the show by LGMG and LiuGong and XCMG. With the biggest stand at the show, LGMG, which started its access division in the last two years, is hoping to make a major impact at APEX Asia.
Find out about more products at the show on forthcoming October issue of Access International, to be published soon. Access International an official supporter of the show, as is IPAF in its capacity as supporting association. IPAF has become an important presence in Asia over recent years as provider of a wide-range of training and safety-related services, which are being widely adopted in the continent. The association will be exhibiting at the show and hosting a networking event on its stand, G4-1 in hall N1, on 1 November between 16:00-17:00. Everyone is welcome.
Major goals
LGMG has 45 years' experience in the construction market, with joint ventures with Volvo and Sandvik and an established distributor network around China. Realising the importance of rental in the access market, it has encouraged some of its major distributors to also become access equipment rental companies.
Like LGMG, XCMG's new Fire-fighting Safety Equipment division is planning to provide a complete range of access equipment to cover a majority of a typical rental company's needs. Both companies have started with slab scissors, which make an even higher proportion of most rental fleets in China than in Europe or North America. Expect to see rough terrain scissors and booms following in abundance over the next few months.
LiuGong will have two product launches at APEX Asia. They include the PSA210AS tracked hybrid platform, with 21m working height, 19m outreach and a 200kg platform capacity. Its total weight is 3000kg. The second new product on its stand is the 19.8m working height PTA200C truck mount, with an 8.9m outreach, using its combined and telescopic boom. Maximum platform capacity is 230kg, while outrigger width is 2.88m and GVW is 5750kg.
Until recent times Chinese manufacturing of MEWPs has been characterised by specialist producers, many of which have established themselves as major contenders in the market. An example of one of those is Dingli, China's biggest access equipment manufacturer. It recently set up a joint venture with Italian telehandler specialist Magni, which has helped it design its latest line of booms and develop a real presence in Europe. Dingli will present more than 10 products at APEX Asia, with three of them being launched at the show. Those are the GTBZ20AE telescopic boom, GTBZ20SU ultra boom and JCPT1612DC scissor.
See more information about these products in the APEX Asia preview in the August/September issue of AI.
There are many other established Chinese manufacturers at the show, all with interesting stories to tell about their export plans and growth in China.
One of those, Sinoboom, is set to launch three new products at APEX Asia, one of which represents the China-based manufacturer's entry into a new product category. The 10m working height GTTZ10EJ vertical mast is the first of its kind in Sinoboom's line-up and features an automatic pot hole protection system. Another launch is the 12m working height GTJZ electric scissor lift, boasting a new chassis design to create a more solid, sturdy performance. Sinoboom's third debut will be the 16m platform height GTZZ16EJ electric articulating boom. It includes a platform capacity of 230kg, with a maximum horizontal reach of 9.37m and a working height of 17.8m. Again, see more details about these products in the APEX Asia preview in AI August/September.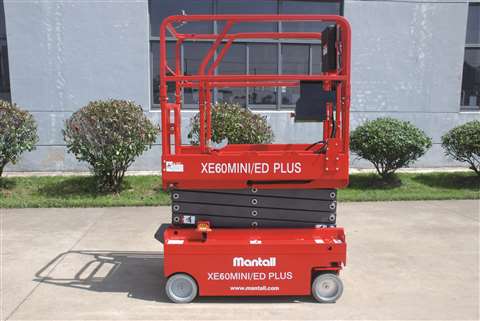 Mantall will also be representing its extensive range at the show. The battery-powered articulated boom
HZ160JED has a 140 degree jib and is equipped with 180 degree automatic horizontal rotation. Also on show is a new compact scissor, the XE60Mini/ED Plus.
It will join other models from the XE range, as well as rough terrain diesel and electric scissors, plus the ALP-25 material lift. The new XE60Mini/ED Plus has been designed to provide enhanced driving speeds and operating controls, along with its 6.3m working height and compact dimensions of 1.35m x 0.76m x 2.05m, and a height of 1.62 with folded platform in transport configuration. Standard features also include proportional controls, self lock gate, automatic brake system, emergency lowering, diagnostic system and tilt sensing.
Growing numbers
APEX Asia will be notable for the variety of MEWP manufacturers now in China. Estimates put the number of manufacturers of this product type in China at more than 100. Many of them will not be familiar to audiences in the mature markets, nevertheless, some of those have great potential both domestically and as exporters.
One of them, ZMG Lift will reveal its new scissor lift series, with working heights from 6m to 18m, including slab and rough terrain models. The scissors offer a wider design, which the manufacturer says enhances stability. It also has an hydraulic designed with lower energy consumption in mind, for longer working times between charging, and smoother operation. The new design also allows more space for the extension, says the company, while the all-in-one box design aids maintenance.
Another Chinese manufacturer Hefei Yamei Technology specialises in hydraulic and electric drive scissors. The 5.8m to 14m models have thus far been sold to customers in the north and south of China, and is looking to export to Europe, North America, Southeast Asia, the Middle East and other overseas markets. It will have a new scissor at the show made with low weight steel and automatic pothole protection. Fault codes are displayed automatically, and are easy to analyse, while the product has a power saving mode.
The prominent feature of the MG series is its small and flexible design offering a replacement to scaffolding and ladders.
New from Gomanlift is the S12 scissor lift. The 12m unit represents an upgraded product. It's powered by storage battery with low noise and no emission, suitable for both indoor and outdoor use. It can turn 90 degrees and travel at high or low speed with small solid rubber wheels. The scissor lift complies with the international safety standards, says the company and offers an extendable platform and foldable guardrails.
Bestmax will be at the show with its new MG600-1 Self-propelled vertical mast. Vertical masts are a popular product in China and were one of the first MEWP types to enter the market following the use of big self propelled booms at shipyards before them.
The battery-operated MG600-1 has a load capacity of 125kg and working height of 8m, while it offers a gradability of 25%. Stowed size is 1.36m x 0.79m x 2.08m, with a wheelbase of 1.15m while in use and a total weight of 850kg.
However, exhibitors do not just represent the core scissor, boom and mast sectors. While vehicle mounts, for example, are still to have a major presence in China, there is a growing interest in their capabilities.
Demonstrating this Xuzhou Handler Special Vehicle will show two products at APEX Asia. They will include a new 7.5m working height pick-up mounted platform and an existing 45m working height truck mounted model. The pair of platforms represent the highest and lowest products in the China-based vehicle mount manufacturer's range and demonstrates the wide range of aerial work platform producers in the country.
Hangzhou Holdwell Mechanical & Electrical is a China-based parts supplier for aerial work platforms. The company has been supplying parts for scissors, booms and telehandlers for the last six years, including joysticks, controllers, batteries, switches and all other relevant parts including engine parts. The company says it will be bringing new items to the markets at APEX Asia, including items for telehandlers, which are not yet common in the Asian market but are starting to gain some traction.
International exhibitors
APEX Asia is an international show with a focus on Asia. Therefore it has also attracted many manufacturers from North America and Europe, which have an equally major interest in Asia. Of course, that includes the likes of JLG and Skyjack, plus a wide range of others.
JLG, for example, will display three products demonstrating its focus for the mainstream market in Asia. They include the 4045R electric scissor, 1932R electric scissor and the 1100SJ boom lift at its booth.
The new 40ft working height 4045R features a compact design, offering a 1.14m machine width and is the first JLG electric scissor lift to feature side forklift pockets. The 1932R is an affordably priced addition to JLG's scissor line. It has all-steel swing-out component trays with a layout that optimizes serviceability.
The new 1100SJ boom features extreme hostile package, a tailor-made platform for harsh environment applications. 1100SJ allows operators to reach heights of 35.5m and lift 250kg unrestricted area load capacity.
Airo showed several new products at Apex 2017 in Amsterdam, including 14m working height self propelled electric compact scissor lift X14EN, and 12m and 14m compact diesel scissor lifts X12RTD and X14RTD. The company is continuing its APEX launch spree in Shanghai with a new electric scissor. The X16EW will have 16m working height, a 1.5m platform extension, 250kg load capacity and 250kg capacity on the extension, plus 90 degree steering.
This year Airo says it has customised its products for a number of projects in the country including aircraft maintenance, bullet train and subway building maintenance, construction and electricity applications. The company says it is looking to broaden its Asia Pacific reach at the show, as well as strengthening its presence in wider Asia.
Snorkel has rejuvenated itself in recent years and is back to good growth, following its acquisition by the Ahern family of companies. Now the company is seeking to develop on that in key global markets, including Asia. It will be interesting to see how those ambitions develop over the coming months.
Snorkel too, will have its electric slab scissor lifts including the compact S3219Ewhich has a working height of 7.79m and a lift capacity of 250kg. Measuring 1.78m x 0.81m, this machine can be driven through a standard doorway and can be used outdoors by one person. The company will also will be displaying the largest lift in its family of electric slab scissors, the S4732E. Weighing in at 2,740kg, the S4732E can lift 318kg to a working height of 11.8m and features a 1.21m roll-out extension deck for additional reach.
The A-series of electric articulating boom lifts will also be on show, delivering working heights of up to 16m with zero emission from battery power. The lightweight A38E has a working height up to 13.5m and up to 5.9m of outreach. The versatile Snorkel A46JE is a self propelled boom lift capable of working to heights of up to 16.1m. The spacious 1.83m x 1m platform can lift two people with tools. The manufacturer's telescopic mast lift will be represented by the TM12 with working height of 5.6m and platform capacity of 227kg. AI