Balloo buys 100 Sinoboom scissors
By Euan Youdale26 October 2021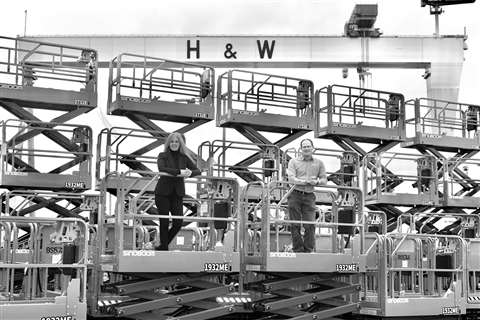 Ireland-based Balloo Hire has recently taken delivery of more than 100 scissor lifts from Sinoboom's European subsidiary. 
Consisting of all electric-drive units, the order is a mix of 1932ME, 2732E and 3346E battery-powered slab models providing working heights of 7.8m, 10.1m and 12m respectively. Additionally the delivery included the first Sinoboom 4647EP scissor platforms to arrive in the UK/Ireland region.
The 16m working height 4647EP scissor is only 1.27m wide with a 350kgs indoor rated capacity. All models come with maintenance-free Discover AGM sealed batteries and are fitted with high-quality battery-specific chargers. Long-lasting electrophoretic paint finish, protective control box covers, bumper rails to protect decals against damage, and forklift pockets both side and rear, are all standard features in the Sinoboom electric-drive scissor range.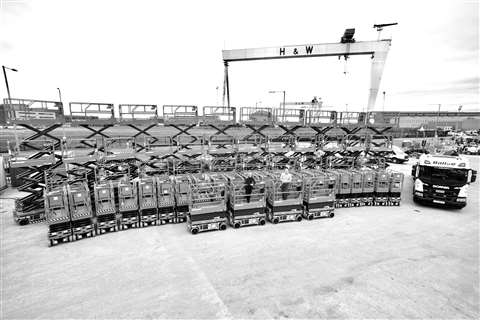 Colin Magee, powered access manager for Balloo Hire, commented, "The first Sinoboom equipment added to our powered access fleet in Autumn 2020 was extremely well received. The product is robust, good quality and has performed very well - customers now ask for our Sinobooms by name, prompting us to further invest."
Julie Houston Smyth, UK & Ireland regional manager for Sinoboom, said, "We are delighted that Balloo continue to invest in Sinoboom equipment. Since Sinoboom first arrived into the UK & Ireland, the range has really grown in popularity throughout the region. Balloo Hire are a great partner who invested in the brand at the beginning of our story."
Tim Whiteman, CEO of Netherlands-based Sinoboom BV, also spoke about the recent delivery; "The in-depth and positive feedback from Colin and his customers who are asking for Sinoboom by name is really valuable and very welcome."