Bridge moved by Roll-iT
By Christian Shelton14 March 2018
Belgian transport company Roll-iT has moved a 300 tonne steel bridge 50 km, from Ghent to Antwerp in Belgium, on board a Victrol canal pontoon.
As part of the Antwerp Noorderlijn transport initiative, the bridge – called Londenburg (London Bridge) – was made by steel construction company Aelterman to replace an existing bridge. The new bridge is wider and can now accommodate two traffic lanes, footpaths and cycle paths in both directions, and a tram line in the central reservation.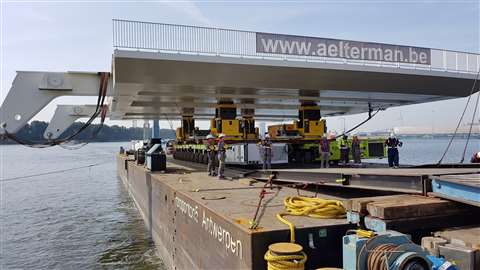 Roll-iT first used a combination of 2 x 12-axle SPMT (self-propelled modular transporter) and an Enerpac JS-250 jack-up system to lift the bridge deck at the Aelterman steel works and transport it onto the Victrol canal pontoon. After the bridge deck was loaded, the jack-up towers were fully lowered and securely fastened to increase the pontoon's stability.
The next challenge was that Roll-iT needed to lift the bridge deck over obstacles in the canal network. According to Enerpac, it was impractical to use a crane for this, given the level of disruption to local traffic and services. Instead Roll-iT used the jack-up system to lift the bridge deck a height of 7.5 metres to ensure clearance of all obstacles.
Enerpac's JS-Series jack-up is a multi-point lifting system comprising four jack-up towers, one positioned under each corner of a load. The lifting frame of each tower contains four hydraulic cylinders, which lift and stack steel barrels. The load is lifted in increments as barrels are inserted via an automated system, lifted, and stacked, forming the lifting towers. The JS-250 has a lifting capacity of 1,000 tonnes (250 tonnes per tower), up to 10 m high.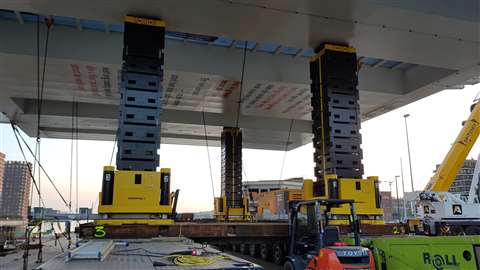 Roll-iT account and project manager Tom Van Runckelen commented, "Using the Enerpac jack-up system increased our lifting options when we were considering how we might overcome the obstacles encountered using the canal network route. It was very stable and surprisingly quick. Raising and lowering the bridge deck was completed in a fraction of the time we expected."