Feature: Road building technology
By Chris Sleight10 June 2015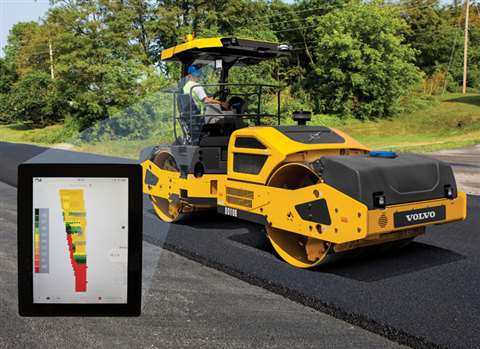 This March saw Volvo unveil what it says is the industry's first ever real-time density mapping technology for asphalt compactors. The Density Direct option will be available as an option on its forthcoming Intelligent Compaction (IC) system for certain of its asphalt compactor range.
Dr Fares Beainy, research engineer at Volvo Construction Equipment said, "Density mapping has been described as the 'holy grail' of intelligent compaction. The first to come up with the technology will be the one to radically advance the paving industry, it was said, and that's exactly what Volvo has done.
"For years, contractors have relied on IC systems with stiffness calculations instead of density, which is not the true metric by which contractors are evaluated and paid. With Density Direct, operators have real-time access to the metric that ultimately determines the success of their work, density."
In fact Density Direct uses the same measurement devices which are already employed by Volvo and others in the industry to measure stiffness. The leap the company has made with Density Direct is to introduce a calibration stage.
Volvo says that once the system is calibrated to a given project, the software in its system can give a reading of density which is accurate to within 1.5% of the results which would be gained from analysing a core sample. This density measurement is available in real time and over the entire asphalt mat.
Having this density information is important for contractors to document their work for clients. However, the key advantage of real-time information is that any potential problem areas can be dealt with quickly and effectively while work is underway. The in-cab user interface of Volvo IC with Density Direct shows a map with density in each area represented by a coloured square.
Volvo said its IC and IC with Density Direct systems will be available in the final quarter of the year on three tandem rollers available in the US. It added that the system would also be available as a retrofit in the future.
Measurement and documentation is not just an issue on larger compactors used for major road building projects. Recent years have seen the Fayat Group's compaction specialist, Bomag roll-out compaction measurement to smaller and smaller equipment.
It has followed its successful launch of the Economizer measuring system for light tandem rollers by offering it on the BMP 8500 multi-purpose compactor. The company said this is the first time this type of machine – a 1.6 tonne walk-behind roller – has been equipped with its own measuring system.
The Economizer helps users locate weaknesses in compaction at an early stage and take timely action. The light diodes on the display increase until full compaction has been reached and work is finished.
Timo Stenz, Bomag marketing manager for light equipment, said: "The Economizer will save time and money. It will reduce costs by around 25%, which is really good for contractors and will save thousands of Euros for companies in the rental industry, who will get more money from renting it out than they spend on servicing and maintenance."
Atlas Copco meanwhile has launched the Dyn@link system to monitor and control fleets of machines. The telematics system is available in a standard or advanced version, and both access the internet over mobile phone networks.
The system allows owners to track machines and add notification e-mails should they leave a pre-defined area. The system can also be used to set up maintenance schedules, again with e-mail notifications.
The system is available on new machines and can be retrofitted on some existing Atlas Copco models.
The advanced version of Dyn@link meanwhile offers machine performance information as well. Owners can then analyse this and track issues such as idling time, travel time, fuel consumption and load factor, thereby helping improve performance.
The advanced version also allows failures and warnings to be tracked, which should help minimise downtime.
New machines
Another interesting development in terms of technology is Vögele's latest paver, the Super 800-3i, which is the smallest in its range. It is capable of paving from 0.5 m to 3.2 m, so can work on single-lane roads, but is more suited to footpaths and other narrow asphalt jobs.
The 'i' signifies that the paver meets the latest emissions standards in Europe, the US and Japan, and the engine is a
55 kW Deutz unit. However, one of the most striking features of the Super 800-3i is that it features the Ergo Basic operating system, which is derived from the Ergo Plus system found on larger Vögele's machines.
This is an unusually high level of technology for a mini paver, and Vögele says it is the only manufacturer to offer such a sophisticated operating system in this class of machine. The company says the clear and intuitive layout makes the paver easy to operate, and there is also a remote control unit for the screed. The similarity with Vögele's operating system for larger pavers also means operators should be able to easily change form one machine to another.
The paver also features Vögele's Niveltronic Basic automated grade and slope control system, which is integrated into the control system. This can be used with a laser level on larger sites and also automatically detects the type of sensor being used.
Similar themes are apparent on Wirtgen's W 35 Ri milling machine – at 350 mm standard milling width, the smallest in its range - which is designed for jobs like milling around manhole covers or removing road markings.
Again, the 'i' denotes that this unit meets the latest engine emissions standards, and with the electronic control of the 45 kW Deutz engine comes a lot of flexibility. There are three variably selectable milling drum speeds to match the machine to a range of applications, and the unit can also be supplied with a 500 mm drum on request.
Like the recently launched 500 mm and 1 m milling machines in Wirtgen's new range, the W 35 Ri is simple to operate and shares standard controls with the other compact machines. It also features the company's Widrive machine management system, which was previously only available on larger planers. This centrally controls functions like travel drive, milling drum drive, water system or Level controls, which Wirtgen says eliminates about half of the manual interventions operators used to have to make.
Sister company Hamm meanwhile has developed a new operating system for its rollers called Easy Drive. The main components are a clear control panel with steering wheel and a multifunctional armrest with joystick and buttons to access the main functions. The system also includes a fully adjustable seat, and the seat and console can be positioned with the control panel, so drivers of any size can find the right seating position.
The Easy Drive system has received an iF design award, as has the DV+ series of tandem rollers, which the company unveiled at an open day last year (see the November 2014 issue of iC).
Ammann's latest model meanwhile is the ARP 95 rigid frame tandem roller. Weighing in at 9.5 tonnes, the machine has independent steering of the front and rear drums, which means it can offer a crab mode.
In the cab there is an innovative display-based control system, integrated into the operating platform. All the main machine parameters can be called up on the display – starting with standard information for the operator about engine, hydraulic and compaction parameters through to detailed data for service technicians.
The ARP 95 and others in the range also feature a host of compaction measurement and control functions, such as the ACE Force and ACE Pro systems.
New pavers
Caterpillar meanwhile has launched a new series of Stage IV/Tier-4 Final complaint pavers, the F-series.
As well as these low emission engines and a fuel-saving Eco mode, the machines feature a colour touch screen display.
Caterpillar added that the most frequently used functions are still controlled by switches. This, along with new diagnostic systems and on-board automation mean the paver can be used more flexibly.
For example, operators who prefer limited options have an organised, efficient control system at their fingertips – and mostly in the same locations as on earlier models. Those who want more functions can do so by accessing various menus through the touch screen.
In addition, operators can make various screed adjustments without leaving their seats and the company's Cat Grade Control system can now be operated from the tractor consoles if desired. Meanwhile a single-button auto feeder system does the work of four switches and an auto-fill button alternates between running the augers and conveyors, helping operators build a proper head of material from the start.
New from Guntert & Zimmerman (G&Z) meanwhile is the MP550 material placer for concrete paving jobs. The company says it can handle a wide variety of concretes as well as dry materials, and comes with a 4.2 m3 hopper with a 'flop gate', which has a hydraulically adjustable rubber seal to virtually eliminate concrete losses while dumping.
The MP550 features four wheels with high flotation tires, and has four-wheel drive. It has also been designed to be easy to clean, with readily accessible conveyors and their components. The hopper has been designed with a quick-release mechanism to allow the carrier to safely walk away for ease of access, cleaning or switching to other attachments.
G&Z says it also offers low running costs. When run in Eco mode, fuel consumption is cut by -35%, for example, and the company said that using tyres rather than tracks reduced maintenance costs.
Time saver
England Contracting of Murray, Kentucky, US specialises in curb and gutter work, and found stringless technology invaluable on a recent project.
The company used a GOMACO GT-3600 bought in 2013, and fitted with Topcon's mm GPS system for a challenging car park project Murfreesboro, Tennessee. The company had some 15,000 feet (4.6 km) of curb and gutter to slipform on the project, including 43 islands with 0.8 m to 1.2 m radii. The profile was a 460 mm wide, 152 mm tall gutter with a 150 mm curb.
"We've had 20 years of looking at stringline on our pours and then there's none there," said company owner Scott England. "It was a big change for us."
On the first day with his new system, the company slipformed 16 islands. Without the 3D system, Mr England said he would have still been setting stringline with no concrete on the ground.
The GPS antennas on the GT-3600 are used to track the machine's movement and calculate its position and heading. The mmGPS lasers are used to control elevation, and long and cross slope are controlled by GOMACO's G+ control system. The lasers are set up over an established survey point that is included in the control file to ensure the elevation accuracy of the curb and gutter.
The model for the curb and gutter is built from the same 3D data used by the earthmoving contractor on the project. A 3D alignment for the GT-3600 is added to the model and is sent as steering and grade corrections to the G+ controller. The G+ controller then keeps the machine on line and at the correct elevation during slipforming when travelling on uneven ground.
The GT-3600 with all-track steering is built for t tight urning radii. The Topcon system uses algorithms for tight radii that simulates how steer sensors on stringline work and automatically adjust in and out of a radius. The software also has definable parameters to help sharpen cornering, as well as transitions in the entry and exit of a radius to provide smoother results than stringline can offer.
Workhorse
Norris Asphalt Paving was selected by the Iowa Department of Transportation (I-DoT) to resurface a 16 mile (25.5 km) stretch of Iowa Highway 92 between Winterset and Greenfield, which is used by some 1,365 vehicles on an average day.
The six-week project was carried out last summer, and involved not only rehabilitating the 28 ft (8.5 m) wide road, but also adding 2 ft (0.6 m) on either side.
The milling and roadbed preparatory work was subcontracted by Norris to other contractors. It then came in and laid 12,230 tons (11,210 tonnes) of hot mix asphalt (HMA) for the base lift and 24,840 tons (22,580 tonnes) of asphalt for the intermediate and surface layers. An additional 7,500 tons (6,820 tonnes) of HMA was used for the widened roadway shoulders.
"Our paving on this project went quite well," said Norris Asphalt paving superintendent Bob Mobley. "We were using a new machine – a Roadtec RP-195e, which is a powerful, rubber-tracked paver made for highway work."
He added, "Roadtec guys showed up to train us on our RP-195e and after a few minutes we basically said, 'Not to be rude, but get out of our way…we have work to be done.' The machine is that easy to learn and operate.
"Unlike wheeled pavers, we get stability even when laying down asphalt on three-inches of choke stone. We get more uniform results with a tracked paver and there's a smoother ride as a machine operator. The RP-195e has exceptional rideability.
"This was our first time using the RP-195e asphalt paver and the machine helped us get done quickly and with the quality results we wanted."
Norris Asphalt's finished road passed all of the I-DoT random density core tests, which check for voids. For the I-DOT officials signing off on the work, there is a confidence that the highway section is good to go for at least a 20-year life.
This all goes to show how road building equipment is being improved to increase efficiency and cut operating costs, be it through the use of the latest computer technology, or through more fundamental design decisions.