First sale of 43m electric boom
By Euan Youdale26 June 2018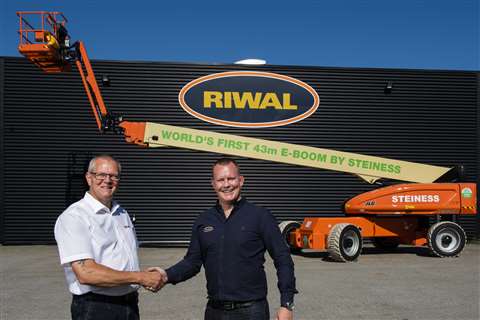 Riwal has sold the world's first 43m all-electric boom lift to Steiness Liftcenter, in Denmark. As previously reported by AI, the machine was launched during a customer event on 15 June, celebrating the company's 50th anniversary.
Riwal's technical team, led by Nico den Ouden, converted the JLG 1350SJP from diesel to 100% electric. The converted machines will be added to Riwal's rental fleet and will be sold to other rental companies and end users.The first machine was delivered to Steiness Liftcenter, a rental company specialising in access equipment, telehandlers and lifttrucks. Its focus is on re-rent to other rental companies in Denmark and other Nordic countries.
The key features of the JLG 1350SJP include a 43m working height and 24m horizontal outreach, combined with the electric power source, allowing safe and productive use indoors and outdoors. With a noise level below 70 Dba and no carbon emissions, the boom lift is battery powered and has a 400 volt integrated battery charger.
Poul Steiness, owner of Steiness Liftcenter said, "This boom is 100% electrically powered, which is clearly preferable because of low noise levels, no pollution and lower cost of operating. At the same time it meets the growing demand for environmentally friendly 'green' machines in the market. The machine will be interesting for use in city centres, as well as inside concert halls.
Steiness added, "It can be used inside and outside on large construction sites, increasing our time utilisation. Steiness Liftcenter wants to be in the lead of green innovation on construction sites and through our strong relations with Riwal Denmark, we wanted to be the first mover on buying this new special unit from Riwal."
Norty Turner, Riwal CEO, commented, "Riwal's mission is to deliver the best customer experience in the industry and the JLG 1350SJP Electric is an excellent example of how we translate this mission into practice. It is a sustainable alternative to diesel powered machines while maintaining all of its features. We want to lead the industry into the future and innovations such as the 43m electric will help take us there. I would like to congratulate Steiness Liftcenter with the purchase of the world's first unit."