Hitachi launches zero emission excavator
By Lewis Tyler04 July 2022
Hitachi Construction Machinery (Europe) has launched a 5-tonne zero emission mini excavator, the company's first for the European market.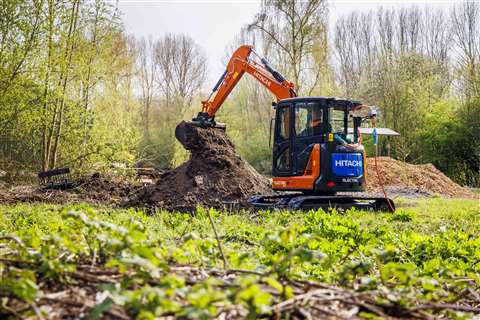 Described as providing reduced noise levels, enhanced efficiency, fewer maintenance requirements and less downtime than conventional models, the ZX55U-6EB allows customers to operate it using battery power (via 39kWh lithium-ion batteries) or via a wired connection to a CEE 400VAC 3-phase power source, which enables the machine to work while charging.
To improve safety during wired operation, a camera to the rear of the excavator monitors the secure connection of the cable.
According to the company, the ZX55U-6EB has an operating weight of 5.3 tonnes and is able to manoeuvre in confined spaces - thanks to the incorporation of the short tail swing design of its diesel ZX55U-6 sister model.
Hitachi added that customers will be able to use the excavator in areas where the environment is a priority, such as urban construction sites, residential building and waste material handling projects.
Takaharu Ikeda, President of Hitachi Construction Machinery Europe, said, "Hitachi is delighted to offer our customers a new battery-powered model capable of working productively and efficiently in small spaces.
"We are working hard to meet the growing demand for zero-emission equipment and listening carefully to our customers' requirements for improved safety, increased productivity and reduced life-cycle costs."
Hitachi said the launch of the excavator further underlines its commitment to "delivering sustainable solutions" and that it intends to "expand its battery-powered products line-up in Europe in the future."
ZX55U-6EB specifications
Rated power: 33kW
Operating weight: 5.330 kg
Battery capacity: 39kWh
Onboard charger output: 22kW
Charging inlet: CEE 400VAC-3 phase
Bucket ISO heaped: 0.14 m³
Overall length: 5.520 mm
Overall width: 2.000 mm
Overall height: 2.620 mm
Rear-end swing radius (battery/wired): 1.100/1.860 mm