Industry Focus: Energy
By Christian Shelton29 May 2018
We look at new lifting products, services and jobs being carried out for the power generation sector (minus wind power). Christian Shelton reports
As we will be focusing on the wind power industry in the forthcoming June and July issues, this feature concentrates on other areas of the energy industry. And we start with a new hydraulic gantry from Enerpac Heavy Lifting Technology designed to lift power station turbines. The Generator Exchange Tool is a turbine lifting and skidding system designed to allow turbines to be removed for maintenance without the need for structural changes to turbine buildings. According to Enerpac, in many power plants the turbine generators are located in difficult to access areas, making rotor replacement and other maintenance impossible without major structural changes to the building. The Generator Exchange Tool is designed to lift a 240 tonne generator over a 2.5 metre high barrier and move it forward to the point where it can be lowered, while avoiding obstacles such as overhead pipes or large steel cross sections. Once clear of these obstacles, the generator is lowered and skidded to the maintenance point.
The Generator Exchange Tool comprises a gantry and four hydraulic cylinders used to lift and lower the generator. The skidding system is made up of a series of skid-shoes, powered by hydraulic push-pull cylinders, travelling over PTFE coated blocks placed on the skid tracks to reduce friction. The standard skidding system was modified to attach to the gantry's telescopic beams. The entire lift, skidding and lowering sequence is controlled by an operator using a wireless controller.
Demanding environments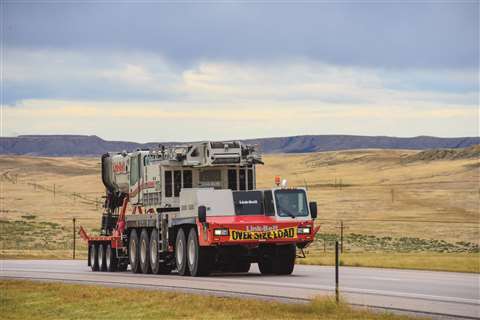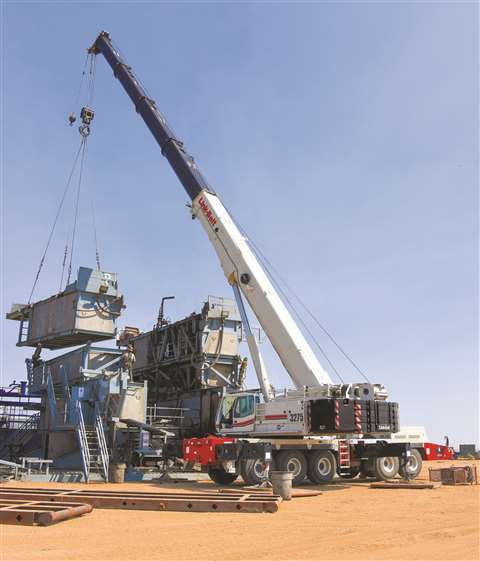 In the USA, crane manufacturer Link-Belt supplies cranes for a wide range of energy sector jobs. The company highlights the robust nature of its products under the demanding conditions of energy sector work by referencing its customer Bar-S Services, located in Cheyenne, Wyoming.
Bar-S Services specialises in erecting and dismantling oil rigs in north eastern Colorado and Wyoming. "Our primary work is moving drilling rigs but we also work with other transportation and production facilities moving large equipment," explains the company's co-founder, Patty Smith. It can take up to 50 lifts to disassemble a drilling rig and once Bar-S has the rig loaded on semi-trailer and moved, the process is reversed for assembly at a new location. To help with this Bar-S Services bought a 275 ton (250 tonne) Link-Belt ATC-3275 all terrain crane from Link-Belt distributor Strong's Crane Service. It uses the ATC to perform tandem lifts up to 240,000 lbs. (108,862 kg) and solo lifts up to 100,000 lbs (45,359 kg) on rig moves. When it's not working on oil and gas projects it is used as a taxi crane. During one 96-hour period Bar-S's ATC-3275 made over 50 lifts in three towns, travelling more than 1,000 miles (1,600km), Link-Belt reports.
Shutdown season
Dutch heavy lift and transportation company Mammoet says it has extensive experience in all forms of power generation work, having provided heavy lifting and transport services to a wide variety of projects in conventional, nuclear, wind power, and renewable sectors.
At the start of April 2018 Mammoet Canada announced that a large fleet of its equipment and personnel were being mobilised as it prepared for a busy season of shutdown projects in Alberta. Mammoet says in April 2018 alone it assisted in over 10 shutdowns, many of which were at large oil producing facilities. Mammoet Canada says personnel and equipment will work around the clock from April to June to safely and efficiently carry out the scopes of work.
Mammoet Canada Western managing director, Tom van der Enden, says the increased activity is welcomed following a slowdown in the second half of 2016 and 2017. "The shutdown season, coupled with planned project and day market activity, will bring back a healthy utilisation of our fleet. Our forecast for project and day market is also looking favourable."
Nuclear power: Hinkley Point C
The Hinkley Point C nuclear power station project in the South West of the UK is due to start powering more than 6 million homes in 2025 and the power station's construction is proving to be a source of work for a number of companies.
For example, Mammoet UK has opened an office in the area to offer local support for the project. Lifting and hoisting equipment specialist Tusk Lifting will also be at Mammoet UK's new site, offering rental, sales, service, inspection and testing of lifting and material handling equipment.
UK-based crane rental business King Lifting has also announced the opening of a dedicated project division to service Hinkley Point C, while international heavy lift and transport specialist Sarens says it will unveil its new SGC 250 super heavy lift ring crane when it starts work at the Hinkley Point plant. Sarens will be working for joint-venture clients Bouygues Travaux Publics of France and Laing O'Rourke Construction of the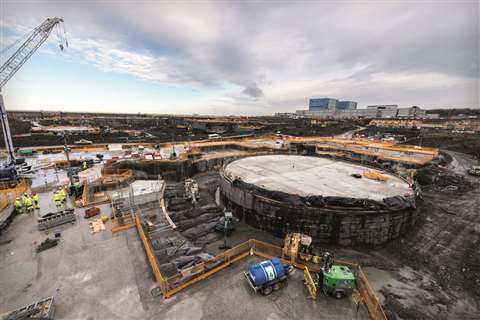 UK and lifts will include prefabricated concrete elements, steel structures, and reactor equipment, ranging from 50 to 1,150 tonnes at radii to 165 metres. A Terex Demag CC 2800 crawler will also be on site to assist as a rigging crane.
French anti-collision systems company AMCS Technologies has also won a contract to supply Bouygues Travaux Publics and Laing O'Rourke. AMCS will equip around 50 cranes with the latest generation of its DCS 61-S anti-collision and zoning system. AMCS Technologies will also equip part of this project with additional safety products such as cameras and night aviation lights.
Four new Kobelco G2 Series crawler cranes have also been supplied to the Bouygues Travaux Publics and Laing O'Rourke joint venture to help with the construction of Hinkley Point C. The cranes are a 100 tonne capacity CKE900G-2 and three CK800G-2s, which lift 80 tonnes at 3.0 metres radius.
And finally, Ainscough Crane Hire has chalked up its 1,000th day of lifting activity at Hinkley Point C providing lifting solutions to the Tier 1 Contractors including Bylor, Kier Bam, Costain and Balfour Beatty and to more than 40 sub-contractors on site.
Tasks have included assembly of concrete batching plants, installation of mobile offices and assistance with civil engineering elements. Ainscough used 22 different crane types used on the site, ranging from 40 to 750 tonnes capacity.
Heavy lift and transportation
Specialist heavy lift and transport company ALE has been involved in a range of energy sector jobs. In Norway it delivered and installed seven transformers, weighing 225 tonnes each, as part of the Nordlink renewable energy project in Tonstad, Norway. ALE used its AL100 girder frame and 26 axle lines of conventional trailers along a 70 km route through the Norwegian mountains.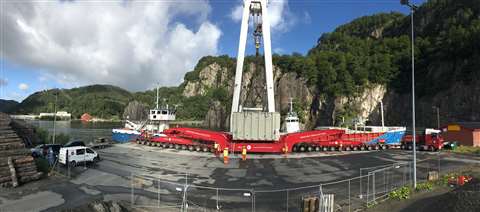 In South Africa ALE has completed the onshore port handling, transportation and final positioning of 51 key components for the Kathu concentrated solar power (CSP) project near Kathu in the Northern Cape. The components included six heat exchangers weighing 298.2 tonnes each and 18 air condenser cells weighing 150 tonnes each. The components were received and handled at the port using an 800 tonne capacity hydraulic gantry. They were then transported from port to site using a total of 85 axle lines of conventional multi-axle trailer. ALE supplied a custom designed gantry system with four 200 tonne capacity strand jacks and skidding system in longitudinal and transverse directions for installation of the six 298.2 tonne heat exchangers and a 600 tonne capacity crawler crane with superlift to install the remaining components. According to ALE, the use of a gantry system reduced the operation time and minimised interference with other activities.
Italian firm Fagioli has also been involved in a wide range of energy sector work around the world. In the USA, Fagioli says it has more than 400 axle SPMT lines and a range of lifting machines, including one 1,300 tonne capacity and two 750 tonne capacity crawler cranes. This, it says, allows it to work on a number of projects at the same time. One North American oil and gas related project involved transporting up to 90 heavy items weighing up to 1,300 tonnes from Texas to Louisiana.
In Romania, Fagioli conducted the lifting, skidding and jacking down operations of a 182.4 tonne Top Ram Guide (TRG) at Costanza by means of elevator system for their client, Italian oil and gas industry contractor Saipem. The TRG was 24 metres long, 7 metres wide, 18 metres tall and weighed over 182 tonnes.
A balancing act
US construction firm Cianbro used a barge-mounted MLC650 from USA-based manufacturer Manitowoc to replace two transmission towers on the James River in Virginia, USA. The new towers will help feed energy from a nearby nuclear plant to the surrounding area. The MLC650 was equipped with Variable Position Counterweight technology which Manitowoc says enabled the crane to maintain its centre of gravity and adjust its counterweight during each lift, keeping it stable.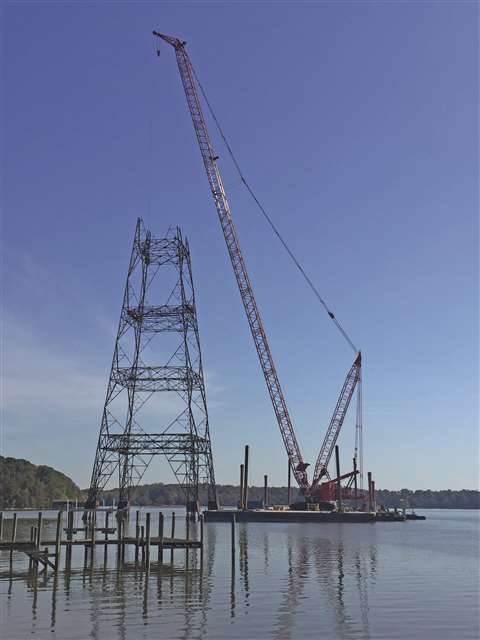 Decommissioning JV
Maersk Drilling and Maersk Supply Service have formed a 50:50 joint venture (JV) to provide decommissioning services to oil and gas operators. According to the JV, after decades of production an increasing number of offshore oil and gas fields are approaching the end of their economic life. In the North Sea, for example, the JV says more than 400 fields are expected to cease production by 2026 at an estimated cost of $56 billion. Worldwide, more than 700 fields are expected to require decommissioning, it adds.
"With the growing need for decommissioning mature fields, governments and oil gas operators are looking for experienced partners to manage and perform this challenging task," says Jørn Madsen, CEO of Maersk Drilling. "By leveraging the strong track record of the two companies, as well as our complementary asset base and competencies, we can lower the risk and reduce the overall cost for the customers."
An individual corporate brand for the JV will be established in the coming months.
Corleonis Case Study
Polish crane rental company Corleonis was commissioned by construction company Budimex to erect a cooling tower for the Bogatynia power plant in southwestern Poland. The tower was approximately 150 metres tall and to tackle the job Corleonis opted to use its new 16 tonne capacity Terex CTT 332-16 flat top tower crane. However, according to Corleonis it was clear from the start that the CTT 332-16 would not be enough to do the job in its standard configuration. "The crane had to be set up inside the cooling tower and would need to grow as construction progressed to a final hook height of 151.70 metres in three stages," says Corleonis commercial manager Jacek ObrĘbski.
As the crane was new to Corleonis Terex provided support through its Application Engineering Team, Mirco Manarin – a field technician from the Terex Cranes plant in Fontanafredda, Italy, and Terex Cranes service manager Ivo Romanelli. "Needless to say, it was the kind of offer that we wouldn't have dreamed of passing up, especially given the fact that the crane model is still practically new for us. Basically put, the support provided by Terex gave us additional field experience," reports ObrĘbski.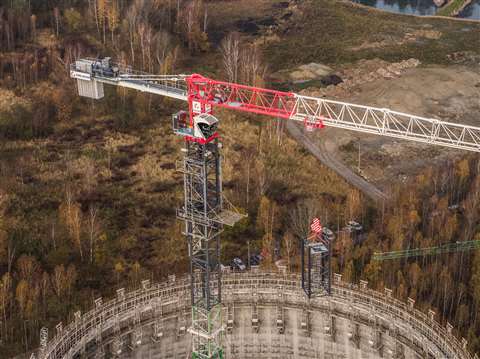 Working with Corleonis, Manarin and Romanelli were involved with setting the crane up at the job site, test lifts, and fine-tuning. Meanwhile the Terex Application Engineering Team developed a cable structure that made it possible to anchor the crane tower to the cooling tower's slab, enabling the CTT 332-16 to remain stable at all times. The first anchor was secured to the crane tower at a height of 62.40 metres, and the second at a height of 109.60 metres. This way, the Terex Cranes specialists were able to ensure that the CTT 332-16 flat top tower crane could efficiently perform all lifts with a jib length of 55 metres during every 'growth stage'.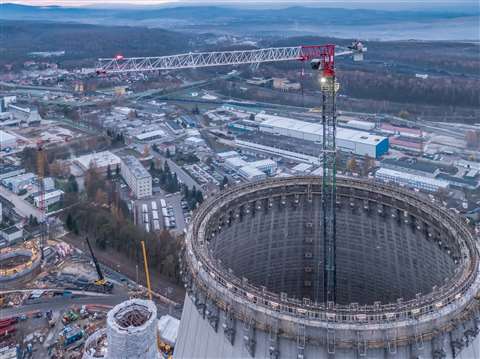 During this initial stage, the crane was first erected to a height of 69 metres. This was followed by 110.40 metres during the second construction stage and by a final 151.70 metres during the third and final expansion stage, which was reached in November 2017.