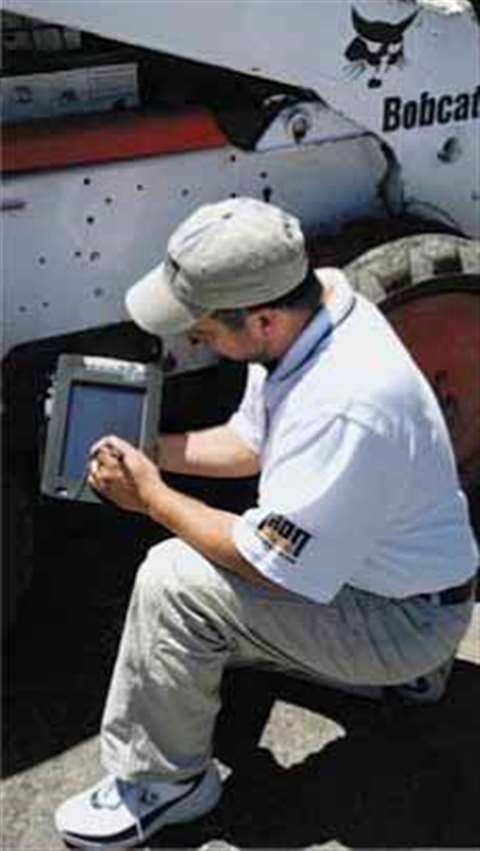 One relative newcomer to the equipment auction market, IronPlanet in the US, conducts business exclusively over the Internet. The company, founded in 1999, sold €114 million worth of equipment in 2006, all sourced in North America and most of it construction equipment.
However, Jeff Jeter, the company's newly appointed senior vice president, international and new business, told IRN, "Our success proves our model and the model is portable. We will be taking it international." He said the company plans to enter Europe "some time in 2008". Meanwhile, most of the Pleasanton, CA-based company's 300000 registered bidders are in North America. That number includes customers from about 200 countries.
"Key to the business is our inspection service," says Mr Jeter. IronPlanet has 350 inspectors who travel into the field and assess machine condition (pictured right), including taking fluid samples. Reports become part of the information package available to bidders, and the information is fundamental to IronPlanet's 'IronClad' guarantee of condition.
Inspecting is expensive, and "Basically, we strive to inspect anything where the inspection is providing some value to the buyer and where the cost to inspect does not exceed a reasonable cost to the seller for that particular piece of equipment," he says.
The company does other "legwork" for its consignors. Most significant is estimating market value, and its auctions are reserved. (Auction lots have prices below which they will not be sold.) Mr Jeter said the company monitors auction activity and actively promotes bidding to reach that price.
Mr Jeter says online auction companies have lower overheads and therefore lower commission structures. Mr Jeter declined to describe to IRN the prices of IronPlanet's services.
Major sellers include Cat, Komatsu, and Volvo - the companies themselves, as well as their dealers - which sell trade-ins and returns. Sellers also include rental companies, and IronPlanet intends to grow that business. "We are very interested in the rental market," says Mr Jeter. Current buyers are predominantly dealers and contractors.
As for the future, Mr Jeter says, "On-line auctions don't have the geographical limitations of a physical auction ... we can sell equipment anywhere." The Internet seems to be shrinking the world for auction buyers and sellers anywhere.