JCB adds CESAR ECV to UK machines
By Leila Steed24 January 2020
JCB is making the CESAR Emissions Compliance Verification (ECV) standard on all its EU Stage V and electric machines for the UK market.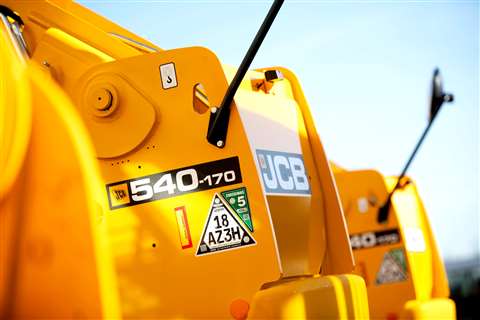 Steve Smith, JCB UK and Ireland Sales Director, said, "Now we are making identification easier for customers working in sensitive, urban environments and in enclosed spaces.
"We are delighted to be the first to embrace ECV marking as standard on all of our EU Stage V and electric equipment in the UK, as we did with the original CESAR scheme in 2006."
Powered by Datatag technologies and supported by the Construction Equipment Association (CEA), the CESAR ECV scheme allows the emissions category of a machine to be readily identified via an ECV label featuring an alpha/numeric and colour code system. 
JCB said that the introduction of the system would see its electric machinery fitted with a white triangular ECV label and its Stage V diesel powered machines equipped with a green one.
ECV labels, which will be fitted as standard for JCB's UK machines from March 1, 2020, will be attached next to the CESAR Security System sticker on the body of the equipment.
As more Clean Air Zones and emissions restrictions come into effect on construction projects across the UK, other equipment manufacturers are taking similar action.
Earlier this month, Hitachi Construction Machinery (UK) said that it too was adopting the CESAR ECV system. The news came as the manufacturer announced the roll out of the CESAR Security System, which works with the CESAR Network to combat plant theft, on all its new mini, medium and large excavator, wheeled loader and wheeled excavator models.