Jib option for Mammoet SK6,000
By Alex Dahm27 September 2022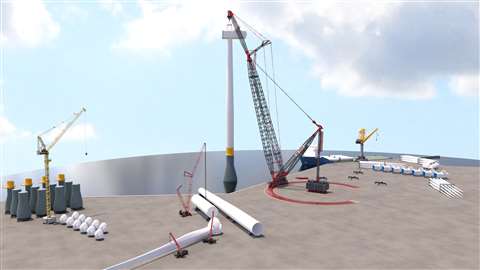 A new fixed jib option has been announced for Mammoet's 6000 tonne capacity SK6,000 super heavy lift ring crane.
The jib will give the giant crane, which is under construction, the ability to lift 3,000 tonnes to a height of 220 metres. It will allow construction of the next generation of foundations for offshore wind turbines.
These new foundations will be bigger, for taller and more powerful turbines, to be situated in deeper water, further from the coast. A jib for the SK6,000 will help developers cut the cost of assembling floating offshore turbines and increase efficiency by taking advantage of stronger winds for a greater yield.
Offshore wind turbine jackets, monopiles and other bases are already reaching the height and load capacity limits of the existing largest cranes, Mammoet said. With 20 MW turbines further from land in deeper water, significantly more crane capability is needed.
Future-proofing a 6,000 tonne crane
Another way it will increase efficiency is that the crane with jib will be able to load out floating foundations using the main boom, then immediately use the fixed jib to assemble the turbine tower.
No reconfiguration will be required, explained Jeremy Haylock, Mammoet technical expert, "We don't look at the SK as 'just' a crane, but we look at it as a system as well. If you look at the SK of today compared to when it was first launched, it has evolved considerably.
"This isn't a surprise because it was always the basis of our original design philosophy and we wanted to develop a product that would be scalable and agile. Because the world is developing so quickly, and the changes around us are so vast, our aim was to deliver a product that would allow us to grow in real time with our customers."
The fixed jib is fully forward and backward compatible through the SK series, Haylock continued, "meaning our customers can realise its potential, regardless of the application."