New wheeled loaders from Kramer
By Thomas Allen03 June 2020
Kramer-Werke has introduced two new Stage V-ready compact wheeled loaders, the 5035 and 5040, for tight working conditions.
Each model measures 1.26m in width, and they both have low transport weights, making it possible to transport them on a car trailer.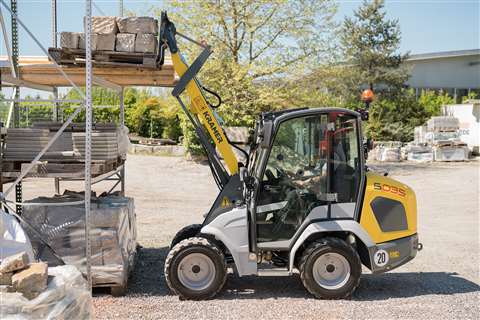 The two loaders also come with a quick coupler system as standard, to make it quick and easy to change attachments. And the Z-kinematics visual position display for attachments is particularly helpful for inexperienced operators, which is an important concern for rental companies.
The 5035, with an operating weight of 1,920kg, is powered by an 18.5kW Yanmar engine and offers a bucket tipping load of 1,140kg.
Meanwhile, the 5040 model, weighing 2,070kg, has a 28.5kW Yanmar engine and a bucket tipping load of 1,400kg. It's exhaust aftertreatment uses DOC (diesel oxidation catalyst) and DPF (diesel particulate filter).
Smart Driving PRO is also available as an option on the 5040. This new feature provides three different operator modes.
In the Power Mode, the complete engine output is available, which is suitable for fast loading cycles and for work in excavated material.
In Eco Mode, the machine drives at the same travel speed as in Power Mode, but with a reduced engine speed. This helps to reduce noise levels and save fuel. This mode was said to be most suitable for stacking work, in which the full system power is not required.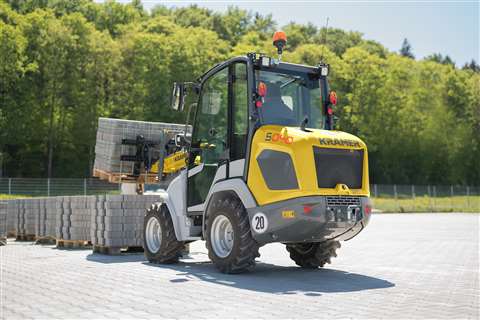 The third operator mode is a new development of the existing Low-Speed Control option. It allows the forward travel speed to be controleld not only via the handset but also via the accelerator pedal. Kramer said this mode is best suited for applications with attachments, such as a rotary sweeper or a mower, because it allows the speed to be adjusted sensitively.
Both new models have three types of steering. All-wheel steering is intended to maximise manoeuvrability and for fast loading cycles in tight spaces.
Front wheel and crab steering are available for the first time for this class size.
Crab steering is suited to working alongside trenches, walls and hedges, helping to reduce risk of damange.
The 5035 and 5040 have also been fitted with a new cab that has a wider entry with additional steps, making for more comfortable and safer entry and exit.
A tilt-adjusting steering column is available as an optional extra, again to make access easier and safer, but also to make the driving experience more comfortable for the operator.
Large glass areas in combination with newly designed viewing channels ensure optimal visibility onto the attachment and maximise all-round visibility.