Quarry times
By Lindsay Gale20 March 2008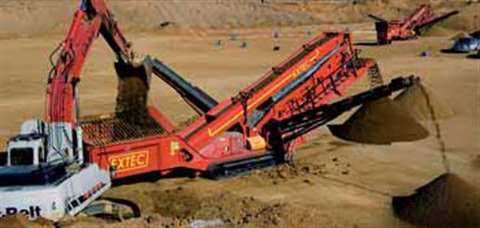 While not the biggest trade show in the world, Hillhead 2007 will come as a refreshing experience for those who attended Bauma, which is commonly accepted as being the largest. With its scenic location in the Pennines and its manageable size, the largely outdoor Hillhead always proves a major draw for the industry, especially those interested in recycling equipment, irrespective of the weather conditions.
As always hosted by Tarmac at its Hillhead Quarry 3km south of Buxton, this year's event sees some 430 exhibitors taking stands in an exhibition area that totals 85,000 m2, including 30,000 m2 of demonstration areas, of which there will be three separate zones.
As usual, a section at the north end of the site will be drilled and blasted to produce a fresh rock–pile especially for the show, usually totalling 7–8,000 tonnes of limestone, most of which is under 1m3. Here large wheel loaders (buckets of 4 m3 and above), large excavators and face–shovels (40 tonnes and over), rigid and articulated dumptrucks and hydraulic breakers will be demonstrated.
The rock processing area on the western side of the quarry will provide the opportunity for the demonstration of all kinds of mobile crushing and screening equipment, including tracked and skid mounted crushers, tracked and wheeled screens, scalping grids and barrel screens.
Finally, and of most interest to D&Ri readers, i the recycling demonstration area will lie at the southern end of the showground where three concrete storage bunkers have been built to hold imported supplies of material for processing, by crushing, screening, shredding or washing. This material will consist of C&D waste, waste asphalt, and concrete blocks and brick rubble.
As always, for safety reasons, no under 16s will be admitted to the site, and the organisers advise all those attending to wear a hard hat when wandering around the outside displays. The nature of the ground is such that it is also advisable that footware appropriate to a working quarry be worn–and lets hope the June weather is forgiving.
equipment highlights
It comes as no surprise that the major highlights on show will come from the crushing and screening companies, given the nature of the show. The odds are good that the recent Bauma occupied most manufactures' attention in terms of launching new equipment, and Hillhead, being a largely national UK show, is normally not the venue for international launches, As a result, many of the machines that made their debut in Munich will make their UK debut at Hillhead.
Thus there will be new crushing and screening equipment from the likes of Extec and Fintec (both now owned by Sandvik, but both will be exhibiting seperately–what the future holds for these companies is still uncertain), Terex Pegson, Terex Finlay and Powerscreen, Kleeman,Metso.
Where general construction equipment is concerned, this year saw the introduction of new European Stage IIIA engine laws for 19 to 37 kW and 75 to 130 kW diesel engines, which led to a plethora of new models in the compact equipment sector and in mid–sized earthmoving machines at Bauma. Many of these are likely to be on show on the majors', stands such as Caterpillar (who launched a staggering number of new machines at Bauma), Hyundai, Volvo JCB and Case
No matter your area of interest, there is certain to be plenty to see at the show, and D&Ri will be happy to welcome you to the KHL stand in the pavilion.