Return to growth?
By Claire Symes25 April 2008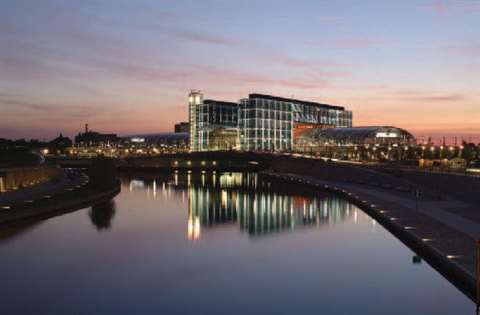 Germany's construction market has managed to maintain its position as the largest in Europe despite more than a decade of recession following the re-unification boom. The country's building sector now appears to have reached a turning point and some expect the industry to show signs of recovery in 2006. Claire Symes reports.
Germany's Construction Output in 2005 was valued at € 198 billion, according to the latest report from the Euroconstruct economic forecasting group. This positions Germany as Europe's largest construction market with a 15,5% share of total construction output in 2005, but it is not the powerhouse it once was.
In 1996, Germany's construction market represented around 30% of the European total and has been in steady decline for the last 10 years. Euroconstruct's figures for 2005 represent a further fall of -3,5% over activity in 2004. An economic overview by FIEC confirms the further decline in Germany's construction sector last year but suggests that the problem was more significant with a drop of - 4,5%.
Nonetheless, the sector is already showing signs of a turn around in 2006. Euroconstruct estimates that Germany's construction output will grow to € 201 billion this year and continue to grow steadily to reach € 206 billion by 2008. Growth of just under +4% over three years may not sound significant but, in contrast to Germany's recent history, it marks a turning point for the country's construction market.
Results for the first quarter of 2006 are already showing gains over the same period last year. A report published by the Hauptverband der Deuschen Bauindustrie (HDB) - the federation of German contractors - for Q1 this year shows that sales by German construction firms was up +1,8% and the volume of contracts also rose +10,2%.
According to the HDB, the general construction sector benefited from a general economic improvement within Germany in the first three months of the year. As a result of this positive start to the year, the HDB has revised its turnover forecast for the whole of the year up from 0 to +1%.
This improved optimism in the German construction market is part of an overall improvement in the general German economy. According to Germany's economic forecasting group the Ifo Institute, the upswing in the economy is broad based and is mainly being driven by exports, but the domestic situation is also improving.
Political Change
Before Germany's general election in September last year it was hoped that a change in government would be the start of much needed economic reforms in Germany. The prospect of an economic step change gave rise to optimism for construction growth in 2006.
"The impact of the new government has not been as big as everyone had expected," said Verband Deutscher Maschinen und Angelbau (VDMA) - Germany's construction equipment and building machinery association - deputy managing director Dr Peter Hug. "It took longer than expected to form the coalition conservative and social democrat government, and investors held back until everything was settled.
"It is also taking more time than was anticipated to bring about the planned reforms which has added to scepticism in the market. One change which the government has driven through is a rise in value added tax of +3% to 19% by the end of 2006. This, combined with the slow progress, has made economic forecasting for the coming 12 months very difficult."
Ifo is expecting the increase in taxes to dampen general economic activity in Germany but for growth, albeit at a slower rate, to continue for at least several more years. However, Ifo believes that the prospects for Germany's commercial construction and equipment market are better and predicts that investment growth will not weaken in the next 12 months.
Equipment Growth
Germany's construction equipment manufacturers have also had a good start to 2006. "Domestic sales are up by +27% for the first half of this year compared to the same period last year," said Dr Hug.
"Although we are not expecting the same level of sales in the second half of this year, these figures suggest that the German market has reached a turning point. Overall we expect domestic sales to grow by around +10% this year."
The growth in the domestic equipment market is being driven by rental companies, according to Brian Abbott, Caterpillar's area office manager for Germany. "Some of the growth we are seeing this year is due to rental replacement, but many rental companies are also expanding their fleets," he said. "MVS has already invested around € 140 million this year and is not the only rental company looking to invest this year."
Dr Hug told CE that the best performing products in the domestic market are crushing and screening equipment and road construction and maintenance equipment. "Exports of German manufactured cranes and concrete equipment are also doing well," he said. "We are expecting to see exports grow by around +5% this year and we are expecting this to continue into 2007. All regions of the world are growing at the moment, which is something we've never seen before."
The prospect of next year's Bauma exhibition, to be held in Munich between 23 and 29 April, does not necessarily mean a boost in sales for Germany's equipment industry. "Bauma years are not ones of extraordinary growth - sales usually follow on from it though," said Dr Hug.
Cat's Mr Abbott added, "People like to sign deals at Bauma but they are usual sales that would be made anyway, the show just changes the seasonality of the sector."
Investment Need
Televised coverage of this summer's football World Cup has meant that some of Germany's biggest construction achievements in the last few years have also been in the spotlight. In the run up to the event eight existing stadiums were refurbished and five new ones were built. The government also invested around € 3,7 billion in improving transport links with the stadiums.
Nonetheless, the years of continued recession and resulting lack of public funds has created a backlog of infrastructure investment, which Germany's new government needs to address.
"Over the last few years public investment has dropped," said Hochtief Construction business development manager Helmut Kölzer. "Public authorities are the biggest construction clients in Germany, accounting for 30% of turnover, and increased investment would have a big impact on the industry.
"The increased acceptance of Public Private Partnerships (PPP) will be key to achieving higher levels of infrastructure investment in Germany. We don't expect the situation to change overnight, but there are new laws being developed to speed planning for PPP projects which will help."
Despite the lack of public spending, there are still a number of world class construction projects underway in Germany and most seem to involve both German contractors and German equipment.
One of the biggest construction projects in progress at the moment is the € 806 million Messe Stuttgart (see CE November 2005) which is due to host its first exhibition in April next year. The project seems to be a showcase for German engineering and construction equipment.
At the height of construction, more than 40 Liebherr tower cranes were being used to move materials around the 90 ha site. Meva's MevaFlex formwork and MEP shoring system has been used to create the complexly curving access ramps for the car parks that span the A8 motorway. Several Schwing truck mounted concrete pumps, including a new S 39 SX and an S 58 SX super large boom pumps, have been used to place the 600000 m3 of concrete needed to complete the project.
Another high profile German construction project which is on schedule to be finished early next year is the € 100 million BMW Welt (BMW World) in Munich. Bilfinger + Berger started work on the landmark project in 2004, which was designed by Vienna based architect Coop Himmelb(l)au.
Like Stuuttgart Messe, a fleet of seven Liebherr tower cranes are being used at the site. The largest crane being used on the Munich site is a free standing 550 EC-H 20 Litronic with a radius of 71,5 m and under hook height of 84,5 m and a maximum capacity of 20 tonnes.
The structure, which will be used as a delivery and customer support centre, features a complex glass clad steel frame which descends into a central 30 m diameter double cone. More than 35000 m2 of framework scaffolding, supplied by Germany-based Hünnebeck, was used to support the structure during construction
Future Construction
Hochtief's latest project also involves innovation and will see it get involved with developing new intelligent technology for commercial buildings. Hochtief has signed an agreement with research body Frauhofer to develop a € 7,9 million research centre at Duisberg, which will be known as InHaus2. The 5500 m2 development follows on from Frauhofer's nearby InHaus1, which was built as a research centre for innovative residential properties.
"The commercial real estate sector has an enormous amount of catching up to do in the field of innovation," said Frauhofer executive board member Dr Dirk-Meints Polter. "Recent developments in the automotive industry have improved safety, comfort, reliability and entertainment but the commercial building business hasn't progressed since the 1970s.
"InHaus 2 will be completed by mid 2008 and will allow us to research the application of different technologies for hotels, hospitals and retirement homes and also investigate office design flexibility. The facility will allow us to test these new technologies, optimise them and bring them to market maturity."
Continued Growth?
The general consensus seems to be that 2006 will mark a step change for Germany's construction market but is this an end to the recession? Euroconstruct believes that it is, and is predicting this year's gains to be followed by further increases of +0,9% and +1,8% in 2007 and 2008, respectively.
Many are also expecting the new government's promised economic reforms to start to have an impact in the next few years. "There have been no big changes so far but the government is now beginning the harder issues of labour, health and repairs," said Cat's Mr Abbott.
"Interest rates are also likely to remain low which will help boost reinvestment in Germany. We may also start to see PPP projects getting underway within two to three years.