Saudi Arabia receives first SX-180
By Euan Youdale09 March 2015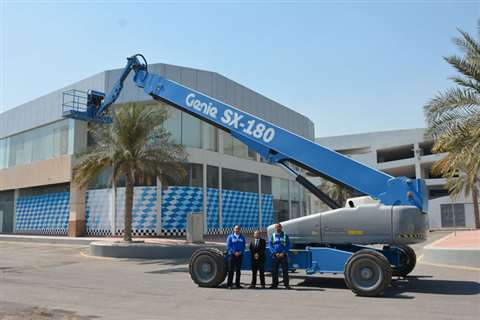 Genie has delivered the first 180 ft SX-180 boom in Saudi Arabia to rental company Zoom Al Andalus Trading.
"In Saudia Arabia there has been great anticipation throughout the industry about the arrival of this new super boom model, and our customers are going to really value its potential out in the field," said Farid Jaber, company consultant for Zoom Al Andalus Trading & Co.
The SX-180's 186 ft working height is required for steel constructions, maintenance and for power plants, said Zoom Al Andalus. The boom is seen as an alternative to truck mounted booms, cranes and other boom lifts.
Providing a maximum working height of 56.85 m (186 ft) and a horizontal reach of 24.4 m (80 ft), the platform has a rotation of 160° and 360° continuous turntable rotation. It also includes a 3.05m (10 ft) rotating jib offering 285.5 m³ (10,082 ft³) of working area, 135° vertical and 60° horizontal positioning to place workers and their gear exactly where they are needed.