Access50 largest fleet sizes published
By Euan Youdale07 September 2018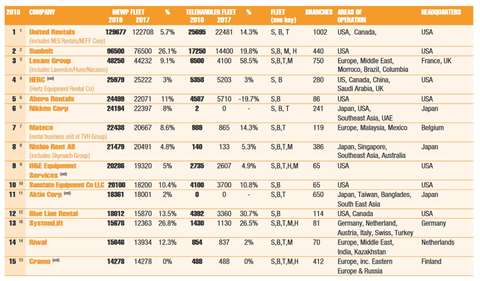 The Access50 2018 listing of the world's largest access equipment rental fleets is now available.
Published in the August-September issue of Access International, the unique listing shows the access rental market is in a very comfortable position, thanks to thriving markets across the world. North America is looking particularly strong and Europe is pretty close behind, especially as countries like Italy and Spain are starting to pick up.
US-based United Rentals, which comfortably takes the number one spot again this year, remained on the acquisition trail this year, although not in the aerial platform sector. Rather, it bought BakerCorp in July, which has 11 depots in Europe, representing its first entry into the continent.
The other North America-based companies in the list are also having successful years. In the top 10, Sunstate Equipment, standing strong in 10th place, has seen good growth in its MEWP and telehandler fleet at more than 10% in both cases. Likewise, the MEWP fleets of H&E Equipment, Ahern and Sunbelt have all seen very respectable increases in their fleet sizes.
This renewed confidence is reflected in markets that were, until quite recently, in the depth of recession. Loxam stands out as a good example, following its acquisition of Spain-based Hune and Italy-based Nacanco last year. Nacanco appeared in last year's access50, as the deal had not yet been confirmed. Based on that 2017 listing, it had a fleet size of 2,300 MEWPs, while Hune had reported a fleet of just over 5,000 units the last time it appeared in the access50, in 2016.
Further down the table, there has been significant growth too. For example, France-based Kiloutou's fleet has jumped nearly 2,500 units since last year, to 13,900 in this year's table. Other companies to note in Europe are Collé, Boels and A-Plant, all with more than 20% fleet increases. Access specialist Riwal also presents very healthy figures, with a 12.3% rise.
Southeast Asia
Shanghai Horizon has grown its fleet again this year by just over 1,500 units to 7,465. The fast-moving Chinese market is well documented and promises to continue in this vein. However, some other parts of Asia are less well documented, but that is changing. Southeast Asia has become a key new market for MEWPs in very recent years
Malaysia is being seen as the next big market and has many rental companies, the largest being TH Tong Heng Machinery. It has 1,000 MEWPs and is new to the Access50 this year.
Turkey is another interesting country, thanks to its growing access market and historical links to Europe, the Middle East and Northern Africa. Both the country's biggest rental companies Faith Vinc and Rent Rise have edged over the 1000 MEWP mark in their fleets.
The complete Access50 listing can be downloaded free of charge in the August-September 2018 issue of Access International.