AFI acquires MBS spider lift fleet
By Euan Youdale13 December 2021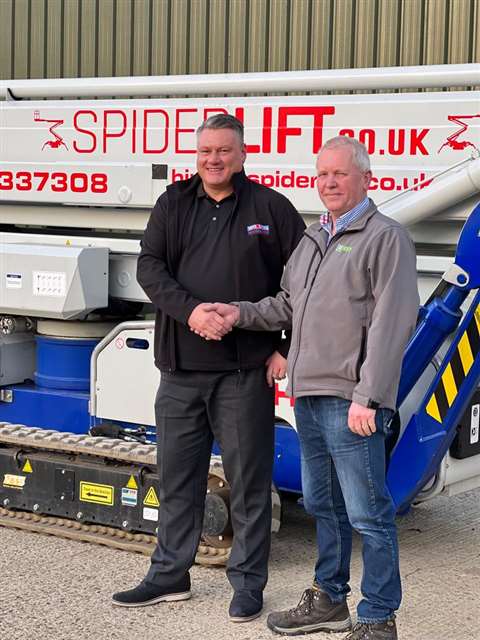 One of the UK's largest powered access specialists AFI has acquired the rental and sales fleet of MBS Access.
MBS trades under the Spiderlift brand, and the acquisition is set to significantly strengthen AFI group of companies' Wilson Access truck mount and spider lift division. The acquired assets include the goodwill, phone numbers, the Spiderlift trademark and website domain www.spiderlift.co.uk, along with the entire rental fleet of specialist tracked access equipment.
Numbering 40 units of tracked spider lifts, the fleet ranges from 11m to 42m working height, with models available in diesel, lithium and hybrid.
Wilson now intends to trade under the Spiderlift name for its fleet of spider lifts. The addition of the track mounted Spiderlift booms will also increase the availability of the equipment in the Wilson Access hire fleet. 
Pete Wajner, managing director, Wilson Access said, "We are delighted to purchase the fleet and Spiderlift name from MBS Access Limited. This is a well balanced fleet. The 30m plus tracks and hybrid units will complement our existing Wilson access track mount fleet, and allow us to offer a diverse and efficient range to meet demand, as more of our customers strive to meet sustainability objectives throughout supply chains.
"We intend to promote the Spiderlift brand to both existing MBS customers and the wider AFI group customers. We are pleased that we could agree and complete this deal with Martyn in a short time space, to allow him to achieve his objective of exiting the spider rental market"
MBS' major shareholder, Martyn Bass, had made the decision to exit the spider lift rental business to focus his attention on his MBS Grounds Maintenance business. "We have a longstanding relationship with Pete Wajner and the AFI team at Wilson Access and we are thrilled to see the business go to a good home," said Bass. "The Spiderlift brand has had significant investment in recent times so it's great to know that the Wilson team will continue to promote it. We look forward to working together with them in the future as a customer, and watching the business go from strength-to-strength."