Air support from Nationwide
By Euan Youdale18 April 2016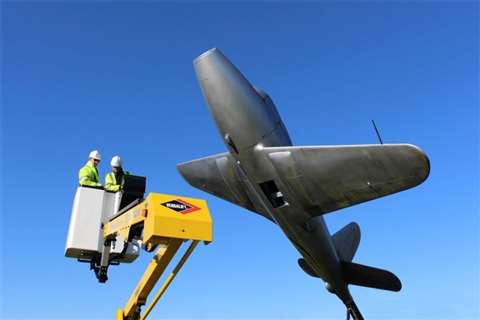 Nationwide Platforms provided a new Isuzu pic up mounted Versalift LAT135-H to inspect a replica Gloster E.28/39 aeroplane which commemorates the achievements of Sir Frank Whittle, inventor of the jet engine.
Located in the same town as Nationwide Platforms' head office, Lutterworth, UK, the LAT135-H was supplied free of charge to the Frank Whittle Commemorative Trust and was used to inspect the plane's condition following poor weather and high winds.
Fitted with BF Goodrich off-road tyres, the four wheel drive LAT135-H had little difficulty accessing the replica aircraft, which is situated at the centre of a road roundabout approaching Lutterworth.
Its 13.3m working height and 6.1m outreach enabled the engineer to closely inspect all elements of the plane as well as its internal steelwork. Following the examination, further work has now been scheduled to clean, repair and hand paint the plane.
Given the costs of ongoing repairs, coupled with the age and health of the charity's trustees, there had been growing concerns that the plane would need to be dismantled and removed. Fortunately the Trust has been awarded a UK£12000 grant from the Harborough District Council, and £1000 from the Lutterworth Town Council enabling it to carry out major remedial work, prolonging its condition for the next 10 years.