ALE adds 14,400 tonnes of SPMT capacity
By Alex Dahm15 February 2016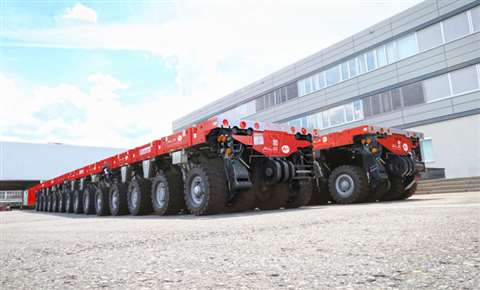 Specialized transport and heavy lifting specialist ALE has added 240 lines of a new type of self propelled modular transporter (SPMT) from Scheuerle in Germany.
Capacity is 60 tonnes per axle line and they run on 15 inch (380 mm) wheel/tyres. The order will add 14,400 tonnes of capacity to the ALE fleet. Engines in the power packs are to EU 4 / EPA Tier 4 Final exhaust emission standards.
Ronald Hoefmans, ALE technical director, said, "By investing in the latest generation of trailers it positions us at the forefront of the industry, pushing the boundaries for the world's highest SPMT capacity and solving the challenges for our clients."
Bernd Schwengsbier, TII Sales (Scheuerle, Nicolas, Kamag) president, said, "70 percent of all transports over 3,000 tonnes and 90 percent of all transports over 5,000 tonnes worldwide are done with vehicles manufactured by us."
ALE plans to base the new trailers mainly in the UK and the Netherlands.