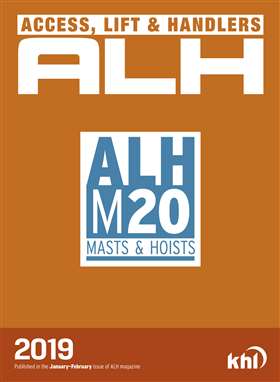 The number is shocking. The MASTCLIMBER20 list increased 44.27 percent this year from 3,142 rentable drives to 4,533. While nearly all companies reported increases in their fleet sizes, the jump comes from the newly formed partnership between Fraco Products and Turboiber Elevación, a Spanish company with more than 1,000 mast climbing work platforms, mobile elevating work platforms and various lifts and scaffolds in its roster. Fraco, which had 175 drives in 2018, reported an increase to 1,100.
Despite this large increase, if we adjust the numbers to reflect market conditions without the partnership, a double-digit increase still exists – roughly 15 percent or more for the market. Overall, the MASTCLIMBER20 represents 4,533 units and the top five companies clock in with 2,699 of those.
Other major marks come from Mastclimbers LLC which boosted its fleet from 131 drives to 260 and Dunlop Mastclimbers from 82 to 160. For more facts and information, please see our digital edition.
Supporting documents
Click links below to download and view individual files.