APEX ASIA Review: Asia first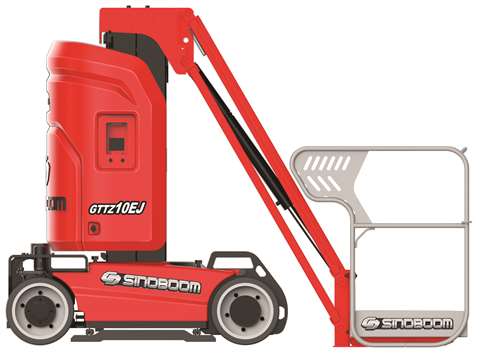 The 10m working height GTTZ10EJ vertical mast from Sinoboom.
APEX Asia runs alongside the well-established CeMAT Asia material handling and factory automation show, which attracts more than 75,000 visitors - visitors can move freely between the two shows.
Chinese access equipment suppliers at APEX Asia include Dingli, Mantall, Sinoboom, XCMG, Runshare and Liugong. They will join major western OEMs such as JLG Industries, Haulotte, Skyjack and Snorkel. Other exhibitors include Airo, TVH, Skyclimber, MCS and PG Trionic.
China and Asia are among the fastest growing aerial platform markets in the world and APEX Asia will be a showcase for manufacturers and dealers to promote modern access equipment to buyers and users across the entire continent. Make sure you see the full APEX Asia showguide in the October issue of Access International.
The shows will also benefit from the International Rental Conference (IRC), which will be held in the same Hall N1 as APEX Asia on the first day of the show. IRC attracts senior executives and equipment buyers from many of the world's largest equipment rental companies.
APEX Asia is organised by KHL Group and B.V. Industrial Promotions International (IPI), in cooperation with Deutsche Messe AG, which organises CeMAT Asia. The show is supported by Access International and the International Powered Access Federation (IPAF).
"APEX is an established and well-liked show on the access industry calendar, but with the Chinese and Asian market developing fast it is clear that this region would benefit from a local show dedicated to access equipment", said Tony Kenter, managing director of IPI.
Product launches
Well-known Chinese manufacturers will be using the show as a launchpad for new products. One of them Sinoboom is set to launch three new products at APEX Asia, one of which represents the China-based manufacturer's entry into a new product category.
The 10m working height GTTZ10EJ vertical mast is the first of its kind in Sinoboom's line-up and features an automatic pot hole protection system, zero tailswing, small turning radius, 345° rotation and a horizontal reach of 3.3m.
The model is designed to be strong and compact, allowing it to enter narrow doors and elevator shafts, for example. An emergency lowering system is also included, as well as forklift slots.
Another launch is the 12m working height GTJZ electric scissor lift, boasting a new chassis design to create a more solid, sturdy performance. There are protruding steps to prevent surface paint rub and upgrades to maintenance accessibility and overall machine performance. This includes a longer run-time.
Sinoboom's third debut will be the 16m platform height GTZZ16EJ electric articulating boom. It includes a platform capacity of 230kg, with a maximum horizontal reach of 9.37m and a working height of 17.8m. The unit has a top speed of 5.2km/h and 40% gradeability, with a disc brake system to reduce slide.
Lesser internationally known manufacturers will also be in the mix at APEX Asia, though they have a common goal to the likes of Sinoboom, that being international expansion. An example is Xuzhou Handler Special Vehicle Co., which will show two products at APEX Asia.
They will include a new 7.5m working height pick-up mounted platform and an existing 45m working height truck mounted model.
The pair of platforms represent the highest and lowest products in the China-based vehicle mount manufacturer's range and demonstrates the wide range of aerial work platform producers in the country. Estimates put the number of AWP manufacturers in China at more than 100, a large number of which will be at APEX Asia and are focused on export across Asia and further afield.
Mounted on a crew cab, the 7.5m model is compact and has a low centre of gravity for overhead work with limited space around the vehicle. It offers 3.55m outreach. The 45m rear-mounted insulated hybrid platform is equipped with sophisticated safety features and range of sensors. See both products at Handler's APEX Asia stand (F1.2).
The big, established global names in the industry will be sharing the show area with their China-based counterparts. JLG, for example, will display three products demonstrating its focus on the mainstream market in Asia. They include the 4045R electric scissor, 1932R electric scissor and the 1100SJ boom lift at its booth (B3).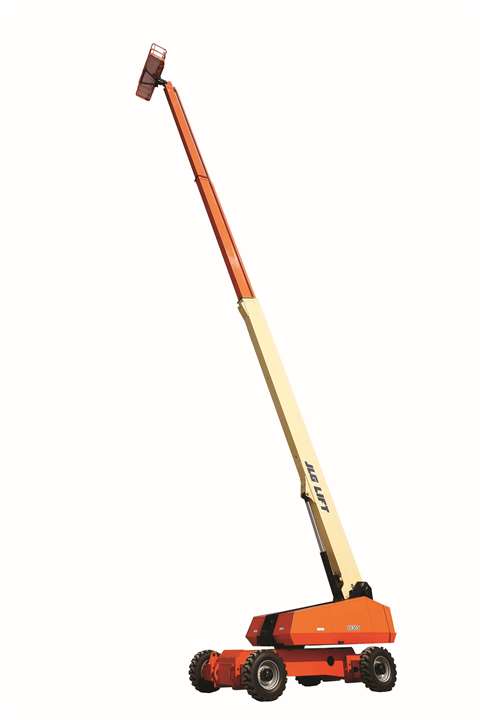 JLG 1100SJ boom lift.
The new 40ft working height 4045R features a compact design, offering a 1.14m machine width and is the first JLG electric scissor lift to feature side forklift pockets. In addition, the lift's self-centering feature uses a five-level scissor design with fewer linkage points versus six-level models. Plus an all-steel platform, steel component trays and recessed ground control panel for long term machine durability.
The 1932R is an affordably priced addition to JLG's scissor line, it says. Designed with this lower cost of ownership in mind, the 1932R is offering serviceability, reliability, and durability. It has all-steel swing-out component trays with a layout that optimizes serviceability. The 1932R also features an improved battery charger that allows a technician to programme changes to optimise the battery being used. A simple, easy-to-maintain active pothole protection system with fewer moving parts and a new platform extension contribute to the lift's features.
The new 1100SJ boom features extreme hostile package, a tailor-made platform for harsh environment applications. The 1100SJ allows operators to reach heights of 35.5m and lift 250kg unrestricted area load capacity. Speed is also a feature; the operator can lift the boom from ground to maximum height in two minutes. The steel covered powertrak and control panel, steel fuel tank and JLG special designed extreme hostile package are also included.
See extensive coverage of all the manufacturers and products on display at APEX Asia in the full Showguide in the October issue of AI.
Dingli extends its range
China's biggest manufacturer of aerial work platforms Dingli will present more than 10 products at APEX Asia, with three of them being launched at the show (booth B2).
Those are the GTBZ20AE telescopic boom, GTBZ20SU ultra boom and JCPT1612DC scissor, which will make their first appearance at the exhibition.
The GTBZ20AE is designed to be easy to operate. It not only has a fast lifting speed to its 20.23m working height but also a competitive 11.14m horizontal extension and a 230kg loading capacity. With compact chassis of 8.61m x 2.49m x 2.44m it is suitable for working in limited space.
The unit boasts 4 × 4 wheel drive and up to 40% gradeability. It has a 420 Ah high-capacity storage battery for power supply, with zero emission, low maintenance costs and long working hours. Compared with the traditional DC motor drive, it can save 10% in energy. Its floating bridge design enhances off road performance.
The 20.3m working height GTBZ20SU ultra deck has a 1350kg capacity. It adopts Dana axle and chassis, with standard configuration of 4WD and 4WS as well as differential lock, which has a stronger off-road ability. The maximum gradeability is 40% and the maximum chassis leveling is 10°. The unit has a large working area of 6.7 m × 2.28 m, as well as the platform slider boom of 2.19m. The 180º rotation has significantly increased its working range, with no limits through the envelope.
The JCPT1612DC scissor has significantly improved work efficiency, enhanced stability, prolonged its service life and can be commonly used in various scissor lifts. The platform can perform at a gradient of 6°.