Big names to build Cebu-Cordova link in Philippines
By Andy Brown05 December 2017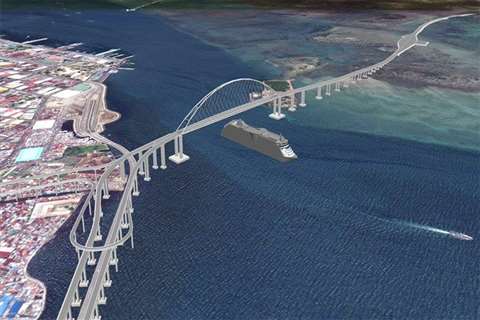 A construction and engineering consortium formed by the Consunjis, Lopezes and Spain-based Acciona Construccion S.A. has secured 23 billion Philippine peso (US$ 454 hundred million) design and build contract for Metro Pacific group's 8.5 km bridge project connecting Cebu City to the municipality of Cordova in the island of Mactan.
In a recent disclosure to the Philippine Stock Exchange, conglomerates DMCI Holdings, Metro Pacific Investments Corp. and First Philippine Holdings Corp. (FPH) said the notice of award for the Cebu-Cordova Link Expressway (CCLEX) had been issued to Cebu Link Joint Venture (CLJV).
CLJV is a joint venture of Acciona Construccion, FPH's First Balfour Inc. and DMCI's D. M. Consunji Inc., which all have proven track records in major infrastructure projects.
The notice of award was issued by Cebu-Cordova Link Expressway Corp. (CCLEC), a subsidiary of Metro Pacific Tollways Corp. (MPTC), the toll road arm of Metro Pacific. CCLEC will build, operate and maintain the toll bridge through a joint venture agreement with the local governments of Cebu City and Cordova.
CCLEX, which is targeted to be completed by 2020, is the first of MPTC's toll road expansion projects in the Visayas and Mindanao.
"We are very confident that we can deliver a quality state-of-the-art bridge that will provide not just travel efficiency but also drive economic growth and productivity in the entire Visayas region, and improve the overall welfare of the Cebuanos," said CCLEC president and general manager Allan Alfon.
CCLEX will have two lanes in each direction and will feature the main navigation span bridge, viaduct approach bridges, a causeway, roadway and toll facilities. The bridge allows for shipping traffic and is expected to serve at least 40,000 vehicles daily.