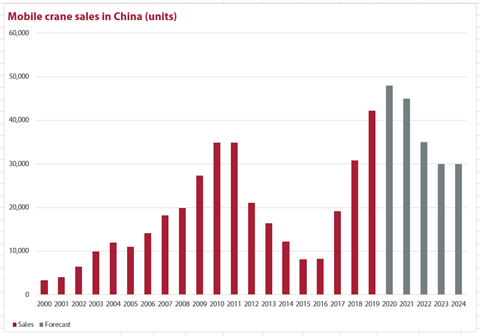 Sales in China of new mobile cranes (truck cranes, all terrains, rough terrains, and crawlers) are expected to reach an all-time high in 2020. Construction equipment sales overall in China are expected to rise 14 per cent in 2020, according to a revised forecast from Off-Highway Research.
The previous expectation was for sales to fall 8 %, but stimulus measures in the wake of the Covid-19 pandemic are now expected to reverse this trend. Sales of earthmoving, lifting and road building equipment in China are expected to total 418,180 units in 2020, compared to 368,115 in 2019. It was previously expected that 2019 would be the high point in the current cycle and that sales would fall to 337,700 units in 2020.
"The recovery in the equipment market is due to investment countermeasures against the impacts of Covid-19 on the economy as a whole. The central government has adopted policies to increase investment, including a great increase in the issuing of local special bonds. In the first two months of the year, many construction projects were suspended. However, March saw them restart along with numerous new schemes," it said in the Off-Highway Research mid-year review on the Chinese industry.
It continued, "In addition, most of the old fleets purchased 8 to 10 years ago when the market was running at its previous peak are now at the end of their lives. The increasing demand, along with stricter regulations for environment protection, have been a driver behind the recent market boom."
The volumes expected in 2020 are the strongest the market has been since 2010 and 2011, when huge national stimulus spending by the Chinese Government in the wake of the global financial crisis took sales to a high of more than 520,000 units in 2011. That high was followed by a deep and painful five-year recession for the Chinese industry.
While Off-Highway Research forecasts a downturn for 2021 to 2023, it is not expected to be as steep or as deep as seen from 2012 to 2016.
For more information see: www.offhighwayresearch.com