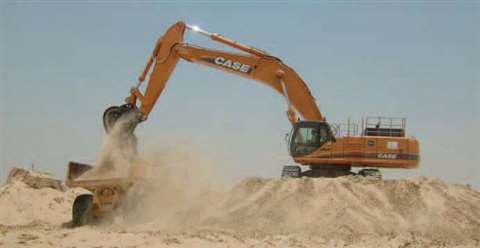 In some countries, scheduling the earthworks during the drier months of the year is as important for keeping construction on schedule as selecting the right equipment. But in other regions of the world, having machinery that can cope with extreme high temperatures and dust can be more critical than the timing of the work.
Temperatures in excess of 40°C and visibility-reducing sandstorms are a daily occurrence on the new Dubai World Central International Airport construction site, but with a tight construction deadline, delays are not an option. Main contractor Al-Naboodah-Laing is using a fleet of specially modified construction equipment from Case, including an 80 tonne CX800, to carry out earthworks for the US$ 4.1 billion scheme.
Work on the 140 km2 airport, located in Jebel Ali, started last year and is due to be completed in 2008. The completed project will have the capacity to handle up to 120 million passengers and 12 million tonnes of cargo a year, making it the world's largest airport. But before the airport's planned six runways can receive their first landings, millions of cubic metres of material need to be moved.
According to local Case dealer Al Shiwari Enterprises, the 30 machines supplied for the project have been fitted with special filters and cooling systems to cope with conditions on the site. The earthworks for this enormous scheme are currently on schedule and construction work has already started on the terminal buildings and runways.
Projects like Dubai World Central International Airport, as well as The Palms and The World, have earned Dubai a reputation for successfully completing large scale earthworks. But Dubai is not the only country in the Middle East where large scale earthmoving work is underway - work on The Pearl-Qatar has involved moving 10 million m3 of material and is nearing completion.
The first residents of the island development, which involved reclaiming more than 400 ha from the Arabian Gulf, are expected to take up residence next year. The luxury complex will include retail centres, marinas and residential properties.
Work on the reclamation scheme for developer United Developments Company has involved a combination of cut and fill work and off-shore dredging. This included excavation of more than 4 million m3 of hard rock, which was carried out using two Vermeer T1255TL Terrain Levellers fitted with surface excavation attachments.
The terrain levellers were used to reduce the ground level on the eastern side of the site and create fill material for use elsewhere on the site. The machines are capable of digging a 700 mm wide, 690 mm deep trench in a single pass and were operated for up to 10 hours per day at the site to extract an average of 6500 tonnes of rock per day.
According to Qatar Dredging Company, which carried out the work, the crushed rock produced by terrain levellers did not need further crushing before it was reused. Also, the rock did not need any drilling and blasting, so the company did not have any operating restrictions imposed on it.
Machine control
The biggest change in the last few years in the earthmoving sector has been the introduction of Global Positioning System (GPS) machine control, which is helping to improve both the accuracy and efficiency of earthmoving. GPS based machine control is enabling earthworks contractors to carry out work on site by referring to in-cab displays, rather than relying on paper plans and staked cut lines to cut to the design grade in fewer passes.
Systems are now available for almost all earthmoving equipment and are usually retro-fitted but with CANbus technology they are fully integrated into the machine's electronics. However, this year Komatsu signed a deal with Topcon in Europe to pre-fit machine control interfaces before shipping construction equipment out to the customer.
One of the first projects to benefit from Komatsu's alliance with Topcon was the construction of a new golf course in Sicily. Earthworks on the new 45 hole course were completed in half the time conventional earthmoving operation would have taken, despite poor weather conditions during the early part of the contract.
Caterpillar has been offering factory fitment of machine controls for some time and with Komatsu following suit, it is likely to become a trend that will spread to other construction equipment manufacturers and GPS suppliers over the next few years.
Initially it was only larger projects which were able to benefit from machine control technology but it is now becoming affordable for smaller contractors. Canada-based Van Rooyen Earthmoving is typical of the new generation of contractor which is benefiting from the technology, and the company now has three Cat dozers fitted with Trimble's GCS9000 machine control.
Van Rooyen's dozers are currently working on construction of two large water retention ponds for a new 60 acre (24.3 ha) industrial park in Cambridge, Ontario. "The GPS system really comes into its own on this kind of project," said the company's project manager Randal Van Rooyen. "In the past, on projects like this the survey stakes were frequently in the way and we'd be running them over all the time. The GPS equipment allows us to run a lot of machines on site without constant supervision.
The operators also know what's expected and what the finished product should be. They've also got all the design surfaces, grades and alignments inside the cab, which gives them a sense of control too," added Mr Van Rooyen. "The other benefit of GPS is the faster rate of work - construction of the ponds will be completed shortly and has been carried out +30% faster than using conventional techniques."
Trimble has recently launched a new version of its GCS9000 system, which uses the Trimble ATS Construction Total Station to provide accuracy to within 3 mm of the design. The ATS system links the GPS machine control with an on site robotic total station to provide a higher level of accuracy than is possible with GPS alone.
Leica Geosystems has also added to its machine control product line with a new version of the DigSmart 3D system and an updated version of GradeSmart. The SmartGrade system can be used on both dozers and graders and the range of options on the system mean that it can be optimised for use on different machines. While the DigSmart system is designed specifically for excavators.
The in cab display for the DigSmart system has been upgraded to provide a wireframe view of the plan to make navigating round the site and identification of the tasks easier. According to Leica, the updated system makes it easier to carry out all excavation work and can use survey data straight from site without the need for conversion. Leica machine automation programme director Andrew McCleave said, "This feature is really useful for quick jobs where a digital plan is not available."
Machine selection
Earthmoving projects are often large but so is the range of equipment available to carry them out. Contractors have an amazing choice of construction equipment available to them from dozers, graders and scrapers through to excavators, wheeled loaders and haulers. But selecting the right combination of equipment can make the difference on whether the project is delivered accurately, on time and within budget.
The new Tier 3 engine regulations have resulted in a large number of new construction equipment models suitable for the earthmoving sector being launched onto the market this year.
One of the biggest new excavators to be unveiled this year was Komatsu's 80 tonne P800-8, which has been designed to reduce operating noise compared to previous models to 108 dB(A). In-cab noise has also been reduced to 75 dB(A) through use of a cab damper mounting.
Komatsu has also launched a slightly smaller model - the 60 tonne PC600-8 - that has the same noise reducing design. The new engines have improved performance of the excavators, compared to the Dash 7 models, with the lifting force on the PC600-8 up +17%. It can be boosted by a further +8% using the PowerMax function.
Case has also added to its large excavator range with the 70 tonne CX700, which is the company's first to feature a Tier 3 compliant engine. According to Case, the new engine is more fuel efficient, quieter and more power efficient than the previous units. The improvements offer higher breakout forces, faster cycle times and performance characteristics which are almost equal to the current CX800.
Hyundai's new 50 tonne Robex R500LC-7A is currently the company's largest excavator and has been designed to suit the quarry and mass excavation sector but will be followed by a new machine in the 80 tonne weight class in 2007.
Link Belt has also updated its 35.6 tonne 330 LX with a Tier 3 compliant 271 hp (202 kW) six cylinder Isuzu engine, which uses a common-rail fuel injection system and features a fuel cooler and turbocharger with intercooler.
Hitachi, Liebherr, Caterpillar, Doosan, JCB and Terex have also launched new excavator ranges this year with models which are ideal for the earthmoving sector.
Hitachi's eight model Zaxis range offers operating weights spanning from 21 up to 84 tonnes and the whole range is fitted with Tier 3 compliant engines. According to Hitachi, the new engines, combined with a new hydraulic system, increases the productivity levels of the range by up to +17% and cuts fuel consumption by -15%.
The 31 tonne R 934 C, 40 tonne R 944 C and 72.5 tonne R 954 C make up Liebherr's new C-series excavators and replace the B-series. All three machines are powered by Liebherr Tier 3 compliant engines. The new Liebherr range also features a new exterior design, which includes more glass in the operator's cab, while the hoses between the superstructure and boom have been repositioned lower down to improve vision.
Terex's all new TC excavator range will eventually offer operating weights of between 22 and 67 tonnes but is gradually being rolled out. The 22 tonne TC210LC, 23.7 tonne TC225LC, 25 tonne TC240LC and 26.6 tonne TC260LC have already been launched.
The 33 tonne TC330 and 36 tonne TC360 are expected to be launched at the Bauma exhibition in Munich, Germany in April 2007 and plans for a 55 tonne TC520 and 67 tonne TC620 versions are also on the drawing board.
Cat's new eight model D-series excavator range offers operating weights of between 20 and 37 tonnes and is powered by new Tier 3 compliant engines to offer increased reliability, versatility, performance and comfort as well as lower operating costs. Standard lifting capacity across the D Series has improved by +5% compared to the C-series and a new heavy lift mode offers +4% more capacity than the standard mode.
Doosan's new five model DX range offers machines in the 30 to 50.8 tonnes weight range and is powered by 147 to 245 kW electronically controlled Tier 3 compliant engines.
Updated versions of dozers from New Holland and John Deere have been released during 2006, while Liebherr has increased the size of its dozer range with a new larger machine.
According to Liebherr, the new 52.4 tonne PR764 is the world's largest hydrostatically driven tracked dozer. The machine is powered by one of the company's own 310 kW V8 engines, which has been combined with a stepless drive system to combine good driving speeds with pulling power. The dozer also features a large operator's cab, which is noise insulated, and exterior bodywork that has been designed to maximise the operator's vision.
New Holland's 18 tonne D180 T3 tracked dozer now features a Tier 3 engine which is available as either a 137 kW diesel unit or as a 146 kW LPG system. According to New Holland, the new engines reduce fuel consumption by -10% while other changes have increased cooling performance by +13% and improved servicing work.
The revised D180 also has an 'Auto-Shift' function, which is designed to increase productivity by automatically selecting first gear in forward and second gear in reverse to allow the operator to focus on controlling the blade angle. The D180 also comes with the electro-hydraulic controls needed for pre-installed machine guidance systems and Topcon's Millimetre GPS system is also available as a factory fitted option.
John Deere's 26 tonne 950J dozer has a new, more powerful (247 hp) engine and the operator's cabin has also been updated. But, according to the company, other features such as the hydrostatic drivetrain and power management system have been retained from the previous model.
Engine upgrades are also behind the launch of the new seven model M-Series range of graders and the six new G-Series wheeled scrapers from Cat.
The controls on the M-Series graders have been redesigned to improve operation and feature a pair of joystick in place of up to 15 levers and a steering wheel. According to Cat, this change reduces operator hand and arm movements by up to -78%. The styling on the graders has also been redesigned to improve the operator's vision. A high torque all-wheel steer system and Tier 3 compliant Cat ACERT engines are also new.
Scrapers, such as Cat's new G-Series, offer faster earthmoving through self loading capabilities, which makes them ideal for use on large scale projects. The re-designed Cat models feature +10% more carrying capacity, improved operator's cab and an electronic monitoring system to simplify maintenance.
The new engine emissions regulations have also had an impact on the wheeled loader market with new models launched by Hyundai, Hitachi, Doosan, Cat and JCB.
Hyundai's new 30 tonne HL780-7A wheeled loader is powered a Tier 3 compliant 259 kW Cummins engine and features a large, comfortable and quiet cab -7dB(A) quieter than the previous model. It replaces the HL780-3A and completes the 'Dash-7' update of Hyundai's 6-model HL wheeled loader range.
Hitachi's new ZW series of wheeled loaders include a new Total Torque-control System, which allows the operator to find the right balance between traction force and front speed. Depending on the job, the setting can be manually adjusted to traction priority, general work or light duty. The machines also feature automatic transmission with a load-sensing system to improve load-and-carry performance.
Doosan is also launching two new wheeled loaders, which is says are the forerunners to a complete upgrade of its Mega range. The 18 tonne DL300 and the 23 tonne DL400 both feature Tier 3 engines - Doosan's own DL08 in the DL300 and a Cummins QSL9 in the DL400. External engine noise and in cab noise have also been reduced through fitting of a dual walled exhaust silencer and a reduction in the speed of the cooling fan.
Cat has announced a new four model H Series range of wheeled loaders to replace its G Series. The 18 tonne 950H, 19 tonne 962H, 24 tonne 966H and 25 tonne 972H all feature new Cat Tier 3 compliant ACERT technology engines.
JCB has added three new wheeled loaders to its range - the 422, 426 and 436 - which have +13% higher payload capacities than their predecessors. Operators will appreciate the large cabs, which are +50% bigger than on previous models, and the fact that all daily maintenance checks can be done from ground level.
Haulers are often the workhorses on earthmoving projects but interestingly introduction of the new emissions regulations has not resulted in lots of new models. Many manufacturers, such as Cat, Moxy and Volvo, have opted simply to re-power the machines with Tier 3 engines.
However, Terex launched two new models at the start of the year. In addition to the new Tier 3 engines, the TA35 and TA40 include automatic limited slip differentials in each axle to add traction and a new front end suspension system to provide a better ride.
The new TA35 has a maximum payload of 32 tonnes and has a heaped capacity of 21 m3, while TA40 can carry up to 36 tonnes or 23 m3.
Bell has also launched a new generation of it D-Series haulers, which is powered by a Tier 3 engine and features the new 'I-Tip' function which automates part of the tipping cycle and is activated by the dump lever. Other features include Bell's Fleetm@tic monitoring system and an on-board weighing function.
Further growth
There is no doubt that the new Tier 3 regulations have stimulated the launch of many new machines aimed at the earthmoving sector. Next year is unlikely to see the same volume of new equipment launches as the regulations turn to the smaller engine powerbands. However, now the wave of redesigned machines launched this year are moving into production some manufacturers may look to expand their current ranges, as Hyundai is expected to do in 2007 with the launch of its 80 tonne excavator.