Bronto transfer in Jalo & Jalo and Janneniska deal
By Euan Youdale06 June 2017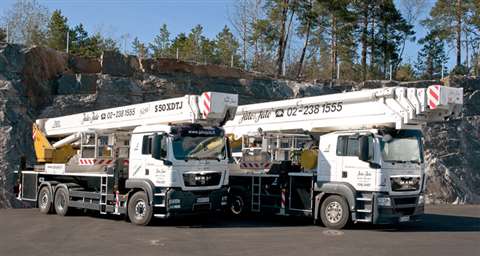 Sixteen Bronto Skylift truck mounts are to be transferred to Finland-based rental company Jalo & Jalo as part of its new business venture with fellow rental company Janneniska.
Under the deal struck in April Jalo & Jalo will provide equipment for applications requiring up to 80m working height, while Janneniska will concentrate on the over 80m work in the country or where a B-class driving licence is required.
In addition, Bronto will deliver two new 56m working height S56XR machines to Jalo & Jalo this year.
As a result of the business deal, Jalo & Jalo's cooperation with Bronto is set to become tighter, with the 16 Bronto machines being transferred from Janneniska.
The first Bronto was delivered to Jalo & Jalo in 1972, in the same year that the manufacturer was founded. Today, Jalo & Jalo has 50 platforms, nearly all of which are Brontos. Jalo & Jalo plans to replace all its machines with Brontos in the future.
The first of two S56XR units has already been delivered to Jalo & Jalo. The second will follow in the third quarter of this year and will be the first of the manufacturer's new S56X models, bearing the serial number 001. Its new features include a cage with 440 degree rotation and stronger boom structure.
XR stands for 'extreme reach', with side reach of up to 40 m, and by the end of this year Jalo & Jalo's XR will own seven of them.
According to Sami Jalo, head of Jalo & Jalo's hydraulic platform vehicle business, "For us, the most important feature of equipment is not working height but good side reach, which makes the equipment suitable for diverse uses."
Jalo & Jalo has always invested in Bronto's prototype models with the 001 serial number. As part of the deal, one of those 001 machines, a 2004 S61XDT model, will be returned to Bronto Skylift.