Cable transport for Allelys
By Laura Hatton30 September 2015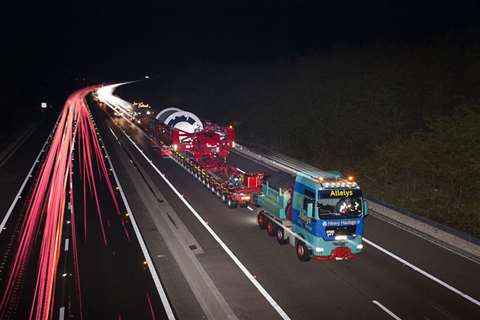 The Allelys Group helped load and transport a 300 tonne cable reel measuring 8.3 m long by 4.7 m diameter from Worksop to Goole in the UK.
The cable reel was transported along the 48 mile (78 km) route using a 500 tonne capacity Goldhofer Faktor 5 girder frame trailer. Preparation for the move included ensuring bridges had suitable capacity and that street furniture could safely be removed. A swept path analysis software system was used to ensure that the reel could be moved with minimum disruption along the proposed route, a spokesperson said.
To lift the reel into position, Allelys used a 400 tonne capacity four point hydraulic lifting system to jack and skid the reel carrier clear of the reel. Once the carrier was safely skated clear, Allelys used its new 32 axle girder frame trailer to transport the reel to the Port of Goole.
The transport was carried out overnight by police escort. Challenges included negotiating several roundabouts on the route. Allelys was also responsible for the planning and organisation of the motorway contraflow.
David Allely, Allelys Group managing director, said, "This was a fantastic project to showcase our new 500 tonne capacity Faktor 5 girder frame trailer, made possible by the expertise of our in-house engineering department and the dedication and skill of both our transportation and installation crews."