China's MEWP market could surpass North America's
By Lindsey Anderson23 October 2019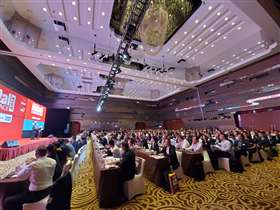 Speaking at the seventh International Rental Conference, Oct. 22 in Shanghai, JLG's APAC Finance Director, Harry Pei, said the Chinese MEWP market will surpass, or meet, North America's within the next three to five years. Pei, who discussed equipment financing in a growth market, said the current size of the Chinese MEWP market is roughly 20 percent that of North America's, but it could reach 600,000 or more units in less than half a decade.
"China's AWP market has grown extremely fast," Pei told the IRC crowd. "We have seen a 50 to 70 percent growth increase in China's AWP market size each year."
However, despite rapid growth, the market needs financing, and China's banking and loan system can be difficult to navigate.
"With more cash entering the market, the risks will increase," Pei warned.
Finance costs in China are roughly 10-13 percent, whereas Western financing sits around 5 percent. Another hurdle is short loan periods – while some can secure 3-year periods, many banks and financial institutions only offer 1 year. In addition, equipment rented and operated in China often isn't maintained as well as it is in other countries, especially with small to mid-sized rental operations.
"Equipment used in China for 3 years is like a machine being used in other countries for 7 years," Pei noted. "If you don't maintain your equipment well, it brings your residual values down."
Pei said JLG advises its customers to maintain and repair machines according to the manufacturer's guidelines in order to keep units in good working shape.
The seventh IRC attracted more than 450 delegates from across the globe. The 2020 event will be held Nov. 23, 2020 in Shanghai.