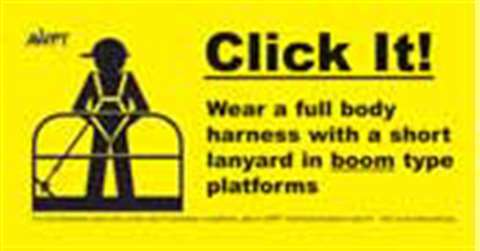 Before you get carried away by the new machines and technologies at Conexpo, take some time to visit The IPAF Safety Zone (booth SZ1000, Green Lot – a late change from the previously announced Blue Lot). IPAF will be bringing you down to earth (gently, we hope) with a dynamic demonstration of the dangers of not wearing a harness on boom type aerial platforms.
The 15-minute programme will run throughout the day at 10.00, 12.00, 13.00, 14.00 and 16.00. It will give practical advice on the correct way to use a harness and will feature a range of aerial equipment supplied by IPAF members exhibiting at the show.
The IPAF safety zone covers nearly 745 m2 (about 8000 ft2) and has been made possible with support from the Conexpo organisers. "We much appreciate the support of the organizers in making this happen," says Tim Whiteman, AWPT (Aerial Work Platform Training) president and IPAF managing director. "It is frustrating when people are unnecessarily killed or injured while using a boom type platform because they don't wear harnesses. The demonstration will show in a vivid way the dangers of being thrown or catapulted from the platform if it is hit by another piece of equipment or is affected by ground subsidence."
The live demonstration is part of AWPT's "Click It!" safety campaign that calls on users of boom type platforms to wear a full body harness with a short lanyard attached to a suitable anchor point.
Safety and the correct use of harnesses and lanyards will also be the topic for discussion at several technical meetings being held at the IPAF booth during Conexpo including:
AWPT instructors meeting 11 March, 13.30
AWPT Advisory Council meeting 11 March, 14.30
IPAF Manufacturers' Technical Committee meeting 12 March, 14.00